In today's post, I will be sharing some historical photographs of curly horses, which may be of interest to breeders, historians, and enthusiasts of this unique breed.
For most of the breed's modern history, curly horses were not appreciated or enjoyed. Before their unique traits were intentionally bred for, and their hypoallergenic traits were discovered, many of these horses were culled at birth. At one time, particularly among Missouri fox trotters, breeders would quietly euthanize a foal with an expressed curly gene when it cropped up unexpectedly in a genetic line.
For these reasons and others, photographs of foundation Curly horses are not as common as many other breeds. In this post, I will be showing some photos of known and unknown foundation stock
Photos of Curly Stallion *The Red Baron
Photos of *The Red Baron, a foundation Bashkir Curly Stallion are included below. Born 1979, Deceased mid 90's (?), Some of Red Baron's direct offspring include: Adirondack Pride, Baron of Fleet Foot, Indiana Red, Lady Red Bond, Shelisha's Red Lady, Silver Red Ebony, Sunday's Curly Kick, and Velvet's Red Riches.
Photos of Black Curly Stallion *Okie J Red's Buddy
Pictured here is a Curly Horse Stallion named "Buddy" aka Okie J Red's Buddy* ABC 2438. Born in 1998, out of Okie Squaw Enis* and sired by Okie J Feisty Red,* Buddy is/was an important sire in maintaining the Spanish-Mustang curly-horse genetics.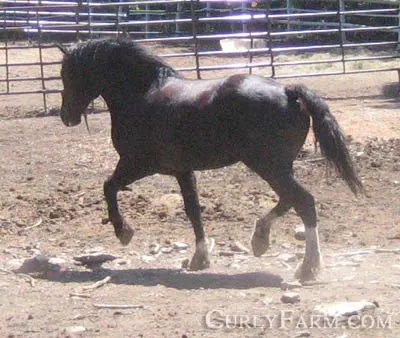 ---
Antique Curly Horse Photo
This is an old photograph of a horse with a curly mane turned up by an old eBay alert I had set for "vintage curly horse." The photographer's stamp on the back indicates it was taken in Missouri, so it's entirely possible the horse pictured is an early Bashkir curly, possibly a Missouri fox trotter with the curly gene. This horse is likely a minimally expressed genetic curly, judging from the coiling of the mane but lack of texture on the coat- alternately, this horse has simply shed out to reveal a smooth coat as many moderate curlies do in shorts-and-short-sleeve weather.
---
Help Build Our Collection
Do you have photographs or memorabilia of vintage curly horses to add to this collection? Leave a comment below or attach a photograph to help build this collection of historical curly horse documents and images