For many teenagers headed off to college each fall the excitement and challenge of leaving home and going off to college is complicated by the choice to leave a horse behind. Even though the transition from high school to college is all about learning to live independently and transitioning from our childhood homes, it's not always so simple when it comes to leaving horses behind.
Horses, in addition to being a pet, are a team partner, and a sort of athletic equipment. Humans often form deep attachments to horses that they are bonded with, and for that reason, some college students manage their budget in ways that allow them to afford a horse in college.
In this article, you'll learn 7 practical tips for affording a horse in college.
Horses are expensive no matter how you manage your budget or your level of horse keeping luxury, but there are definitely strategies to keep costs down that make horses more affordable for college students and other folks in relatively lower income brackets. Here's a start:
1. Reduce costs by sharing your horse
Most college students will be busy with classes, social engagement, perhaps a part-time job. As a result, college students are able to afford a horse often can only ride a few times a week. If this is you, consider partnering with another casual rider to "half lease" your horse.
A half lease usually means that you have another rider who splits time with your horse, so they might have Tuesdays Thursdays, and Saturdays, while you are free to ride your horse any other day of the week. If you don't mind sharing, and like the idea of being able to make horseback riding accessible to a young riding student from a less affluent background or an older adult who just wants some time in the saddle, half leasing can be a win-win arrangement that reduces costs while keeping your horse in shape.
Pro tip: when leasing or half leasing your horse instead of selling it, it's best to screen riders or make sure that they are riding with a riding instructor that you trust. Horses, and their training, are malleable and a bad experience with their half lease rider could sour your riding experience.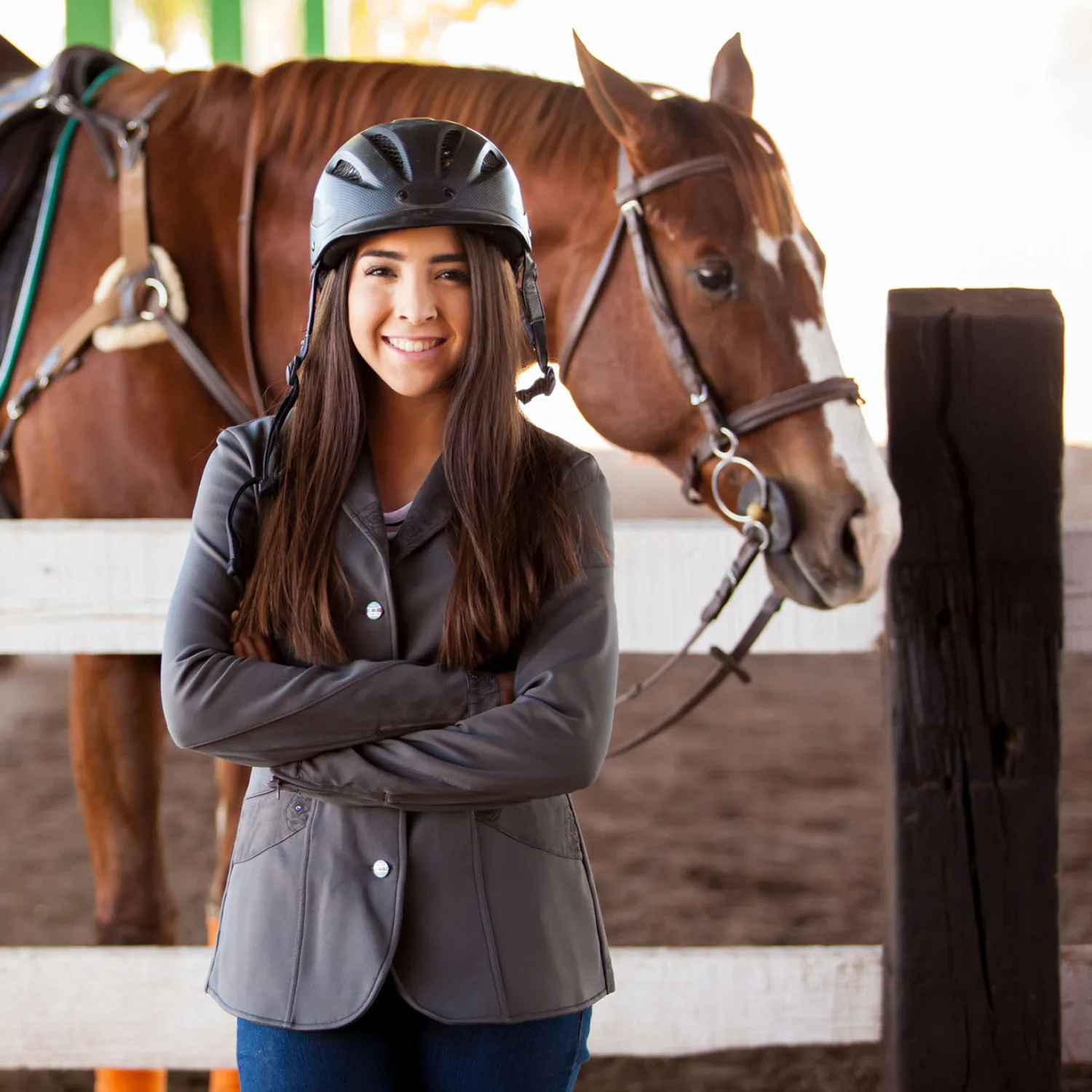 2. Work in exchange for horse board
In the horse world, a "working student" is someone who works as a groom or exercise rider in exchange for lessons, coaching, or training from top riding instructors, some barns, however, may allow you to provide the services of a working student in exchange for free or discounted board for your own horse.
Not every barn will allow borders to discount their cost through work, but for those who do it can be very hard work – but worth it to afford a horse in college. As a bonus, being a working student can be an incredible opportunity to get hands-on experience learning in a real barn. If you are studying livestock management or even equine studies in college, you may be able to get college credit for your time spent in the barn.
Note, it's worth mentioning that, technically, receiving discounted board in exchange for exercising horses qualifies as "professional riding" and may disqualify you from competing as an amateur in horse shows.
3. Allow your horse to be used for riding lessons
Another way to afford a horse in college that discounts the many costs of having a horse is through letting your horse be used in lessons. If your horse is sound mind and calm, they may be a good candidate for being drafted into a lesson program.
It's easier to afford a horse when board or feed are discounted in exchange for your horse teaching a few lessons every week, but there are some downsides. If your horse is used in lessons you have to be okay with not riding your horse at those times, and perhaps not at all that day depending on how strenuous the lesson is. If you choose to let your horse be used in lessons or go the half lease route, be sure to use a standard contract that specifies important things that are allowed and aren't allowed, and when the horse can and can't be used.
4. Reduce, reuse, recycle, and consign your riding equipment
To afford a horse in college, you'll need to be an expert at budgeting your expenses, your time, and your equipment. Get used to buying your equipment used from tack store consignment areas or tack sales. You can purchase both tack and riding clothing secondhand for a fraction of the price as new. Buying secondhand can help you look good, get the best equipment for your horse, and save money over buying new.
Evaluating what you already have can also help you afford a horse in college – how? Take inventory of your tack, equipment, and riding clothing. How often do you actually use the items and are they absolutely necessary? Selling equipment and clothing that you don't currently use can be a way to offset the cost of owning a horse, at least for the first month or two of your tack room clean out. Selling a used saddle you no longer use can often cover an entire month of board.
5. Don't spend your student loans on horse expenses
It's easy to take out loans for college, and as a young equestrian, it can be tempting to spend loan money on horse expenses – whatever you do, don't do it!
If you can't afford a horse in college without allocating funds from your student loans, you cannot afford a horse in college. Hustle, share, work, and beg to pay your horse bills, but don't pay them with borrowed money.
Instead, get serious about a budget. The US Department of Education has resources to help college students create budgets. While other students are blowing cash on entertainment and travel, you'll need to stay faithful to your budget, making sure not to accidentally spend too much and end up not being able to afford your horse.
6. Choose less luxurious horse boarding
I am of the opinion that horses don't really care whether they live in a 24-hour monitored show barn or a field with a small shelter, but I know our finances look a lot better when we choose the latter option.
If you are primarily keeping your horse near to you in college for emotional reasons – because you are attached to your horse – rather than pursuing serious training or competition, consider seeking out the most bare-bones boarding you can find. You may be able to find a pasture for rent in online classifieds, and keep your tack and equipment in your car (just be alert for tack theft), or perhaps a riding stable near you offers a no-frills option for boarding.
Self-care boarding is available at some barns. This is a great option if you don't mind that your horse is outdoors all the time. The barn may not provide any services, see you might be responsible for showing up to feed every day, no matter what the weather.
Final thoughts on how to afford a horse in college
Keeping a horse while you're in college isn't for the faint of heart – and can be very difficult for folks who don't benefit from an affluent family member willing to foot the bill. However, if you are determined and flexible in the way you keep in care for your horse, it's possible to afford a horse even as you complete your undergraduate degree.
While this is just a shortlist of a few ideas to cut costs while horse keeping, it's important that your ways of altering your horse budget to afford a horse don't end up hurting your horse. Never trim your budget so much that essentials like veterinary care and good health care become inaccessible.
Whatever you do, recognize that it's going to be expensive and there will be costs- in extra work, less fun with college peers, or likely, both. But don't let anybody tell you there's something wrong with choosing to maintain a hobby separate from college and an attachment with your horse – things like that are what make college and our vocational lives after college worth the hustle.
Need Help Planning? Download Our Free Edit-able Horse Budget Planner
Download A Free Editable Horse Budget Planner