Tack rooms can range from simple shelves and a few homemade saddle racks in a tiny room to luxurious spaces with full seating areas and walls of saddles. Whether you're organizing a tack room for 100 elite riders or just your own backyard pony, a smartly organized tack room is a way to enjoy style and human comforts in a way that you can't in other parts of a horse barn.
In this article, I've collected in one place all of our team's idea boards of tack room ideas. To keep things organized by type, these tack room idea boards are split into four categories:
First, What is a tack room?
A tack room is a room in a horse barn or riding stable that is used to store equipment for horseback riding. While general farm tools like shovels, pitchforks, and wheelbarrows- as well as horse feed, grain, and hay are stored in other areas, like utility closets and feed rooms, a tack room is a dedicated space to store equipment used to ride horses.
A tack room usually includes saddle racks, bridle racks, hooks, and trunks or tubs for storing horse blankets or leg wraps. Each of these racks in tack rooms is usually filled with halters, bridles, saddles, and saddle pads.
A tack room is a dedicated space for horse equipment. Why does this matter?
Cleanliness & Health – Because it is important to keep these items relatively clean (to reduce the risk of dirt or debris causing irritation underneath the saddle pad or strap)
Security – Tack rooms allow the very expensive equipment a rider uses to ride their horse storage in a secure (often locked) and climate-controlled area.
Less often-used items like shipping boots, tack used for horse shows, and less frequently used accessories are stored in the tack trunks and plastic totes in a tack room.
By splitting the Tack Room Idea boards you can quickly navigate to tack room photos that fit your personal style without having to wade through rooms you'd never use as inspiration.
Planning to build or renovate a horse barn is an exciting project. One of the most exciting parts of building or refinishing a barn is the tack room. While most aspects of a horse barn are standardized (like 12 x 12 stalls with just a few options for prefab stall fronts, and a set width for barn aisles) a barn's tack room is just for the humans. Unlike other parts of horse barns, tack rooms can be as utilitarian or as highly decorated as you can dream- and designers from celebrities to everyday equestrians have had ideas for tack storage areas as varied as the people- and horses- that use them!
Ideas for Traditional Tack Rooms
Centuries before the Western rustic tack rooms of the west became an American standard, British manors featured luxurious paneled tack rooms with expertly crafted saddle racks, bridle racks, and cabinetry. Occasionally, these tack rooms even featured furnishings and a bar cart.
Today, many of the features of the traditional British tack room have become a standard for English riding stables in the United States. Traditional tack rooms feature molding, cabinetry, and detailing within a finished (typically either painted or paneled) tack storage area.
For ideas on building a traditional tack room in your barn, check out this collection of images gathered from around the web:
Modern Tack Room Ideas
20 years ago, tack room ideas were limited to either a rustic Western-style or a traditional British-inspired classic design, but increasingly the modern styles of current home design are finding their way into the design of contemporary horse barns and stables.
Striking a medium balance between the rustic style horse tack room and the somewhat stuffy and unrealistic English-inspired traditional tack storage room, a modern style tack room embraces the "modern farmhouse" interior design style. By bringing the ideas of modern farmhouse design out of the house and into the horse barn, design-focused riders are able to create aesthetically pleasing spaces for tack storage and – when enough space is available – even extra spaces for riders like lounge areas, barn office spaces, and stations for cleaning and repairing tack and polishing horse bits.
Whitewashed walls, black cast-iron fixtures, and stained wood saddle racks are common signatures of modern farmhouse inspired tack rooms.
Rustic Barn Tack Room Ideas.
In many ways, rustic tack rooms are the iconic horse tack room of the Americas. Unfinished walls, woodgrain, and sometimes live edge lumber help to create a cozy cabin-like style within rustic style tack rooms. rustic, unfinished tack rooms also tend to be more affordable to install and outfit. If you're looking for ideas for your horse equipment storage room, a rustic tack room fits in many barn styles and is the preference for many Western-focused riding stables.
In a tack room, riders keep everything they need to tack up a horse.
Natural Materials
Ideas for rustic horse equipment storage rooms include wood or log features, stained wood saddle racks, cozy rugs, vintage fixtures, and wool blankets. These tack rooms are both functional and warm, and are much easier to keep looking tidy and clean than the white-washed version popular for modern tack rooms.
How to organize your tack room
Organizing your tack room can be surprisingly satisfying. It's a fun activity to do in the off-season, when you aren't busy in the spring preparing for shows or getting ready to head out on your next big fall trail ride. When the weather is chilly outside, get yourself a cleaning kit and a space heater and set to work making your horse equipment storage area organized, clean, and safe.
Start with Cleaning
The first step to organizing your horse barn tack room is to do a deep cleaning. I find that a Shop Vac works better on barn cleaning and organizing projects than either brooms or dust mops. With a good Shop-Vac you won't just be pushing dirt around, but instead, you can remove all that built-up dirt and debris from your tack storage area completely.
Once you've vacuumed the whole room and all of your tack and surfaces in the room, keep cleaning! While the vacuum picks up loose debris, there's likely dried-on mud and dirt on the floor and walls.
Use a mop and lots of clean water to clean the floor of your barn. You can even use a hose to clean the floor of the tack room as long as you can dry it thoroughly afterward. After hosing, use a shop vac (which can handle wet messes) to vacuum up all of the excess water and leave the fans on to dry out the tack room floor before the moisture level of your tack raises to a degree that could cause mildew or mold.
Reset: Foundation for a Clean Room
The following section may contain affiliate links. As an Amazon Associate, we earn from qualifying purchases.
Once your tack room is clean and free from dirt, debris, and crud, it's almost time to start organizing. But before organizing, you may want to take a few steps to help your horse barn tack storage area to *stay clean* long after you've finished cleaning and organizing your barn.
Simple upgrades to your tack room's walls and fixtures can help the dirt you just cleared from coming back the next time.
DOOR GASKETS: an easy-to-apply adhesive weather stripping around the edges of the door to your tack room can reduce the amount of dust that enters the room while also helping to stabilize humidity within – helping leather goods to last longer.
DOOR CLOSING HARDWARE: If your tack room door is frequently left open, you may wish to install a spring-loaded door closer. This $25 part ensures that the door always shuts after you enter and exit. By keeping the door shut, you can reduce the amount of dust that enters from the stable area.
GAP SEAL: If your tack room has other gaps where dust and dirt can enter, fill these gaps while your tack room is clean. Expanding foam gap sealer is great for sealing small cracks between slats of barn walls. For closing larger gaps or openings, use plywood panels to block off the opening.
Upgrading your tack room with easy affordable upgrades
While you're cleaning and organizing your tack room, you may want to unload all of your tack into another area so cleaning and organizing things as you put them back in the tack storage area is easier.
To keep your tack room clean and organized: upgrade the flooring.
Adding vinyl plank flooring to your tack room is one of the cheapest and easiest ways to create a great-looking and easy to clean tack room.
While concrete floors can have tiny holes that make them impossible to keep clean, adding a sealant to your concrete can be an easy way to keep your tack room clean and easily mopped.
If you have a plywoodwood or other uneven floor in your tack room, one of the best ideas is to add linoleum flooring as an easy way to upgrade your tack storage area to maintain an easy-to-clean floor.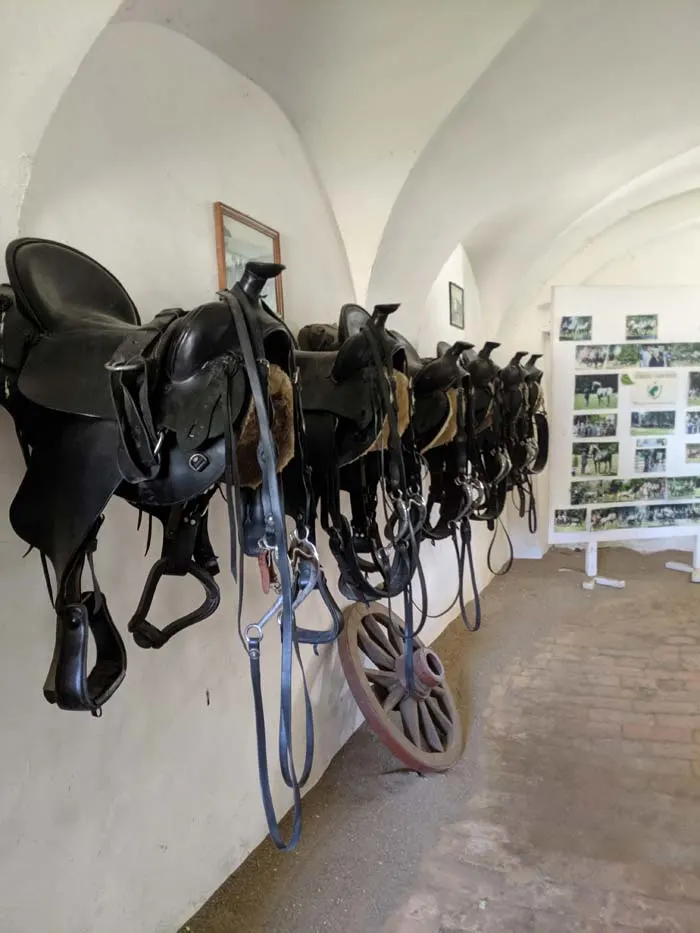 Organizing equipment
Now that your tack room is clean, it's time to organize your tack room. Separate your tack and equipment into categories: things you use daily, things you use monthly, things you almost never use, and things you need access quick access to in case of an emergency. Once you've divided your tack and equipment into these categories, it's time to assign each category to a location of your barn tack storage area. You may need to move saddle rack or install a shelving to lay the groundwork for a well-organized tack room, but once arranged well you'll be surprised how well your barn workflow works.
Seating is a valuable addition to a tack room. While chairs and couches can be hard to launder, DIY Chair Cushions are great for tack rooms. They can be placed on easy-to-clean chairs or even buckets as a comfortable, washable place to sit. I also like outdoor furniture- washable cushions are easy to powerwash during spring cleaning. Egg chairs offer an easy-to-clean yet stylish touch to a tack room's seating area or riding stable lounge.
How big should a tack room be?
The size of tack room you need, however, varies by how much equipment you'll be storing, how many riders will share the space, and how many different horse saddles you'll need to store.
Most tack rooms are the same size as an average horse stall: roughly 12′ x 12′ square.
For a single rider and one horse, the size of a tack room can be much smaller without being an inconvenience. In fact, some riders keep all of their tack in the tiny triangle-shaped tack room in the back of a slant-load horse trailer!
What items get stored in a tack room?
In almost every tack room you'll find horse saddles and bridles, as well as an assortment of halters and lead ropes. Other things stored in a tack room include saddle pads, leg wraps, and show equipment.