Horseback riding on the beach is a fun and memorable vacation activity- and you don't even need to own a horse to do it! There are small businesses around the world that offer an amazing experience of horseback riding while enjoying incredible destinations. Usually, all you need to do is book your ride and show up! However, there are several things you should know before you book this iconic adventure.
In this article, you will discover: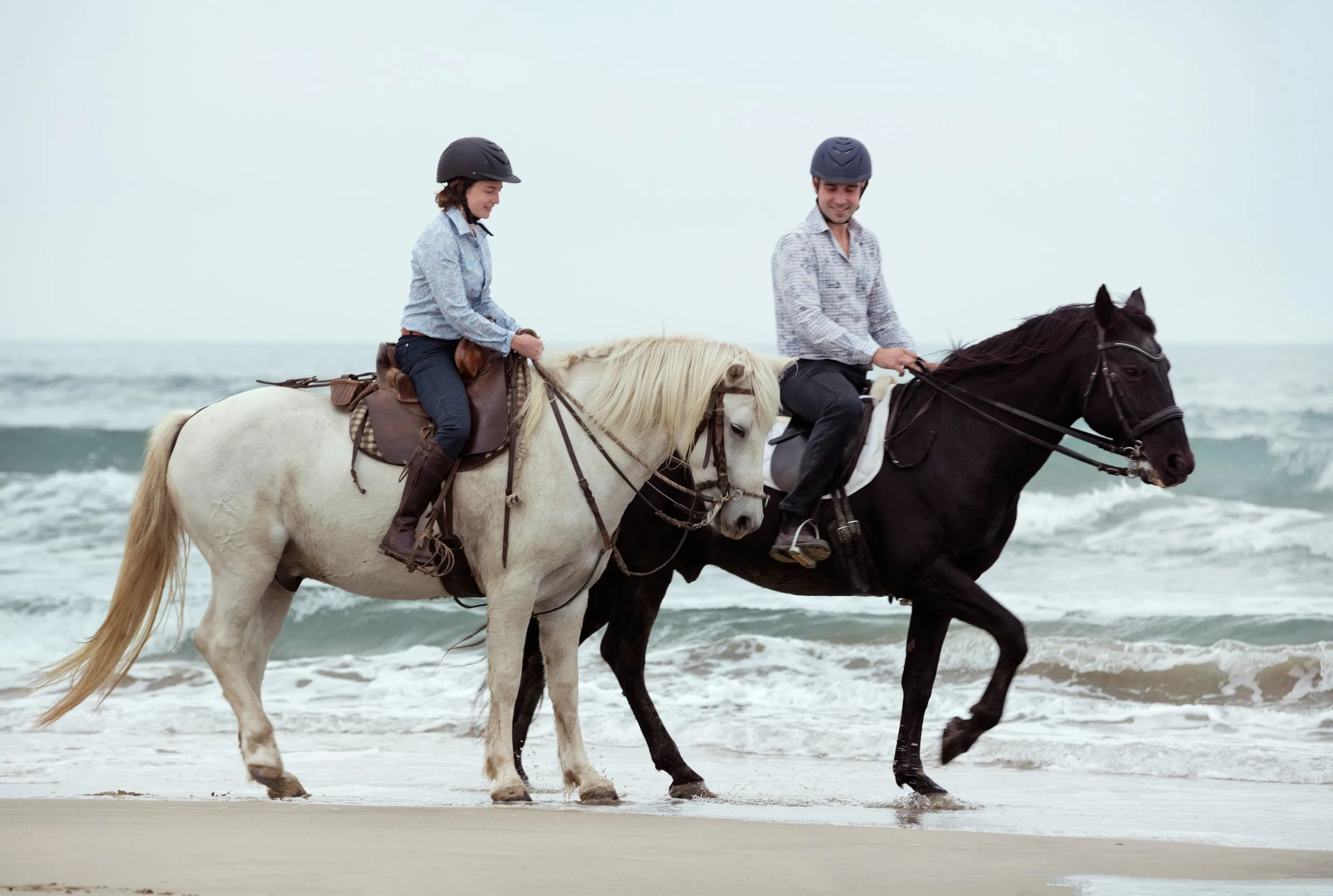 Expectation vs Reality on a Beach Ride
When you go on your beach ride, you should have a clear understanding of what you will be able to do. Often when people travel, they picture galloping along the beach with the wind in their hair. This is not necessarily what will happen (don't worry, you will still have fun).
Most common expectation vs reality mismatches:
Expectation: Running free along the beach with a beautiful ocean backdrop.
Reality: Unless you've had plenty of riding lessons and are on a special ride for experienced riders, you will be unlikely to canter or gallop. A trot will probably be your top speed. First-time riders might even be led by a person holding the horse's lead rope.
Expectation: You will have a relaxing ride today and do a hike tomorrow!
Reality: You will ride today and be very sore tomorrow. Your muscles are probably not used to all of this exercise so make sure you have a hot bath or shower when you get back to your accommodation.
Expectation: Splashing through the waves with your horse.
Reality: If you're riding horses on the beach, you probably will get to splash through very shallow water. However, your horse's equipment is very expensive and can be damaged by saltwater, so your guide will direct you away from too much water. Also, wet pants while riding can lead to saddle sores.
What to Pack for Riding Horses on the Beach
Stretch! If you don't ride often, you will be sore the next day. You will be doing a lot of moving and stretching rarely-used muscles, so make sure you prepare your body.
See also: 10 tips for preventing muscle soreness after horseback riding
If you are driving a long distance to participate in a beach ride, pack a spare change of clothes that will be comfortable for the drive home. We suggest loose-fitting items made from a soft material.
Pack cold water. Some saddles will have a water bottle holder that allows you to take it on the ride. But even if they don't, leaving some water in a cooler in the car is a good idea. You are likely to be thirsty after your ride and a cold drink will feel extra refreshing.
Believe it or not, you can get seasick when you go horseback riding on the beach! It's not a common problem but it's best to pack some motion sickness tablets just in case. If you have allergies to horses, be sure to bring medication and review our tips for handling horses when you're allergic.
🚩 Red Flags: Don't Book Your Beach Ride if You Notice These Things:
There are red flags that indicate the ride you are considering booking is not well run. These red flags point to a lack of safety precautions or mistreated horses.
🚩 Huge groups of riders. If the tour group is large, you will spend more time sitting than riding while they tend to the other group members.
🚩 No helmets provided. If they aren't providing helmets, they may be skipping other safety precautions to save money. Nor providing helmets is a very visible sign that they do not take safety seriously. Always wear a helmet riding a horse.
🚩 Nervous horses. If the horses appear anxious, it may mean that the horses are not treated well. An anxious horse will have white showing in its eyes and have a rigid stance. You can read more about identifying a relaxed, friendly horse in our article How to Tell if a Horse is Friendly.
🚩 Extremely lethargic horses. Very lethargic horses are also a big red flag you should not go riding with that tour group. Healthy horses are curious about the world around them (even when they're older or very laid back). Horses that seem "checked out" may have been sedated, which is not humane and may make them more likely to stumble and fall while riding on the beach.
🚩 Horses don't have access to water. If there is no water available for the horses, they are not being cared for correctly. It is not always easy to spot the water supply. If you are unsure whether water is available, you can always ask the guides.
🚩 The horses seem unhealthy. A healthy horse will have a thin layer of fat over their ribs, they won't be coughing, and their hooves(feet) will be smooth, clean, and have no splits. They shouldn't be limping or have any swelling on their legs. If the horses do not appear healthy but are still being used in group rides, the horses are not being cared for correctly.
🚩 The horses are tied by their reins. Tying a horse to a post by the reins (instead of a lead rope) can cause the horse to break their jaw if they spook. If the horses are not secured with lead ropes, the instructors are not concerned with the horses' well-being.
What to Wear for Riding Horses on the Beach
The ideal clothing for a beach horseback ride is a lightweight material that will dry quickly. Long sleeve shirts and long pants are also best to prevent sunburn or windburn. You should also wear a helmet on your ride. A good riding tour group will provide a helmet.
If you're considering choosing your outfit based on an Instagram-worthy aesthetic, reconsider. You may imagine riding a horse on the beach in distressed blue jeans, cute flannel shirt, billowing scarf, and cowgirl hat. But let's fact check what that adorable outfit will feel like when you reach the water and feel the first splash:
The heavy material of your jeans and flannel will get wet and stay wet. You may even feel your jeans start to rub as you develop your very first saddle sore. Your scarf is not billowing romantically behind you, it's whipping in the winds coming off the water. As for that cowboy hat? A strong gust of wind picked it up and threw it into the ocean three minutes into your ride!
For riding horses, focus on performance over appearance. Try to stick to the lightweight clothing we suggested. The lightweight outfit can still be cute and photo-worthy, but you will be much more comfortable for your ride.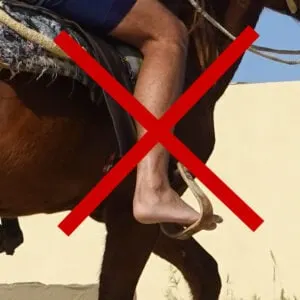 For Specific ideas, see the packing list for vacation riding in our article on what to wear horseback riding.
If you want to wear shorts, that might be ok. Some saddles are ok for skin contact. Other saddles will cause saddle sores when you wear shorts. It is best to call the school and ask them if wearing shorts will be an issue.
How to Get the Most Out of Your Beach Ride
If you want to get the most out of your horse riding experience, there are several things you can do to ensure your day goes as smoothly as possible.
Apply bug spray before your ride.
Bring your phone. here are some ways to safely carry a phone while you're riding.
Consider Taking a GoPro (or mounting your phone). Make sure your tour guide approves- they may have safety concerns if it is not mounted correctly.
Wear sunglasses! The sun's reflection on the water is blindingly bright. Even a $5 pair from a gas station will improve the quality of your ride. Polarized lenses that block glare make it easier to see through the surf to the marine world below.
Keep long hair out of your face. For people with long hair, I recommend a four strand braid because it's pretty and will easily fit under a helmet (and it's also one of my top ways to prevent helmet hair!)
Plan for good conversation. With a good beach and a good horse, your ride should be calm- maybe even boring! If you're planning a romantic ride, it's a good idea to plan a conversation that invites deeper connection. Consider reviewing this list of questions to ask your boyfriend before your ride.
Final Thoughts for Horseback Riding on the Beach
Horseback riding on the beach is an incredible experience everybody should try at least once, regardless of whether you are looking for a solo activity or something for the whole crew. For eco-conscious travelers, beach riding is a sustainable way to experience a destination 1
A beach ride will be the perfect day trip to your closest beach or a fantastic addition to your itinerary as you travel the coast or visit a far-away island. Regardless of why you go or who you are with, a beach ride is an experience you won't soon forget.
Research sources used for this article:
Pickel-Chevalier, S. (2015). Can equestrian tourism be a solution for sustainable tourism development in France?. Loisir et Société/Society and Leisure, 38(1), 110-134. [↩]