Growing up, I simply could not get my hands on enough books about horses. Bookstores, libraries, and interlibrary loans all became channels to get my hands on more books about horses. All that reading as a kid helped me become a lifelong reader, and even as an adult, books about horses are my favorite genre of both fiction and nonfiction reading.
I'm bringing you a roundup of some of the best books about horses in this article. Whether you are looking for a horse-related reading list for yourself, or the perfect gift for a friend, family member, or child who is passionate about horses and enjoys learning about them through books- there's a perfect book on this list.
Books on this equestrian reading list are divided by genre (romance themes, based on a true story, classics, etc) and when possible I have added notes on (1.) content that might not be appropriate for younger readers, and (2.) The niche of the horse world that the book is set in. For insight into each of the books on this reading list, I've added a very brief summary of what you can expect.
The following section may contain affiliate links. As an Amazon Associate, we earn from qualifying purchases.
Horse books with Romance Themes
Horseplay by Judy Reene Singer (dressage)This lighthearted romance is a book about a woman resetting her life through escaping into horse country where she works on a dressage farm and embarks on an experience of self-discovery.
In & Out by Barbara Moss (showjumping) If you're looking for a fun read with accurate descriptions of upper-level show jumping competitions, this romance-themed horse novel is a great read. (Note: contains explicitly adult themes and content)
Riders by Jilly Cooper (showjumping) This near-classic novel about riders, their equestrian competitions, and their romantic adventures was a bestseller in the UK in the 80s and stands the test of time as a fun and steamy adult read. (Note: contains explicitly adult themes and content)
Indefensible by Rebecca Frankey (3 day eventing) One of my favorite themes for horse novels is the "untamable horse who can only be ridden by the one girl (or occasionally boy) who believes in them". This novel is a quick read that scratches this itch while exploring themes of resilience, romance, and growing up. (Young Reader appropriate romance)
The Perfect Distance: A Novel by Kim Ablon Whitney (Hunter/jumper) For a lighthearted read about the competitive world of Hunter/jumper and equitation, this horse themed romance might be a great choice.
Novels Featuring Horses
Riding Lessons (book 1 of 2) by Sara Gruen (Olympic Competition) This modern novel, written by the best-selling author of Water for Elephants, is part 1 of 2 in a series. In this novel, an equestrian athlete and Olympic hopeful faces a tragic accident, the loss of her horse, and a difficult journey to healing.
Flying Changes (book 2 of 2) by Sara Gruen (Olympic Competition) In the sequel to Riding Lessons, the heroine is now struggling whether to allow her own daughter to compete in equestrian sports and pursue upper-level competition, as the novel explores trauma, motherhood, and growing up- set against a backdrop of horses.
All the Pretty Horses by Cormack McCarthy (Contemporary western fiction) Winner of the 1992 National Book Award and the National Book Critics Circle Award, All the Pretty Horses is a modern classic. Although the writing style can be difficult to read for some readers, this powerful novel is a page-turning read about a world most of us will never step foot in. (Note: Contains graphic descriptions of violence)
Books Based on the Stories of Real Horses
Seabiscuit by Laura Hillenbrand (Horseracing) Although you may have seen the film, this lovely book depicting more details about the relationship between Seabiscuit and the people who believed in him is a heartwarming and page turning read.
The Eighty-Dollar Champion: Snowman, The Horse That Inspired a Nation by Elizabeth Letts [showjumping] If you love a good rags to riches story, might be for you. This story about an unlikely show jumping champion reminds us that champions might be hiding around unexpected corners. (Note: this book hit #1 on the New York Times bestseller list)
Misty of Chincoteague by Marguerite Henry (wild horses) This Newberry Award-winning novel was written for children but is a staple of the genre that absolutely every reader interested in horses should take the time to enjoy. Set on the backdrop of North Carolina's Chincoteague Island's wild horses, this book is a bit of American history wrapped up in a book about one very special horse.
Mystery Books about Horses:
The small but mighty genre of mystery books about horses is one of my favorite. If I am headed on vacation or have a long flight that I'm dreading, these (usually deliciously cheesy) themed mystery novels are guilty pleasures that keep me turning pages without the investment of getting too attached to characters or their emotional lives.
If you are looking for a great book to gift to an equestrian out of the saddle or in the hospital due to injury, any or all of these kitschy paperback horse-themed mystery novels will be a hit.
Walk Trot Die by Susan Kiernan-Lewis (horse boarding barn) In true mystery novel form, this book features a team of detectives who delve into a closed-off equestrian community to find out who murdered a woman who was seemingly everyone's enemy.
Death by Dressage by Carolyn Banks (dressage) In the book that introduced me to this genre, the main character inserts herself into a police investigation into the death of fellow dressage rider Nika. While the police are convinced her death (caused by a kick from a horse) was accidental, the sleuthing main character is determined to prove otherwise.
'Perdita' by Isabelle Holland (general horseback riding) This detailed and engaging mystery is out-of-print but easy to find used. It's filled with murder, horses, and intrigue that's sure to keep pages turning. The heroine of this novel is a woman who takes a job at a riding stable following an accident and memory loss. She doesn't remember who she is, but you'll discover with her as you flip through this horse-themed mystery novel.
Shadow Horse by Alison Hart (general horsemanship) Could a scrawny sorrel horse be the key to a mystery of who killed Whirlwind, a beloved mare? This novel deliciously blends horses, mystery, and the heartwarming story of a rescue horse.
Horse to Die For by Carolyn Banks (general horseback riding) This equestrian heroine seems to have a nose for trouble. She finds it when she becomes convinced that her friend's new horse is trouble in more ways than one.
Creative Non-fiction Books about Horses
Creative nonfiction is a relatively new genre that has emerged in the past few decades. Blurring the lines between fiction and nonfiction, creative nonfiction brings a reader nonfiction content with the page-turning excitement of fiction. For that reason, I've included a few creative nonfiction books in this list of great horse books for equestrians.
Wild About Horses by Lawrence Scanlan (history) This book explores how horses have played critical roles in cultures and technological advancements of human history. While this book might sound dry, it is actually fascinating and invites the reader to keep reading to learn more about the complex role of horses in history.
"The Man Who Listens to Horses" (memoir) Monty Roberts is a horse trainer that has, in many ways, changed the way that we look at horses and horse training. In this autobiography, Roberts gives us an insight into his life and the story that shaped him into the horse trainer he became.
Chosen by a Horse by Susan Richards (memoir) This New York Times bestseller explores how one woman navigated through recovery from alcoholism with the help of a powerful relationship with a horse. (By the same author: Saddled: How a Spirited Horse Reined Me In)
Young Adult Horse Books: Modern Serials
The A Circuit by Georgina Bloomberg / My Favorite Mistake by Georgina Bloomberg (hunter/jumper) Young adult books about horses have always been prime candidates for being serialized. Being able to pick up a book and enjoy the same characters and the same horses overcoming new challenges can be a fun way to stay engaged. While many of us grew up on The Saddle Club and Thoroughbred series, a new generation is discovering serialized horse books via Georgina Bloomberg's novels (based on her own experience as an international Hunter/Jumper competitor).
Young Adult Horse Books: Contemporary Novels
War Horse by Michael Morpurgo (Military) You may have seen the movie, but the rich and detailed text of the original novel War Horse is worth reading.
Firehorse by Diane Lee Wilson (Historical) Fire horse is the story of a 15-year-old girl's reluctant move to Boston in the late 1800s, where she meets a horse that needs her: the story is about a girl's experience rehabilitating a badly burned fire horse.
*Blind Beauty by K. M. Peyton (Steeplechase jumping racing) The world is set against Tessa taking her unlikely horse all the way to the steeplechase (jumping) race called the Grand National- can Tessa overcome her stepfather's efforts to foil her plans, and gain the resources, skill, and courage to make it all the way?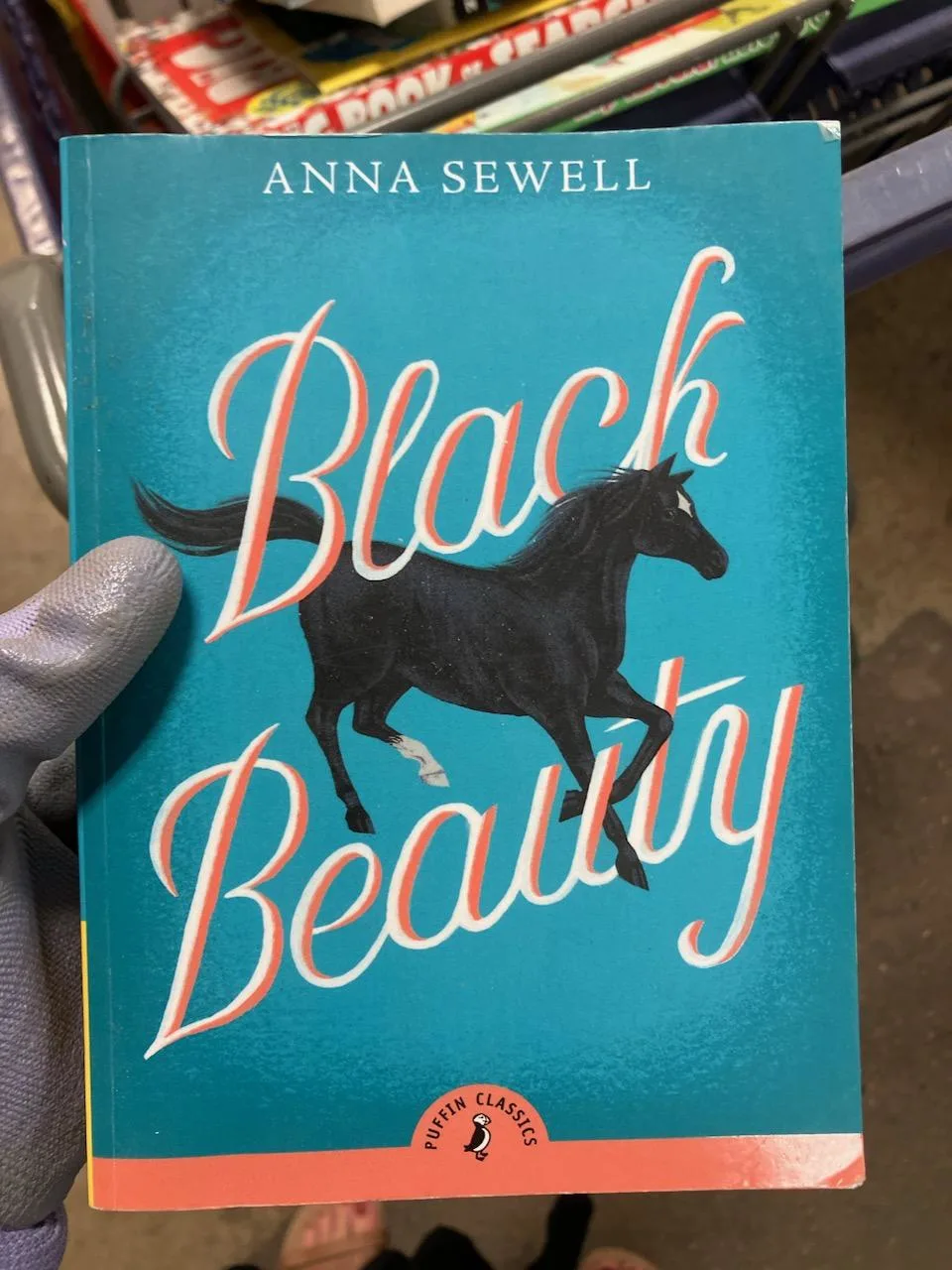 International Velvet by Bryan Forbes (Three-day Eventing) A modern sequel to National Velvet, in this novel the niece of National Velvet's heroine reluctantly comes to live with her, falls in love with a colt, and eventually trains to join the Olympic team as a three-day eventer. Of all the horse books I have read, this is one of my favorite novels (NOTE: The film version, which features Anthony Hopkins as an eventing coach, is worth tracking down)
The Silver Brumby by Elyne Mitchell (wild horses) Set in Australia, this book about a rare and special wild horse, and the way that this creature struggles with both other horses and humans to become head of a herd. It has captured the hearts and imaginations of readers for decades.
*The Snow Pony by Alison Lester (Wild horses) also set in Australia, in this book the heroine Dusty is enraptured by one look at a wild horse that no one else believes in. Although the horse is eventually captured, only Dusty can tame this wild pony.
Willow King by Chris Platt (Horseracing) When a foal expected to become the next racing champion is born with deformed legs, the breeder orders the horse to be destroyed. Luckily, a plucky 13-year-old who works in the stables and has a disability of her own is determined to help this foal become a champion. (Written by a former Jockey, this book contains particularly accurate representations of horse racing in the racing world)
Young Adult Horse Books: Classic Equestrian Theme Novels
Smokey the Cowhorse by Will James (Western) Although the fan base for westerns isn't very big these days, Smokey the Cow Horse is a classic book about horses worth expanding your typical genre of reading.
My Friend Flicka by Mary O'Hara (Western) My Friend Flicka is a heartwarming- and heartbreaking- novel about a special horse, a special boy, and their bond.
The Black Stallion by Walter Farley (and 20 other books in this classic series) (General horsemanship) A remarkable book that inspired a legion of films, a book series, and even a TV series in the 90s. The original Black Stallion Book is an absolute essential in the reading list of any equestrian reader.
National Velvet by Enid Bagnold (Steeplechase) National Velvet captured a generation, and while I personally find this book a little offputting due to the writing style (and, frankly, the misogyny of the day, captured in this book) it is an essential addition to any list of classic horse books.
Vicki and the Brown Mare by Sam Savitt (General horsemanship – English) While this won't make a list of classics written by most equestrians, to me, this beloved mid century novel about a girl determined to ride is an essential addition.
General Equestrian Fiction
'Horse Heaven' by Jane Smiley (horse racing) Stories told from the perspective of a horse invite us into a new perspective, and that's exactly what this novel does as a series of interwoven stories coalesce to form one crafted tale about horse racing.
'The Lady' by Anne McCaffrey (Show jumping) This out-of-print, but well worth ordering, novel explores the dual pulls for most female equestrians: the dual pulls towards pursuing passion, curating skill, and growing stronger versus the pressure to meet feminine ideals.
"Black Horses for the King" by Anne McCaffrey, (Historical fiction) In this novel, a story of conquest in the kingdom of King Arthur and Camelot is told from the unassuming perspective of the horses and stable hand.
The Dressage Chronicles – Karen McGoldrick. (Dressage) For a fun read that includes factual learning that you can apply to your own riding and training, this book about a girl who moves to Florida to work and study horse training in a dressage barn is a book that any dressage rider is sure to enjoy.
"I am the Great Horse" by Katherine Roberts (Historical fiction) History through the eyes of a horse is a genre that has sold well, and this novel, which tells the story of Alexander the Great from the perspective of his horse, is widely considered a success in that niche.

"The God of Animals" by Aryn Kyle (Boarding barn) When hard times mean that the heroine's father's stable has to take on boarders, life gets complicated as lives intersect and rider's stories take unexpected turns.
Children's Picture Books about Horses
The Girl Who Loved Wild Horses by Paul Goble (Caldecott award winner) You'll never believe what happens to this young Native American girl who devotes herself to the care of her tribe's band of horses. Beautiful and theme-appropriate illustrations this book makes a great gift for young horse lovers or expecting riders.
Hello, Horse by Vivian French A great introduction to horses for young children, in this book a young boy feels timid about meeting a horse for the first time. This narrative features some nonfiction elements which can help kids learn about horses while enjoying the story and stunning illustrations.
If a Horse Had Words by Kelly Cooper. This story features a young boy and a foal who meet again later in life, as a cowboy and a rodeo bronc.
If I Had a Horse Hardcover by Gianna Marino This book is for every little girl who has imagined what life would be like with a horse, and every parent who wants to invite their child into that imaginary experience. This book's simple story and stunning illustrations are a guided tour into imagining a world with their very own horse. (If you have ever thought about giving a horse as a gift, this book can be a fun and surprising way to "package" the gift, so the recipient has something to unwrap)
Growing up on Horse Books
As a horse-obsessed kid growing up in a family that couldn't afford horses, books were my connection to the horse world. I saddled up with Alec and The Black Stallion and took regular lessons with The Saddle Club. I thundered down the race track with Ashleigh in the Thoroughbred Series. At school I re-created the sketches of Sam Savitt in the margins of my notebooks.
Growing up in a small town, I quickly read through the local library's children's section of horse books and rapidly moved on through the horse books in their regular collection. Reading my way through a low-budget rural library in the late 1980s, helped expose me to a wide variety of books about horses. Serial novels like The Saddle Club and the Thoroughbred Series were missing from their shelves. Instead, they featured dozens of vintage horse novels.
All that reading about horses paid off, not only did it boost my reading skill and grades, when it finally became time for me to purchase my first horse as a young adult, I was ready. Years of reading about horses gave me the knowledge to have a "leg up" on other adult beginner riders.
Books about horses are a great way to keep yourself busy and learn more about the horse world while your horse is on stall rest or you are unable to ride due to an injury or extreme weather. We can enjoy horses and horsemanship by reading about horses even when we can't be in the saddle.