In this guide to choosing what to wear horseback riding, you'll find tips from a riding coach, horse show competitor, and former tack store owner about how to dress for (almost) any outing involving horseback riding.
In this article, you'll learn:
Whether it's your first time in the saddle or you're a seasoned pro, in this article, we'll cover various horseback riding experiences and how to dress for them with style, comfort, and safety.
Why what you Wear Horseback Riding Matters:
Dressing well matters – but when it comes to horseback riding it's not just about fitting in or looking great on horseback. Choosing the right clothing can help make horseback riding safer, more comfortable, and more fun. Picking the right clothing to wear for horseback riding will minimize the likelihood of painful saddle sores, help you focus on your riding, and in the case of a few particular garments (more on that later) can even help reduce your chances of falling from a horse (or being injured if you do fall!).
Horseback riding clothing essentials
Let's start with the very basics: the essentials that are always true about what you should wear horseback riding- no matter if that ride is a backyard pony ride or a Madison Square Garden Grand Prix event.
Although horseback riding has specific niches, each with its own dress code (i.e. English riding, Western riding, rodeos, and horse trail riding- just to name a few) there are a few hard and fast rules about what to wear that are always true no matter the horseback riding type. The 3 most important rules for picking what to wear horseback riding are 1. wearing heeled boots, 2. wearing a helmet, and 3. wear clothing that won't chafe. Here's a little more information on why these "rules" are so universal.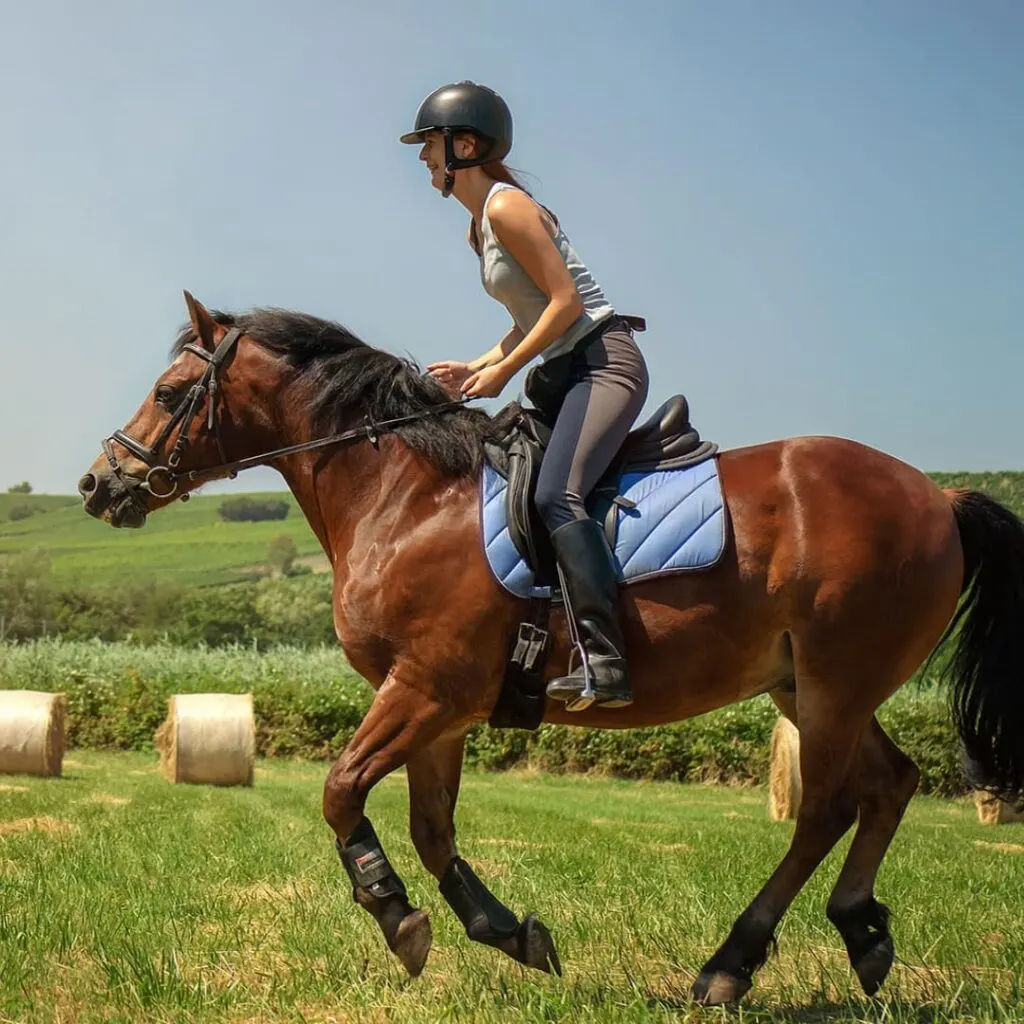 1. Protect your feet from slipping in the stirrups
In all but the most casual settings, boots are mandatory for horseback riding. Although some backyard horse owners may overlook this, a boot with a minimum of a 1/2 inch heel is an absolute necessity for horseback riding.
The boot can be an English style, a Western cowboy boot, a versatile Chelsea boot, or even a sneaker-hybrid designed for horseback riding, but a boot with a heel is essential to prevent a rider's foot from slipping into- or even through- the stirrups of the saddle. A heal that is at least 1/2″ makes it almost impossible for the foot to slip too far into the stirrup, making it less likely for a rider to be dragged in the unlikely event of an "unplanned dismount."
2. Protect your head
Most commercial riding environments (like riding stables, trail riding outfitters, and yes even beach horseback riding companies) all require that a rider wear protective headgear – in other words, a helmet. Helmets for horseback riding are different from helmets designed for other sports. For example, a bicycle helmet does not protect the parts of the head most likely to be injured in a fall from a horse.
Luckily, almost every business that supplies riding horses, lessons, or opportunities to ride will also provide riders with a selection of helmets. According to a Swedish study of almost 8,000 horse related accidents, head injuries are the leading cause of deaths related to horseback riding- and those deaths are almost all preventable through helmet use- so helmet up!
NOTE: if you have the opportunity to pick your helmet, pick a helmet that fits well and doesn't "slosh" forward if you nod your head sharply. Reject any helmet that appears dented or badly scratched (which could indicate a rider has already fallen and subjected the helmet to an impact). Horseback riding helmets are designed to be one-time use- once a helmet has experienced an impact it should be thrown away, not reused.
3. Protect your sensitive parts
Saddle sores are a significant issue for horseback riders – especially new riders. It's not unusual for skin to chafe or even get open sores even in the course of one horseback riding excursion. To reduce the risk of saddle sores, follow the tips in our post on saddle sores: wear riding specific pants, seamless underwear, a good sports bra (for those who need it), and use powder or skin lubricant to reduce friction between your skin and the fabric covering it.
For brief rides (15-20 minutes) this will matter less, but if you are mounting up for a long trail ride or beach ride, plan in advance so you can avoid uncomfortable saddle sores.
---
Now that you know the essential basics for what you need to wear horseback riding, let's explore some various horseback riding adventures and how to know what to wear for each of them:
Dressing for Casual Horseback Riding as a Guest:
Many of us have our first experience horseback riding in a very casual environment. Rather than formal horseback riding lessons or an introduction via a professional trail ride guide, perhaps a friend or coworker has invited you to ride their horses, or maybe you'll be visiting a distant family member's farm where you'll have the opportunity to ride. In these very casual settings – usually without a formal stable, arena, or anyone else around- you can wear almost anything that is safe for horseback riding (see above).
The right thing to wear for casual horseback riding is generally very casual clothing. While the difference between what you should wear for English riding and Western riding are sharply different when it comes to horse shows, for casual, just-for-fun horseback riding in a backyard or pasture, almost anything goes as long as you are safe and comfortable. Try not to stress too much about the perfect thing to wear horseback riding if the place you'll be riding is a private farm or backyard.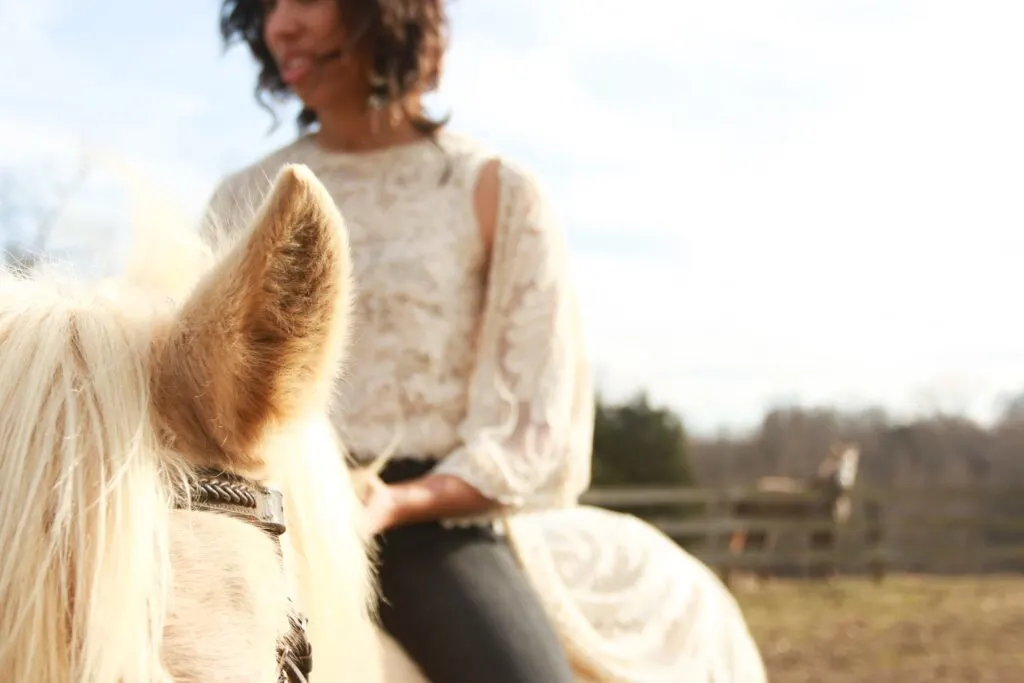 If you're concerned about wearing the wrong thing, just ask! If an experienced horse owner has invited you horseback riding for the first time, it's fine to say, "what should I wear?" This question can help relieve stress and help make sure that you are dressed right for your horseback riding experience.
Generally, the following clothing is appropriate for backyard or small farm horseback riding (Click here for more information if you need help telling the difference between English and Western riding):
What to wear for Casual English Riding
Top: A basic shirt, sweatshirt, or sweater that is easy to wash. Avoid shirts with decorations that dangle, holes, or delicate fabrics.
Pants: leggings or comfortable jeans
Hat/Helmet: if you are not offered a helmet, ask for one. Alternately, order a helmet in advance for as little as $30 (An inexpensive way to avoid a head injury!)
Footwear: Any sensible boot with a 1/2″-1″ heel is acceptable (no high heels!) If you have a quality pair of tall boots you can definitely wear them riding. Chelsea boots are a comfortable choice for many casual riders.
Undergarments: choose seamless (or minimal-seam) briefs and a great bra if you'll be going faster than a walk.
Accessories: for casual riding, you probably won't need gloves, chaps, or other accessories.
What to wear for Casual Western Riding
Top: A basic shirt, sweatshirt, or sweater that can easily be washed. Avoid shirts with holes, embellishment, or fine fabrics.
Pants: Jeans or leggings
Hat/Helmet: if your host doesn't provide a helmet, request one or order one in advance to bring your own (bonus: no sweaty helmet sharing!)
Footwear: Cowboy Boots or Chelsea boots with a 1/2″-1″ heel.
Undergarments: choose a seamless (or minimal-seam) brief and a great bra if you'll be going faster than a walk.
Accessories: You shouldn't need any additional accessories like gloves or chaps for just-for-fun horseback riding.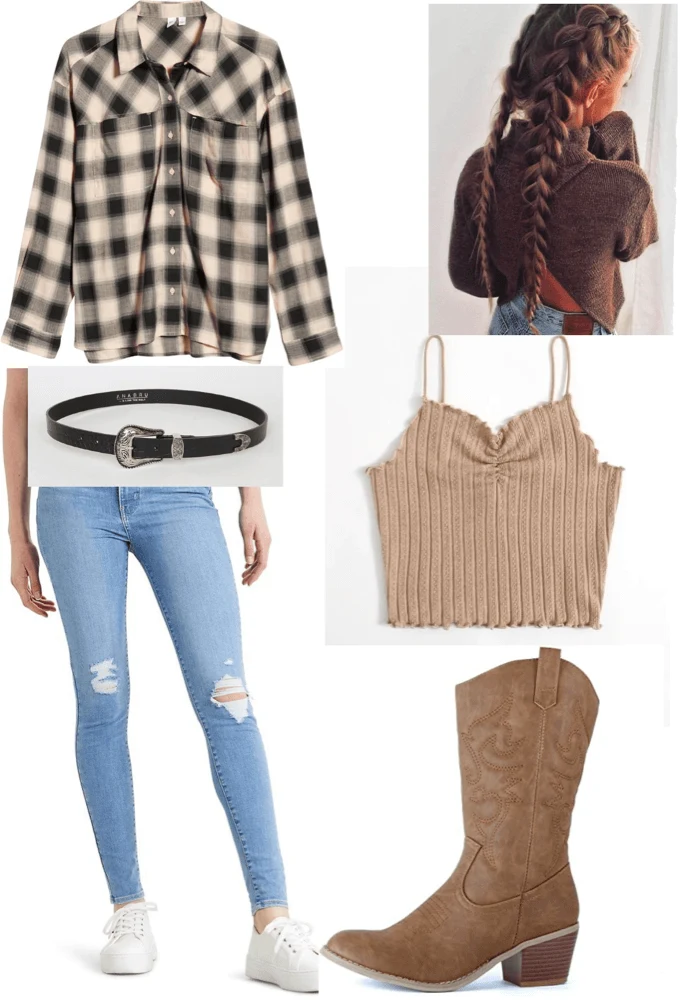 Dressing for Horseback Riding on Vacation
Riding a horse at sunset on an endless white-sand beach is the stuff of romance novels and picture-perfect honeymoons. Whether your equestrian vacation includes that iconic ride on the beach, a ride up a mountain trail, or has you herding cattle on the dude ranch, knowing the right thing to pack to wear for horseback riding on your vacation matters. Having the right thing to wear packed can be the difference between creating a special memory or spending hours of discomfort by realizing too late, on a long ride, that you've packed clothes that won't work for horseback riding.
booking a beach ride on your next vacation? Read our guide to beach riding expectations vs reality first.
What to wear for Riding Horses on the Beach
Top: Any plain shirt or tank top (preferably without fringe, straps, or holes that could be caught on tack while mounting or dismounting). Expect to deal with sun and potentially flies, a lightweight cotton or linen long sleeve shirt can provide comfort and protection.
Pants: Horseback riding on the beach is the one context where horseback riding in shorts is generally ok. Choose shorts with minimal or no seams and no cuff. Keeping fabric smooth under your thighs will make your ride much more comfortable- especially if you get damp from the surf. Longer shorts are less likely to bunch up while riding: bicycle shorts can be a good choice. Avoid bulky pants with pockets.
Hat/Helmet: Your beach ride outfitter should provide a helmet. Even though beach rides are safer than pavement or rocky trails, a fallen rider would still be struck by a hoof, which makes a helmet a necessity.
Footwear: Ask your guide or travel planner what type of shoes are recommended. Usually, boots with a heel are required for any riding that involves using stirrups. Some companies may waive the boot requirement but likely will still require a close-toed shoe.
[I know, I know, although the iconic beach ride is often bareback, the ability to ride a horse without a saddle and stirrups is a learned skill that can take a few weeks of consistent riding to learn. Because of this, it probably won't be an option for your vacation ride.]
Undergarments: If you anticipate the possibility of getting wet from surf and waves during your beach ride – skip the under layer. A wet layer against your skin as you ride your horse back to the stable could generate painful friction burns.
Accessories: Sunscreen and Sunglasses. Consider a waist bag (i.e. fanny pack) to carry essentials. We like this packable version that takes up only a tiny bit of space in your luggage.
What to Wear for Riding Horses on a Dude Ranch Vacation
Top: Lightweight, long sleeve cotton or high-tech fabric shorts over an undershirt are best for protection from UV light and biting insects.
Pants: Jean. (If you'll spend hours in the saddle on your dude ranch vacation, invest in riding jeans- specifically cut to minimize the bulkiness of seams at the groin and inner thighs- making riding more comfortable and fun)
Hat/Helmet: Your dude ranch should provide this essential equipment. It may not feel authentic, but helmets in commercial horseback riding providers are mandated by law in many areas of the USA and Europe. Opt to buy your own before you go to get the best fit, comfort, and style.
Footwear: Cowboy boots, Naturally!
(TIP: Mary from CalculatedTraveller.com reports that for some dude ranch guests, shopping for cowboy boots can be part of the experience. Make your trip special by buying a new pair of good boots before you go. Good cowboy boots last for years and they'll be a fun souvenir of your trip- just be sure to break them in before you go!)
Undergarments: Opt for performance fabrics and seamless construction, for comfortable hours in the saddle.
Accessories: A good pair of riding gloves are comfortable winter or summer and will protect your hands from scuffs or callouses.
How to Dress for a Horseback Trail Ride
If your vacation includes a mountain, lakeside, or canyon trail ride on horseback, you'll want to make sure that you have clothing to make your ride comfortable. Dressing well helps you be less distracted by discomfort and more able to enjoy the nature around you, scenic vistas, and your equine partner for the day.
Although going horseback riding once or twice on vacation rarely warrants purchasing special riding clothes, packing a few specific items (that you probably already have in your wardrobe!) can make your ride more comfortable and fun. Thankfully, for simple horseback riding like a vacation trail ride, many "athleisure" clothing items are well-suited for horseback riding.
Shirt/Top: The best top for trail riding is a comfortable and breathable shirt or jacket that's appropriate to the weather (i.e. a breathable tank top and summer heat or an easy to wash zippered jacket for cooler weather rides.)
Pants: To stay comfortable during your vacation horseback riding adventure, pack simple leggings or full-length fitted workout pants. Avoid shorts or 3/4-length pants, as these styles will position a hem between the saddle and your sensitive skin (which can make even a short horseback ride very uncomfortable!)
Hat/Helmet: Although the laws by state vary, your trail riding outfitter is likely to provide helmets. If you're not sure they will, plan in advance to bring your own in order to be sure that you have a safe ride.
Footwear: Like all horseback riding adventures that involve a saddle with stirrups, you'll need to bring a boot with a heel. Boots- unlike flip-flops and open-toed shoes- prevent a foot from slipping through the stirrup. Close toed shoes also help prevent injury if a horse steps on your foot while you are handling them while unmounted. Many trail riding outfitters may allow riders to wear sneakers, but virtually all will prohibit open-toed shoes and sandals.
Undergarments: For a short trail ride, you shouldn't have to worry too much about packing particular undergarments.
Accessories: Sunscreen, bug spray, and sunglasses are trail riding essentials. Consider a waist pack (aka the trusty old fanny pack) to keep your essentials handy but out of the way while you're mounted and riding the trail.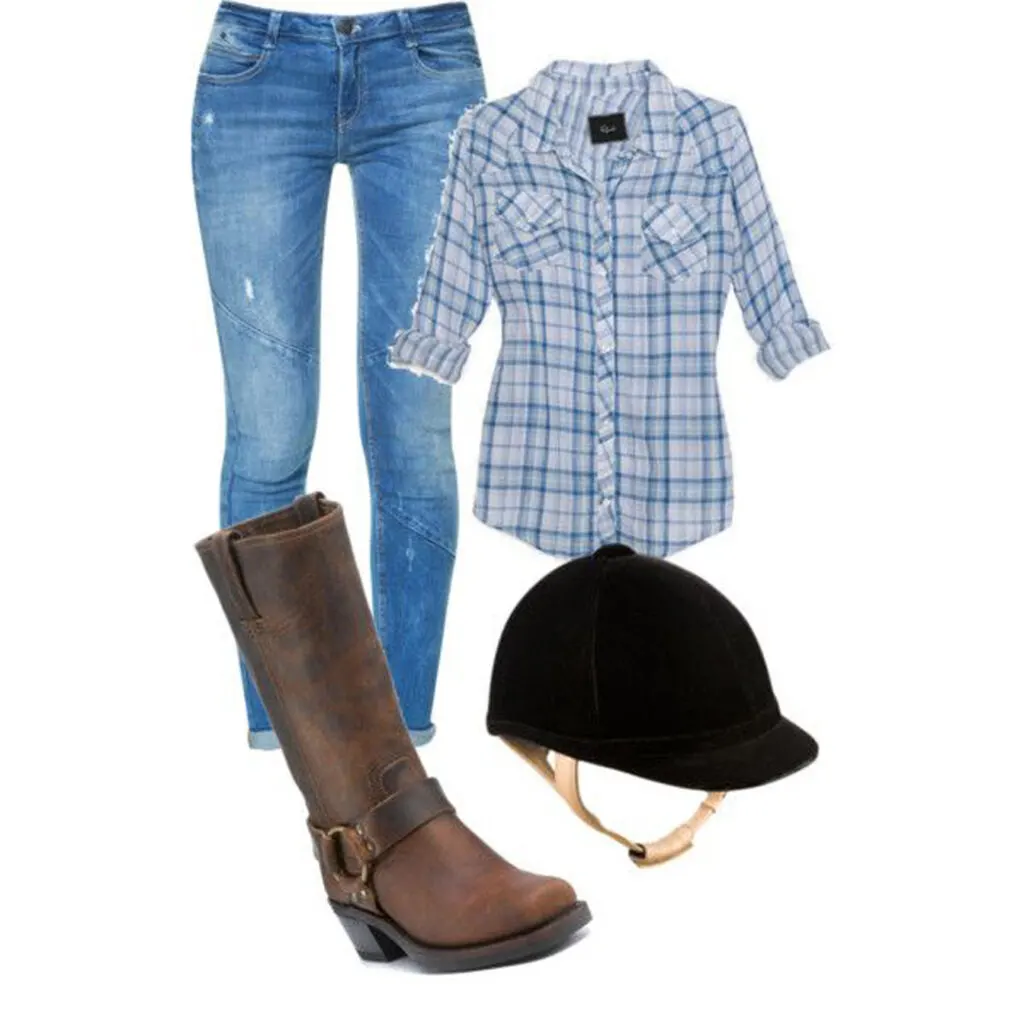 What Kids Should Wear for Pony Rides
While horseback riding lessons for kids generally do have a sort of dress code (see below), it's okay for kids to wear almost anything to parties and events where pony rides are being offered. Rather than a specific list of things kids should wear to pony rides or pony parties, the dress code for pony rides is better summed up in a list of what not to wear: for pony rides or pony parties, kids should avoid wearing dresses, long skirts, or shoes that can come off easily (flip flops, clogs, slides, etc).
If your child is sensitive to tags and textures, have them wear leggings or comfortable stretchy pants (rather than jeans or shorts) for pony rides.
For more information on what kids should wear for horseback riding, check out the CDC's recommendations for kids who ride horses.
How to dress a child for pony rides:
Top: Almost any shirt, top, sweater, or jacket is okay for a casual pony ride
Pants: Jeans, leggings, or other comfortable pants are great for pony rides. Shorts, however, may expose legs to pinching on the saddle.
Hat/Helmet: The pony ride operator should provide safety gear. Although many parents want to supply bike helmets, bike helmets are not designed to protect a head in the event of a fall from a horse.
Footwear: Your child should wear closed-toed shoes anytime they are around farm animals including horses and ponies. To improve safety, your child should wear a shoe with a bit of a raised heel (like a cowboy boot or Chelsea boot)
What Not to Wear for Kid's Pony Rides:
dresses or skirts
open-toed shoes
shoes that can slip off of their foot
uncomfortable clothes
jewelry
What to wear for Horseback Riding Lessons
If you are planning to begin horseback riding lessons, you may feel some combination of excitement and fear about this new adventure. Being comfortable, being safe, and fitting in are all valid concerns when it comes to figuring out what to wear for your horseback riding lesson.
Appropriate horseback riding lesson outfits generally look like a cross between what you should wear to horse show and what you should wear for the very casual riding scenarios described above.
What's the "right" thing to wear for a riding lesson? It varies. Here's why: Depending on the particular stable where you take your riding lessons, what's appropriate to wear might be different. Barns that are focused on developing new riders into high-level competitors usually have a dress code and expect riders to dress smartly. However, most riding stables that offer horseback riding lessons do so as a hobby more so than a sport, and at these stables, what you should wear for riding lessons is anything that keeps you safe and comfortable.
Dressing for your First Horseback Riding Lesson
It's okay to start riding lessons without a wardrobe of specialized riding clothes! For your first horseback riding lesson, it's good to wear leggings and a safe, comfortable boot (basically, any boot that fits well, has a 1/2″-1″ heel, and has a smooth surface on the inside of the foot/ankle).
Before your first lesson starts, your riding instructor or a stable manager will help you find a helmet to borrow (usually from a shared collection that is disinfected regularly). They will also let you know about special clothing or equipment you might need if you choose to continue riding lessons.
Note: You DON'T need to go out and buy a full horse-show regulation riding outfit to take riding lessons! Most barns are casual. Even at competition-focused stables, riders in practice, training, and lessons have a style of dress that is very relaxed from horse show standards.
Dressing for English Riding Lessons
Once you decide that riding lessons will be a regular hobby for you, it's worth investing in equipment that will keep riding fun, safe, and comfortable. That means a few basic purchases:
Top: The best shirts for English riding lessons are made from tech fabrics that are breathable and easy to wash. Because the origins of English riding are somewhat formal, shirts with collars remain the most classic choice for English riding lessons. Pair a long sleeve shirt with a fleece or down vest for riding lessons in spring and autumn cold.
Pants: Breeches are the classic choice for English riding lessons, and are always in style for riding lessons. However, in the last decade riding tights have become the norm for wearing to riding lessons. Riding tights, unlike leggings, are made from thicker, more durable fabric, with seams repositioned away from sensitive skin and reinforcement patches added at the knee.
Hat/Helmet: If you decide to stick with riding lessons, you'll want to invest in your own helmet. Having your own helmet means you can be sure it fits, is clean, and hasn't been banged around too much (a previous fall or too much abuse from rough handling can leave a helmet less able to protect your head in the event of a fall).
Footwear: Along with a helmet, riding boots should be your first purchase when building a wardrobe for riding lessons. There's a large variety of riding boots available for English riders, ranging from short boots to the traditional tall boots. For lessons, most riders use short boots- like paddock boots or Chelsea boots- combined with half chaps, described below.
Undergarments: Many riders can go without purchasing specialty undergarments, but for others, saddle-friendly underwear is essential for reducing chafing and preventing saddle sores. For women, managing bounce as you learn to trot, canter, and potentially jump horses may require the purchase of a specialty sports bra design to support riders.
Half Chaps: Half chaps are a bit like a cross between a convertible boot and a leg wrap for humans. Zipping or velcroing over your lower calf, half chaps can improve stability of your lower leg (making you a bit more stable rider) while protecting the skin on the inside of your legs from painful pinching between the saddle flap and stirrup leather. (NOTE: half chaps are only used with short boots. If you are riding in tall boots, the boot itself serves this function)
Accessories: Riding socks that provide a smooth, seamless protection for your calf, sunglasses, and a way to tie your hair back are additional essentials for English horseback riding lessons. You may wish to purchase gloves to help prevent growing calluses on your hands from horseback riding.
Example outfit for an English riding lesson:
Dressing for English Horseback Riding Lessons in Summer Heat
Top: When taking riding lessons in extreme summer heat, opt for a fabric made of breathable, sweat awaking fabric. Any workout top that is fitted or semi-fitted can be an appropriate horseback riding lesson shirt for hot weather.
Pants: When it's hot, you may be tempted to wear shorts to horseback riding lessons, however, this can be a painful mistake. The sweat of summer horseback riding combined with friction between sensitive skin and bulky seams or hems is an easy way to get saddle sores. Saddle sores can form in as little as 10-15 minutes of riding in hot, humid summer conditions. Instead of riding in shorts, invest in a pair of riding tights designed for summer riding. Modern fabrics can keep you protected and cool.
Hat/Helmet: some riders invest in a summer riding helmet (these have more vents in the design) and a winter riding helmet (with fewer vents).
Footwear: Short boots can be cooler for horseback riding in summer heat.
Undergarments: Chafing can be a particularly frustrating problem when riding in hot weather, if you tend to chafe during your riding lessons, you may find that seamless tech fabric underwear can help. Alternately, some riders choose to skip underwear when humidity and heat are extremely high.
Example of a Riding Outfit for a Summer Riding Lesson: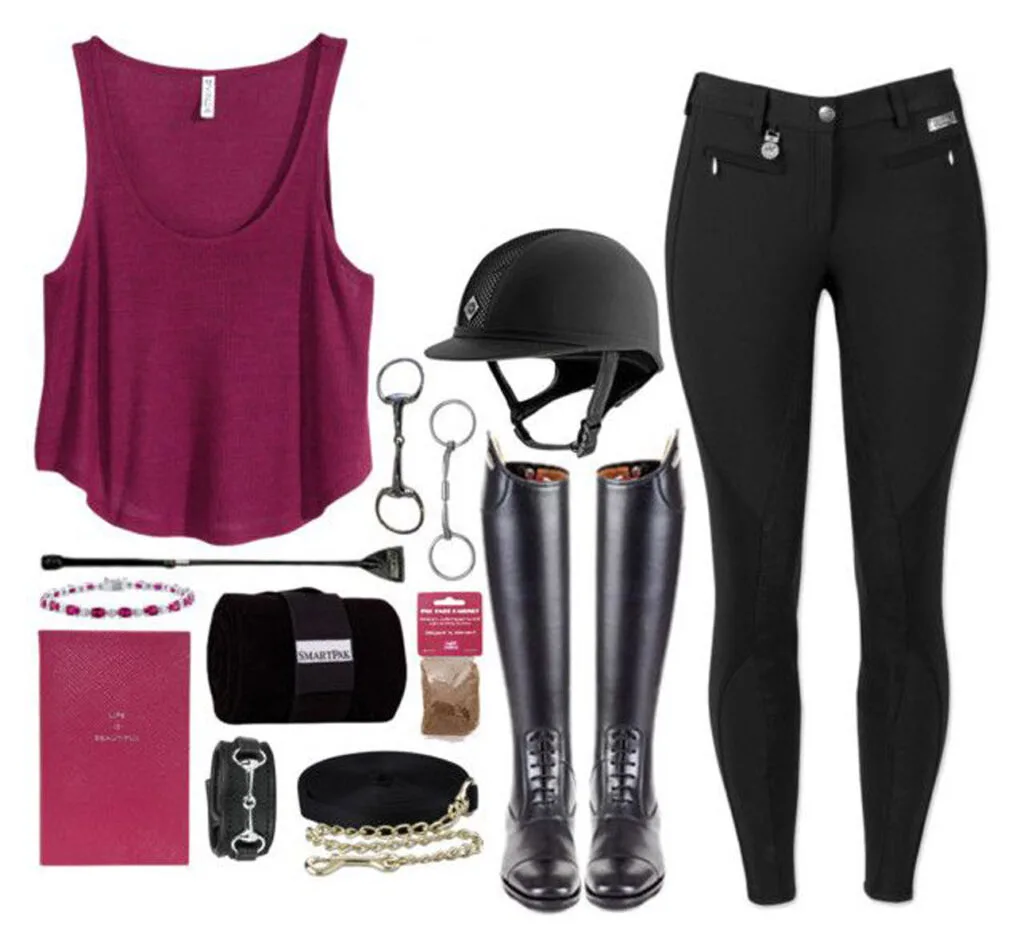 Dressing for Horseback Riding Lessons in the Winter
Top: many riders find layering to be the best way to dress for horseback riding lessons in very cold temperatures. Layers allow you to adjust your clothing as your body heats up while riding. Many riders find that an insulated vest is essential for winter horseback riding.
Pants: A pair of fleece-lined insulated riding tights or breeches can be a winter lifesaver for people who take lessons through freezing winter months or who train in cold climates. These pants add an extra layer of fuzzy fleece to help trap body heat.
Hat/Helmet: Some riders invest in a summer riding helmet (with more vents in the design) and a winter riding helmet (with less vents), or layer their helmet over a thin cap to retain heat in their head.
Earwarmers: An ear-warming headband of the type made for runners can offer warmth without restricting movement or range of vision.
Footwear: if you plan to ride regularly through the winter in a cold climate, investing in insulated riding boots is advised. These boots keep toes toasty even when riding in freezing temperatures.
Accessories: Finally, gloves – preferably insulated gloves – are essential for winter horseback riding.
Dressing for Western Riding Lessons
Most riding lessons in the United States and Europe are English riding lessons, but in some areas (especially the southwest USA and the west coast of the USA) Western riding lessons may be available. Western riding lessons may be appropriate for riders seeking to show Western pleasure, show in rodeos, or learn to handle a horse well enough to become a regular trail rider.
Because of the more working-class origins of Western riding, the range of appropriate clothing for Western riding lessons is much wider than for English lessons. Just like English riding lessons, you'll need a boot with a heel and helmet for Western riding lessons.
While helmets are still gaining acceptance within the culture of Western riding, many Western riding facilities have been prompted into helmet use through legislation that requires the use of helmets (most commonly, for riders under 18, but many insurers demand that a stable require every mounted rider to wear a helmet)
What to Wear Horseback Riding in Western Riding Lessons
Top: for Western riding lessons, almost any top shirt that allows for a full range of movement and keeps you comfortable is acceptable for wearing during your lesson.
Pants: Traditionally, Western riders wear jeans. If you have a comfortable pair of jeans, or " jeggings," it's fine to wear them to your lesson. You can also wear regular leggings or even English riding designed riding tights for extra comfort.
Hat/Helmet: Although cowboy hats are traditional for Western riding, almost no one wears them for Western riding lessons. Instead, wear a riding helmet to prevent potential injuries in the event of a fall.
Footwear: The cowboy boot is the iconic footwear of Western riders and is appropriate for Western riding lessons. Opt for a plain, minimally embellished boot with a low heel to fit in with other riders at your lesson. (High fashion cowboy boots have their place, but it isn't in a barn or stable!) If you don't have cowboy boots, a sturdy pair of Chelsea boots or paddock boots are also fine for western lessons.
What to wear riding to reduce your risk of falling off a horse
Everyone worries about falling off their horse– well, except the lucky few riders who began riding at a young age and have never had a bad fall. For those of us who are a bit more risk-averse, who adopted the hobby as older teens or adults, or who have experienced a bad fall from a horse, avoiding a fall becomes a concern.
While there's no one piece of gear that can prevent you from falling off a horse, there are clothing and products that help you stay secure in the saddle, confident, and more balanced- all factors that can help you stay mounted even when riding gets bumpy. The following riding clothing may help reduce your chance of falling:
Full Seat Breeches
While traditional breeches and riding leggings have basic patches at the knee to prevent chafing, full seat breeches offer much more. Full seat breeches are named such because of the panel of suede (or suede-like microfiber) that extends from knee patch to knee patch, covering the seat, thighs, and crotch (i.e. the "full seat") with a non-slip tacky texture of suede. These riding pants create much more friction between your body and the saddle than normal fabric, which may help you keep your center of gravity squarely in the middle of the saddle even when your horse moves unexpectedly.
Full seat breeches are traditionally associated with dressage riding, though they can be worn for English riding and- if you choose- even western riding (outside the show ring, at least!). "Full seat riding jeans" are the western riding equivalent of full seat breeches.
Suede Half Chaps
In the same way that full seat breeches use suede to help a rider "stick" to the saddle, suede half chaps (a boot-like wrap that surrounds a rider's lower leg) can help stabilize a rider's lower leg while adding grip. With the extra grip helping hold the lower leg in place in a safe, balancing spot, and extra grip when a rider squeezes their horse's body, half chaps may provide a small benefit in securing a rider and preventing falls.
FAQ's
Can you wear leggings while horseback riding?
Definitely! Although some horseback riders find that the inner seam can cause chafing, if leggings are comfortable for you to ride in it's absolutely fine to wear your leggings horseback riding- and many casual riders do. You'll need to invest in riding tights or breeches for longer rides or competitive horseback riding. Both riding tights and breeches are similar to leggings but are typically made of more durable fabrics with a cut that minimizes irritating seams.
Why wear gloves for horseback riding?
Horseback riders wear gloves for several reasons. 1. Gloves give riders a better grip on reins. If a horse pulls the reins, a gloved rider's hands can remain steady and soft, without pinching skin. 2. Gloves protect skin. In a barn (and even in the saddle) cuts, scrapes, and callouses are easy to come by. Riding gloves preserve soft and healthy skin. 3. Gloves prevent chapped skin and sun damage. Hands are delicate, and barn chores, sun, and cold all take a toll on our skin. Horseback riders wear gloves to prevent chapping in the winter and sunburning in the summer.
Do you have to wear long pants for horse riding?
There's no hard and fast rule that says you have to wear long pants while horseback riding, but many riders find that wearing shorts or cut off pants results in uncomfortable pinching, chafing, or even saddle sores at the point where the hem rubs between a rider's body and the saddle. Wearing long pants for horseback riding generally prevents this issue.
What shoes do you wear horseback riding?
You can wear almost any shoe horseback riding as long as it is close-toed and has at least a 1/2″ heel. Close-toed shoes reduce the risk of toes being injured if stepped. A raised heel keeps a foot from slipping through a saddle's stirrup. While trail ride operators and pony ride handlers will probably allow you to ride in sneakers, for your own safety you should always try to wear some time of boot for horseback riding.
Can you wear sneakers for horseback riding?
Riders are discouraged from wearing sneakers during horseback riding, though they may be acceptable for one-off rides on very safe horses. Sneakers are inappropriate for horseback riding due to the smooth sole that can easily slip through a stirrup, potentially causing a rider to be dragged in the event of a fall.
What should you not wear when riding a horse?
Avoid wearing high fashion boots, flip flops, slides, or clogs for horseback riding. Avoid shirts with excessive embellishment, fringe, or holes. You should not wear uncomfortable or too-tight pants or pants with bulky seams on the inner leg for horseback riding. Do not wear jewelry that can snag (stud earrings are ok).
Can I wear shorts for horse riding?
Generally, shorts are only comfortable for horseback riding if you are riding a horse bareback – without a saddle. If you'll be riding with a saddle, wearing shorts while riding may cause chafing at the hem- the friction of each step can rub delicate skin and leave inner calves prone to pinching from stirrup leathers.
Do you have to wear jeans to ride a horse?
You don't have to wear jeans horseback riding- in fact, many riders find jeans to be especially uncomfortable to ride in. Instead, you can wear leggings, tights, or the casual riding pants listed in the horseback riding outfit recommendations above.
What are the best jeans for horseback riding?
The best jeans to wear for horseback riding are jeans designed specifically for the needs of horseback riders. The problem with riding in traditional jeans is that the seams can be quite bulky. These bulky seams can cause saddle sores – particularly for newer riders who shift more in the saddle with each stride.
Modern jeans, which tend to be made from a blend of cotton and spandex fabric, have less bulky seams- making them better jeans for horseback riding. Jeans with a little bit of stretch allow for more movement when mounting and riding and tend to cause fewer saddle sores.
However, the very best jeans for horseback riding are jeans manufactured by vendors who design clothing specifically for riders. Jeans made for horseback riding have seams that are sewn differently – or sometimes entirely moved into a different area – which helps them to be more comfortable for horseback riding. You can find these jeans by searching for "riding jeans" or "denim tights for horseback riding."
Can I ride a horse in a dress?
Riding a horse in a dress is more complicated than you might think – It's also a lot less comfortable than you might imagine! Never wear a dress to ride in a horseback riding lesson, beach riding excursion, or even to ride at a friend's farm.
If you have your own horse and you'd like to try riding in a dress, first think through each of the steps in mounting and riding, and consider how to prepare your horse. Many brides have suffered a fall at their own equestrian wedding by not desensitizing their horse to mounting and riding with the feel of a dress fluttering on their backside, rump, and sides!
Before ever mounting up wearing a dress – especially a long and flowing dress- lunge your horse with a similar piece of fabric attached to their saddle. This will help the horse get used to the sound and feel of a dress flapping against its body as it walks, trots, and canters. Practice tossing the fabric up and over your horse's back to simulate being mounted by a rider wearing a dress.
Finally, if you plan to ride a horse in a dress, choose a pair of biker shorts or leggings to wear underneath. By choosing the appropriate length of leggings, you can appear to be riding a horse in a dress while protecting your sensitive scan from chafing.
How to Know what to Wear Horseback Riding
Research the Place you'll be Riding.
Will you be riding at an english riding barn or a western riding stable? Is it a simple backyard hobby farm? Is it a trail riding outfitter or targeted to tourists on vacations? Once you know the context, use the outfit ideas listed for those riding types above.
Check the Horse Owner's Website for Clothing Recommendations
If you're riding with a trail riding company, a guide leading horseback riding on the beach, or a stable specializing in beginner riders, the business's website may offer advice one what to wear or what not to wear for your ride.
Ask for Advice on What to Wear
When in doubt, ask! If you'll be riding with a friend, family member, or horse-experienced friend, ask for their advice on what to wear.
Order any Special Equipment well in Advance
As described in this article, buying clothing may not be necessary. However, if you decide to invest in riding clothing, be sure to order far enough in advance that you can return and reorder any items that aren't a good fit.
Need a steady stream of ideas for outfits to wear horseback riding? Follow our Riding Outfit ideas Pinterest board.