As horse enthusiasts, we understand the importance of proper gear for a comfortable and successful ride. While riders often invest in the right saddle, boots, and helmet, one crucial piece of equipment that is often overlooked is the sports bra. A well-fitted and supportive sports bra can significantly impact a rider's posture, balance, and overall biomechanics.
In this article, we'll discuss:
📣 Sports bra recommendations from our community.
📏 Tips for choosing the best sports bra for your needs and stage of life.
🐴 How the right, and wrong, sports bra impacts your ride.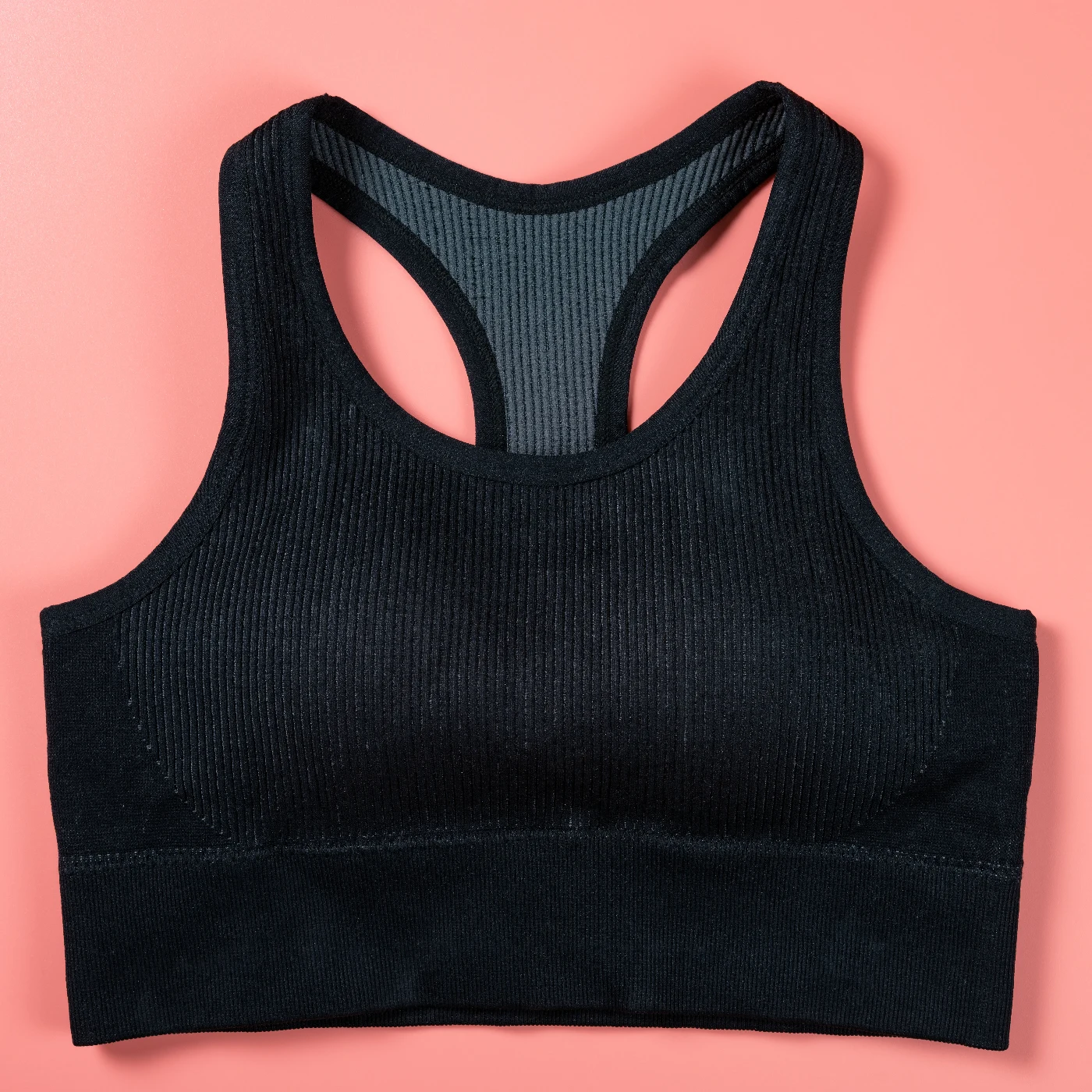 How to Choose the Perfect Horseback Riding Bra for Your Body
Because male riders dominate higher levels of riding and coaching, even many good female riding instructors and coaches don't sufficiently emphasize how a well-fitted and supportive bra can improve a rider's seat and performance. (Even though 74-80% of riders 1 are women!) In this guide, we'll explore how the right bra can greatly impact posture, balance, and overall biomechanics.
Rider-Tested Horseback Riding Sports Bra Recommendations
Recently, we polled our mailing list and Facebook community and, combining it with our team's own favorites, compiled a list of the most beloved sports bras for riding- according to actual riders.
The following section may contain affiliate links. As an Amazon Associate, we earn from qualifying purchases.
Why A Well-Fit Bra Matters for Riders
When we're riding, a upright posture with shoulders back, heels down, and elbows close to our sides are all key to having fun, growing as a rider, and avoiding falling off.
You might be surprised that a bad bra actually makes all of this harder! When we're unsupported, shoulders slump, elbows bow out, and our heels come up into a crouch- all making it harder for us to bond with our horse, learn, and thrive in the saddle. But that's not just the opinion of this riding instructor, here's some research on the topic:
Poor Bra Fit Can Lead to Pain
According to a 2016 study conducted by the University of Portsmouth and Sparsholt College Hampshire, 40 percent of female horse riders who participated in an online survey reported experiencing breast pain during their riding activities. 2
Poor Support leads to Poor Riding Position
An unsupported larger bust may push your arms out, affecting your posture and hand placement and making things like half halts, 2-point riding, or neck reining more difficult. 3
A 2021 Study in the UK studied how female riders' positions were impacted when their breasts were supported to a greater or lesser degree. The study found that increased breast support led to significant reductions in breast movement and pain while riding. Riders with larger breast sizes experienced greater improvements riding position when equipped with a supportive bra than did riders with smaller breast sizes. 3
A badly designed riding bra or even just a wrong bra size can not only make riding uncomfortable, it can also distort your biomechanics, leaving you more prone to falling off a horse.
Fitting Horseback Riding Sports Bras
Knowing how to actually fit a bra is the first step in getting a great bra for horseback riding. Here're a few starting points.
Know Your Size: It's easy to assume you know your bra size, but many women are actually wearing the wrong one. Check out resources like r/abrathatfits on Reddit for more advanced guidance. The right bra size should offer your breasts proper support, holding them securely in place rather than compressing tissue to the sides- which will affect arm position when riding.
Test the Jump: Trying on bras at a store? Do the jump test! Similar to the kind of impact whe jumping horses, this involves jumping around a bit in the dressing room to ensure the bra provides sufficient support and keeps everything in place even during movement.
Explore Minimizer Bras: Minimizer bras, like those offered by Wacoal, can provide more support than some sports bras which might only compress without truly offering the support needed.
Double Up: Some riders find that wearing a snug-fitting sports bra over a regular bra (underwire, in some cases) gives them the ideal support (this was my strategy for the first decade of riding!) This bra-layering arrangement helps avoid 'uni-boob' and prevents breast tissue from pushing toward the armpits.
Compression is Key: For riding, consider bras that offer more compression than lift. Lifted bras may give your chest more sway, which can throw you off balance, especially if you get thrown forward by a horse that shies.
Consider Riding Specific Bras: While most bra brands are designed to provide gravity-defying lift, riders actually need compression and full support from top and bottom. A rare few brands, including Enell, offer bras specifically designed for riding. They provide a firm hold, which can help riders stay balanced.
Adapting Our Gear as we Age
As a rider in the saddle for a few decades, now, I've seen my fair share of challenges in the saddle. Among them, one surprisingly common issue arises with female riders: finding the right support bra for horseback riding. When our bodies change or we return to riding after a break, we might discover that our good old gear is not offering us the comfort and support we need anymore.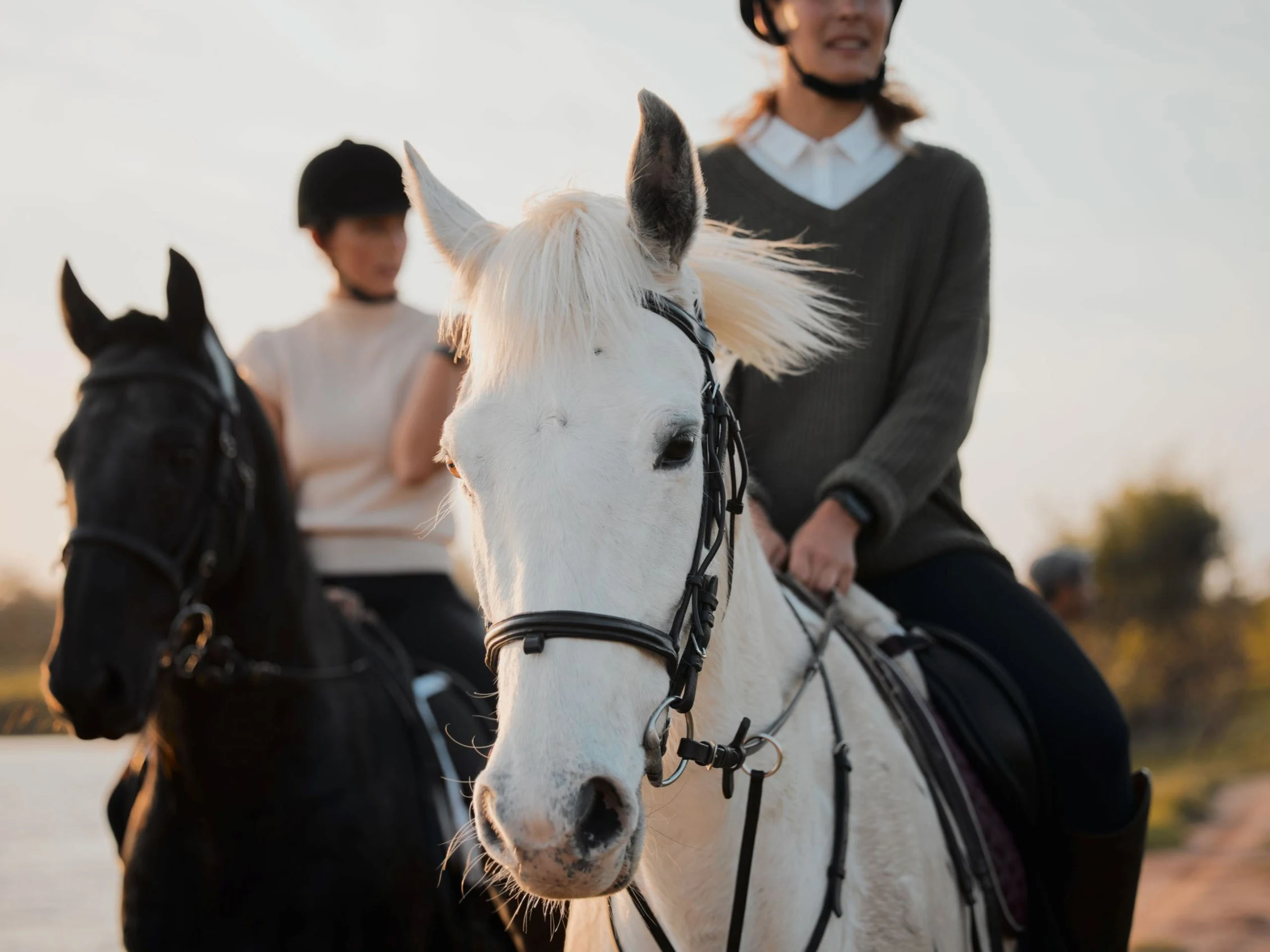 Alternative Solutions for Riders with Large Busts
Getting professionally fitted at a bra store can make a world of difference. The right fit can enhance comfort and support, transforming your riding experience.
Opt for binders or riding corsets for extra support: Binders, often used by trans men, can also offer a higher level of support.
Consider wearing two bras: While it might not be the most comfortable solution, some riders have found success wearing two bras for added support. The hassle of extra layers can be worth it for real support.
Work on your arm position: Not all bounce-related issues come from a lack of support. Your riding posture, particularly your arm position, could contribute to the problem. When riding, your upper arms should hang parallel to your body.
This is by no means an exhaustive list, but these insights from experienced riders can be a great place to start your journey toward finding the ideal support bra for horseback riding. Remember that everyone's body is unique, and what works best for one person might not work as well for another. Experiment with different styles, brands, and sizes to find the bra that provides the most comfort and support for your needs.
Finally, always remember to dismount carefully to avoid any wardrobe mishaps- many riders have caught their bra on a saddle horn and been left dangling!
The Final Word on Bras for Riding
A good sports bra is truly the foundation of any riding outfit for women! When we understand the impact of a well-fitted and supportive sports bra on our posture, balance, and overall biomechanics, we can enhance our comfort, confidence, and performance in the saddle.
Investing in the right sports bra is an investment in your riding experience. So take the time to explore different options, consult fitting guides, and prioritize your comfort and support!
Should you wear a sports bra for horse riding?
Yes, wearing a sports bra for horse riding is recommended. Sports bras provide support to keep breast tissue from uncomfortably shifting during activities like riding. Ultimately, this helps riders maintain proper posture and balance.
Why do sports bras ride up during horseback riding?
Sports bras may ride up during horseback riding due to the repetitive motions and physical exertion involved. The movement can cause the bra to shift or slide, especially if it doesn't have a secure fit or proper straps. Opting for sports bras with adjustable straps and a snug fit can help minimize this issue.
Can I wear just a sports bra without a shirt for horseback riding lessons?
While it's generally recommended to wear a shirt along with a sports bra for horseback riding lessons, it ultimately depends on the dress code and guidelines of the specific riding facility. It's best to check with your instructor or the stable's rules to ensure compliance. Here's more on what to wear horseback riding.
What bra type is best for horse riding?
The best bra type for horse riding is a sports bra that offers high-impact support and a secure fit. Look for sports bras with features like underwire, front fastening options, adjustable straps, and compression. These features can help a bra move beyond simple vertical support to active bounce prevention.
Research sources used for this article:
Pekarchik, K. (2017). Riding Through Life: A Lifespan Study of the Attitudes, Behaviors, and Areas of Educational Opportunity for Female Equestrians Toward Bra Use and Health Outcomes when Engaged in Equestrian Sports. University of Kentucky Master's Thesis. https://doi.org/10.13023/ETD.2017.404 [↩]
Burbage, J., & Cameron, L. (2017). An investigation into the prevalence and impact of breast pain, bra issues and breast size on female horse riders. Journal of Sports Sciences, 35(11), 1091-1097. [↩]
Cameron, L. J., Burbage, J., Lewis, V., Dumbell, L., Billingsley, E., Young, K., … & Goater, F. (2022). Breast biomechanics, exercise induced breast pain (mastalgia), breast support condition and its impact on riding position in female equestrians. Comparative Exercise Physiology, 18(1), 9-19. [↩][↩]