Although a horse's bones and joints aren't mature enough to carry a rider until they are 2 to 3 years old, gentle unmounted training with 1-year-old horses (called yearlings) can help prepare horses for mounted training.
If you are raising a young horse to be your next trail, hobby, or show partner, consider investing time in advanced ground training. Through early training and handling, you can develop a relationship of mutual trust and respect with your yearling that will translate, after mounted training begins, into low-stress saddle-breaking and more intuitive communication while riding.
Most horse owners know hands-on work with their yearling is important, but often get stuck on exactly WHAT to do with their yearling. In this article, we'll be cataloging ideas of ways to have fun with your yearling, how to start basic training for young horses, and a few of our favorite advanced training techniques for yearlings that have learned the basics and are ready for a challenge.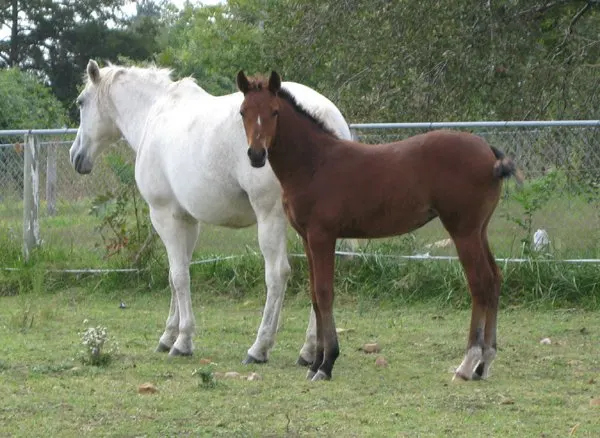 Hands-on vs Hands Off: Changing Thought on Raising Yearlings
Previous generations of horse owners and trainers generally believed that training with horses under two years old should be very limited, but modern training methods are challenging this older wisdom.
In the past, it was common for young horses to be allowed to be "wild" and completely untouched until their second or third birthday. Sometime around 2-3 years old, horses would be rounded up and placed in training to be riding horses. The term saddle "breaking" originates from this practice. To train these nearly feral two-year-olds to be riding horses, horse trainers would use force and aggression to "break" the horses of their resistance to being ridden.
Thankfully, it is rare to find on farms that operate with this practice today. Although some farms still allow young horses to remain mostly-untouched, learning social skills by living in a herd with other horses, even these farms are moving more towards "gentling" a skittish young horse rather than "breaking" them. Gentle training uses trust, time, and positive reinforcement to acclimate horses to change slowly rather than overloading them all at once.
Typical Training of a Young Horse: Basic Ground Manners
Most young horses do get a basic course of training, usually revolving around what is collectively called "Ground Manners."
For a horse, ground manners include the following:
1. Walking calmly while being led by Halter
2. Yielding to pressure (ie. backing up when a hand is pushed on their chest, scooting hindquarters in response to a hand pushing a hip, etc)
3. Tolerating being tied to a hitching post or fence (for increasing durations)
4. Lifting hooves when asked (for hoof cleaning and trimming)
5. Loading and unloading from a horse trailer.
If your young horse has learned these skills by age two, they are well prepared for the next phase of training when their bones and joints mature enough to begin saddle training at around 2-4 years old.
Advanced Training for Young Horses
For many people who take on a young horse as a project and work with them regularly, the basic skills listed above are complete within a few months. The rest of this article will explore creative ideas for working with a too-young-to-ride horse. Part fun, part bonding, and part training, these activities can help prepare your yearling to be a trusting, confident, sound-mind mount when saddle training begins.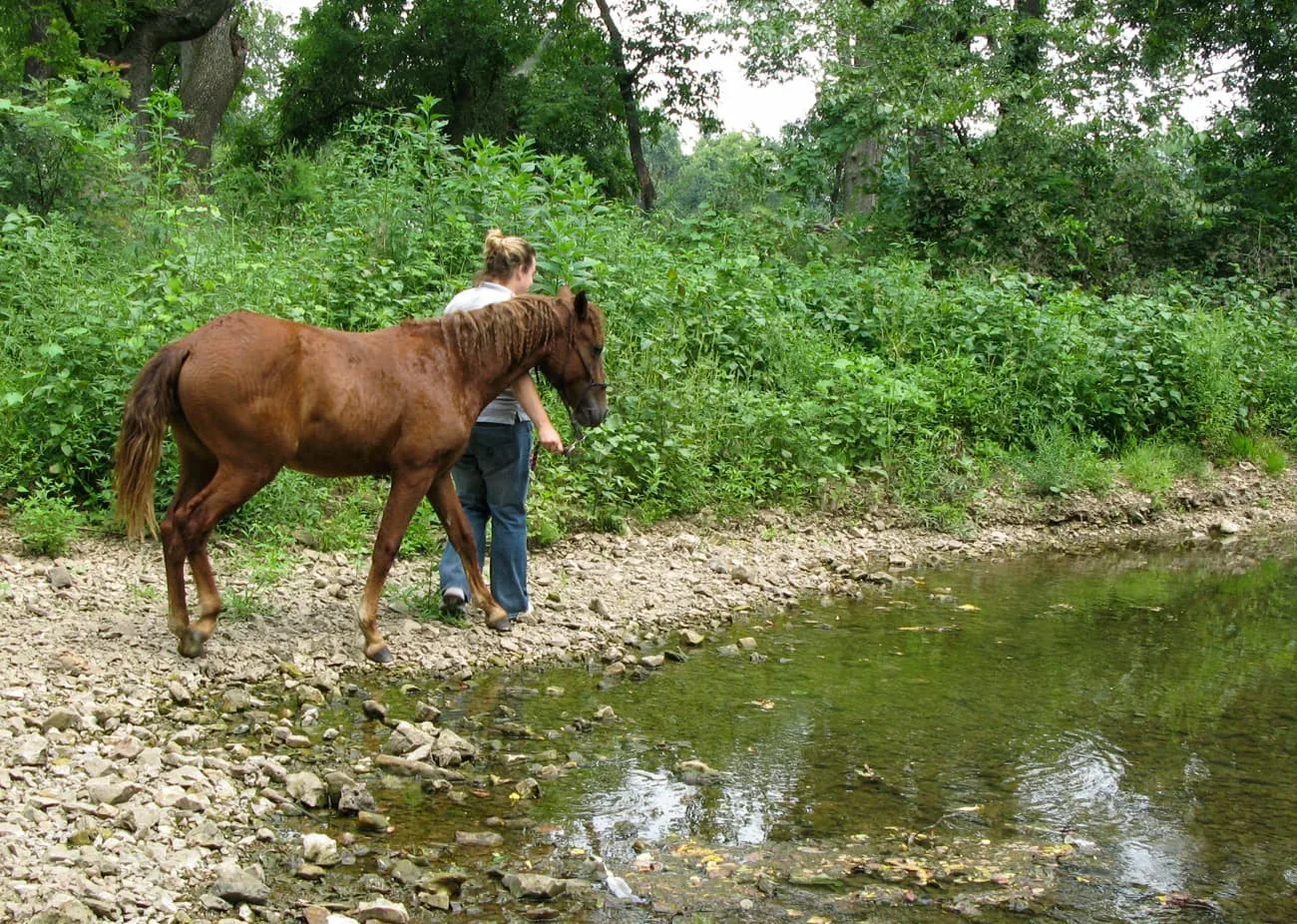 6. Desensitization
"Desensitization" is a popular word to describe the type of training that exposes a young horse to lots of "scary" things so they'll be less likely to be easily spooked.
As an intuitive riding coach, I don't love the term "desensitization". For a great bond between horse and rider, neither horse nor rider should be dulled to the world around them. Additionally, if we're raising horses for performance or competition, having high-responsiveness to stimuli is a good thing.
For this reason, instead of overwhelming a horse with fear-based experiences to teach them to disengage, we can expose young horses to many experiences while they are young in a positive way. Safe exposure to novel experiences helps them learn that "new" and "strange" things are not scary. Learning to harness yearlings' natural curiosity can help create confident, sensitive-but-not-reactive horses who are less likely to spook, when exposed to new things.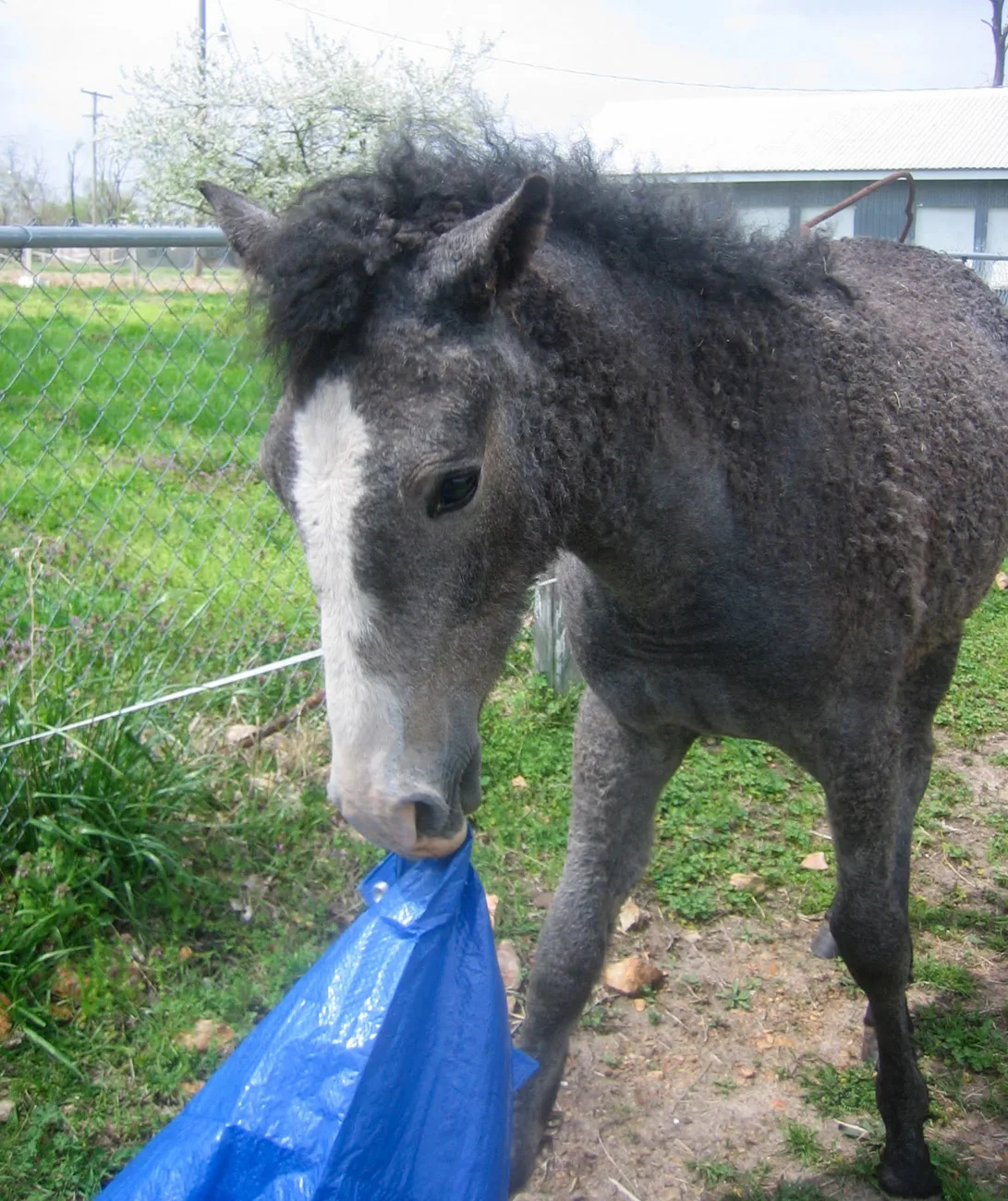 Desensitization with young horses can take countless forms, including:
Object Introductions: Orientation to "strange" random objects (flapping tarps, umbrellas, plastic bags, etc) in safe ways builds confidence.
Horse Shows: A great way to expose your young horse to a wide world of experiences is to enter them in horse shows. Horses as young as weanlings can generally exhibit in conformation-judged halter classes at local horse shows. Although a lanky adolescent horse is unlikely to place well in this kind of competition, the exposure to the bustle and business of a horse show is well worth the cost of entry.
Trail-Walking: Trailering your young horse to a bridle trail to lead them down and back a section of trail can be time well spent in acclimating your young horse to a wider, wilder world. Look for trails with obstacles such as mud, puddles, or fallen logs and view them as teaching moments.
Some trainers actively approach horses with, or even attach to the horse, typically frightening things like flapping tarps and plastic bags.
In order to build trust, on our farm we let the yearlings take the lead: for example, each fall we attach a tarp to a corner of the yearling shed where a harsh draft enters during the winter months. Intentionally left with enough slack to flap about, the yearlings- left alone with the tarp- curiously explore, retreat, and prance about for an afternoon as they process the new experience. By early spring, the north wind has shredded the tarp and the yearlings have learned to be completely unflappable by billowing fabric.
7. Clicker Training
The following section may contain affiliate links. As an Amazon Associate, we earn from qualifying purchases.
Although clicker training has not exploded in popularity with horse trainers as it has with virtually all other kinds of animal training, clicker training offers a positive-reinforcement based way to train novel-behaviors that works well with horses.
Using clicker training you can train useful skills, like picking a hoof up on command, or laying down on command (a skill that may come in handy when they are eventually trained to ride), or you can train tricks and fun behaviors on command. Horses can be taught how to fetch, to square-up on cue (i.e. adopt a halter class stance), pose for photos, or do various tricks via clicker training. All you need is a clicker and instructions for click training horses.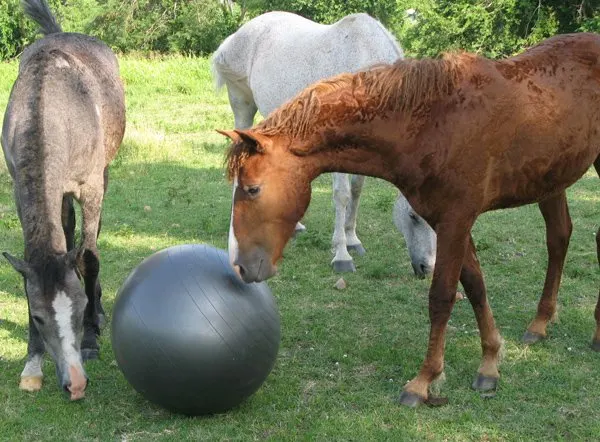 8. Tacking Up & Movement Training
Starting as a yearling, you can begin training your young horse to accept a saddle, have a girth tightened, and even tolerate a bit being placed in their mouth.
Comfort with tack and equipment can help fast track training when your veterinarian confirms, at around age 2.5-3, that your horse's joints are sufficiently developed to begin training with a rider.
Round penning and lunging is a staple of horse training, but because yearlings have still-developing bones and joints, you should avoid running your horse in the tight circle of a lunge line or round pen. Even though traditional round pen work isn't safe, you can still use the enclosed space of a round pen to work with your horse "at liberty" (i.e. without a halter, lead, or other tack).
Round pen time with a weanling can include training on moving, turning, and training in response to verbal, hand, or body cues.
8. Line Driving
Rarely practiced in the USA today, line driving has been used in parts of Europe for centuries as a way to teach a young horse to respond to rein cues before ever putting a rider in the saddle.
To line drive your yearling, first get your horse accustomed to wearing a bit and surcingle strap. Then, use two long driving lines (two matching lunge lines will work in a pinch), attach a line to each side of the bit, run the lines through the rings on the surcingle, then stand behind your horse with plenty of distance to avoid being kicked.
With this setup, you can teach your horse the rein cues to walk forward, turn, and stop before you ever sit in the saddle for the first time.
Once your horse is line driving reliably and able to turn, stop, and back up based on cues from the long reins, you can even build PVC breakaway training shafts to get your yearling comfortable with the shafts, in preparation for one day driving.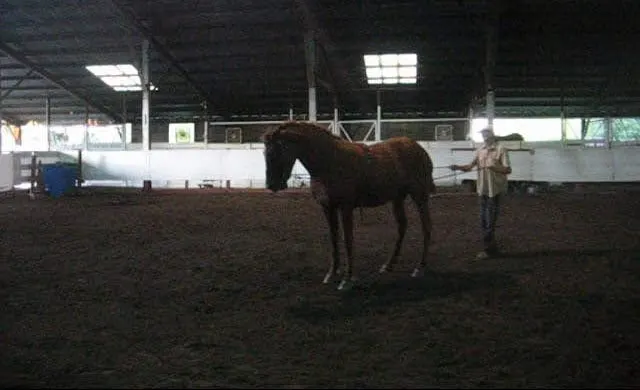 10. Advanced Yielding
Many horses will naturally brace or push back against pressure on their body. You may have noticed this in how horses sometimes rebalancing weight into the exact hoof you are trying to pick up, or lean into pressure exerted on a flank. This is an innate behavior that, in the wild, helps a horse stay balanced and upright, but a behavior that should be corrected prior to saddle training.
A horse that braces against pressure won't respond sensitively to leg cues or half-halts later in their training. To begin creating this soft and responsive yielding-to-pressure that will create a easy-to-ride and flexible horse, begin training your horse to move in response to pressure on various points of their body:
backing up when a hand presses on their nose or their chest
stepping all four feet sideways when the center of their side is pressed against
stepping front legs or hind legs to the side independently if the shoulder or hindquarters are pressed
lowering the head in response to a hand on the poll (top of head) pressing down
Each of these cues begins building the responsiveness that later, when adapted to under saddle use, will create a performance horse that a rider can maneuver like a sportscar, a pro trail horse that can be moved out of dangerous footing via rider's cues, and a healthy horse that will be less likely to panic and pull back if it is ever entangled in downed fencing.
Although it can be difficult to resist the urge to rush training with yearlings, it's important to remember that the early years of a horse's life should be filled with growing, exploring, and socializing with both people and other horses. If it's a challenge for you to slow down the pace of working with your yearling horse, consider reading about additional bonding-promoting activities you can do with a horse when you can't ride, or dive into my recommended reading list of books about horses.