Ribbons and rosettes have been used as awards for generations. During that time, the color of award ribbon meanings varied over time and geographic region. Today, the color of each show ribbon has a specific meaning. In today's post, you'll learn: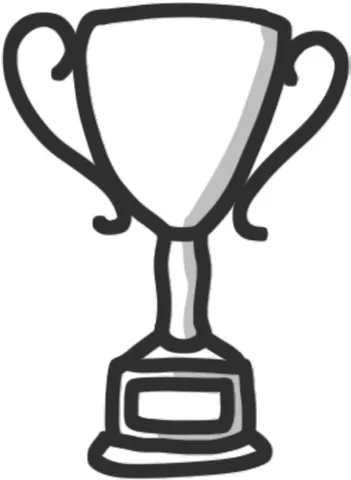 Horse Show Ribbon Colors & Their Meanings
Although ribbon colors and place vary by country, these ribbon meanings are standard for U.S. events.
| Ribbon Color | Place | Ribbon Color Meaning |
| --- | --- | --- |
| BLUE | 1st Place | A blue-ribbon means the horse and rider have won and outperformed all other horses. |
| RED | 2nd Place | A red ribbon means the horse was second best, just slightly outperformed by the first-place horse. |
| YELLOW | 3rd Place | A yellow ribbon in a show with many entries means the horse and rider have accomplished an impressive entry, and indicates top 3 performance. |
| WHITE | 4th Place | A white horse show ribbon demonstrates room for improvement, but if won against stiff competition, white ribbons are a good rank. |
| PINK | 5th Place | A fifth-place ribbon is pink and it means a horse and rider may have had some technical errors causing other riders to place higher. |
| GREEN | 6th Place | A green horse show ribbon means the horse and rider came in 6th place. Winning a green ribbon can means the pair is an up-and-coming star or struggling to get the training needed to win, depending on context. |
| PURPLE | 7th Place | Purple horse show ribbons can mean two things: small purple horse show ribbons indicate the rider came in 7th place, but large, double-rosette purple horse show ribbons signify a championship win. |
| BROWN | 8th Place | Brown horse show ribbons mean a horse and rider placed 8th in their class. 8th place ribbons are usually only awarded in large horse shows where placing 8th is an accomplishment that involves outperforming a number of other riders. |
| GREY | 9th Place | Grey horse show ribbons mean a rider has placed at a large competition, which is an accomplishment to be proud of. Though 9th means there is room for improvement, at a large show it indicates a strong performance. |
| | | |
*note: the meaning of ribbons is very dependent on context. A 9th place win at a national competition with 40 of the country's top competitors can be regarded with more prestige than a 4th place at a local 4-H show that had less than 10 entries.
Other Horse Show Ribbon Colors & Their Meanings
these horse show ribbons are non-standard or less common colors, and their meanings might vary
| Ribbon Color | Place | Ribbon Color Meaning |
| --- | --- | --- |
| BLUE, RED, & GOLD | championship win | A large horse show ribbon that features blue, red, and gold usually means that the recipient has won a championship determined by overall wins throughout a horse show or show season. Not all champion ribbons will be blue, red, and yellow. |
| PURPLE | championship win | At some horse shows, a large purple ribbon can also mean the horse won a championship or reserve (second place) championship. Not all champion ribbons will be purple. |
| LIGHT PURPLE | reserve champion | A light purple ribbon usually means the horse has won runner-up to the grand champion, called "reserve champion." Not all reserve champion ribbons will be light purple. |
| ORANGE | meaning varies | Orange is not a standard color for horse show ribbons. If you see an orange horse show ribbon, it probably means a horse and rider have competed and placed in a themed halloween horse show. |
| LIGHT BLUE | 10th place OR participation | Light blue ribbon meaning varies. Light blue can be awarded as 10th place or as a championship ribbon or as a participation award. |
| RAINBOW | meaning varies | Rainbow-colored horseshow ribbons are novelty ribbons most often used as participation awards or prizes for leadline children's classes, which are generally not judged. |
| | | |
How Award Ribbons Work at Horse Shows
Horses and riders in every class will be awarded a set of placings, each with a corresponding ribbon. The number of riders that receive a ribbon and a specific "place" will vary depending on the size of the show, the number of entries in the class, or the choice of the barn hosting.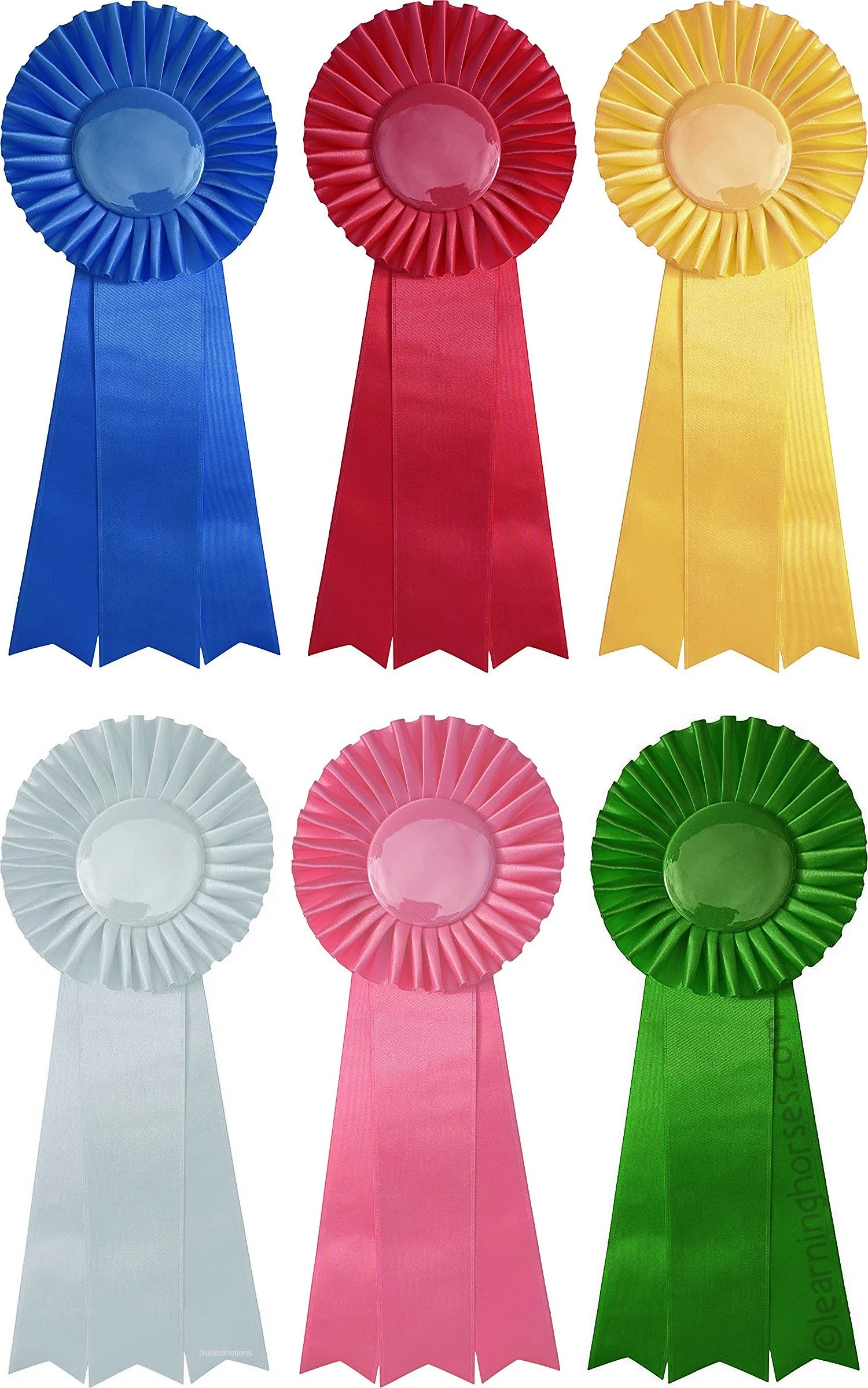 Small, local shows, which usually have less than 10 horses in each class, will usually only award horse show ribbons to first through fifth or sixth place (unless they are expecting a lot of entries).
Large horse shows are more likely to award ribbons from first place all the way through eighth or even tenth place. These shows usually have many competitors in each class- up to 30 or more! So an award ribbon of any color in these competitions means the horse and rider are well above average. Many riders at these shows are delighted to just be "in the ribbons" – an expression meaning they received a place and award.
In the United States, the usual order of color is: blue for first place, red for second place, yellow for third place, white for fourth place, pink for fifth place, green for sixth place, purple for seventh place, and brown for eighth place. Depending on the number of riders in the class, sometimes all riders entered will receive a ribbon and in other classes, most riders will not receive a ribbon. Some smaller, local shows put on by riding stables may give out participation ribbons to riders who do not place.
How Horse Show Ribbons are Awarded
Before awarding ribbons, the judge(s) will observe all of the horses and riders in the class, and make the decision on which ones finish in which placement. During the class, they will assign points to riders who do something particularly well, take away points for mistakes, and make notes about what was done well and what was done poorly.
From these notes, the first place ribbon will go to the horse and rider with the most points from the class. The winners are the ones who do the most things well and have the fewest or no mistakes, giving them the most points. Second place will go to the riders with the next most points, and on down the list.
Sometimes judges make physical notes (often, in top competitions or disciplines like dressage), while others will make mental notes and judge more by their "gut".
What Horse Show Ribbons Tell Us About Our Horse
There is always room for improvement when it comes to horseback riding. Horse shows provide an excellent way to gauge how you and your horse are doing throughout the year, what you need to work on in horseback riding lessons, and how you compare to other riders in your age group.
Riders who consistently come in first or second place tend to be very polished and make few mistakes, and it may be a sign they are ready for a bigger show or a more difficult class level with more challenging competition.
Placing in the middle of the pack is not necessarily a bad thing. It usually means a rider just has a few things they need to work on, but they have a solid foundation already.
The riders who generally place at the lower end even at small shows – the seventh and eighth places, or no placement at all – have more they need to work on. Often, they're working with a new horse or beginner riders themselves. Occasionally, low placings may mean it's time for a new riding instructor or time to interview a potential horse trainer.
The following section may contain affiliate links. As an Amazon Associate, we earn from qualifying purchases.
Are you Looking for suggestions on improving performance through a deeper connection with your horse or perhaps more sharpened skills? Check out these two books! The Equine Listenology Guide is helpful in cultivating a deeper bond and knowing how to best work with your horse, while the You Can Train Your Horse to Do Anything! book helps you – well, train your horse to do anything. 😉
How to Learn & Improve Riding from Horse Shows
A good way to use a horse show to improve your riding is to pay attention to the other riders who regularly place higher, and watch how they ride. See if there is anything they are doing differently that you can apply to your own riding. When you go to a horse show, watch as many classes as you can and try to figure out what the judges are looking for. Take notes of what you notice about the riders who win their classes.
Competing in Small Horse Shows
Small local shows, called "schooling shows" are great for people just getting into horse showing, or who want to try something fun and different with their horse. These types of shows are put on by a local barn, and are much cheaper to enter than the bigger shows. It is a great way for newer riders to see how horse shows work, and get used to competing. It is also an excellent way for young horses to gain experience in a new environment before being introduced to the more high-pressure atmosphere of a big show. These shows tend to be much more relaxed, with smaller class sizes, and a wide range of experience levels.
Competing in Big Horse Shows
The bigger shows usually attract riders from all over a particular region, or even nationally. These shows are more focused on competition and very polished riding. The arenas are much bigger, the classes are larger, and there is more of an audience than with local shows.
A single show at this level can take place in a day, over a long weekend, or over the course of a week. It takes a lot of hard work, dedication, and practice to be successful at this level. These shows are more likely than a schooling show to have ribbons all the way through eighth or even tenth place.
While seventh or eighth place tends to be a very low placing at a local show (meaning there's a lot of room for improvement) at the bigger shows these lower placements are not considered low at all! In a large class where only a few points separate each placement, getting a ribbon at all is an accomplishment. While it is possible to have small classes at the large regional or national shows, it is quite common to have upwards of twenty horses in a single class.
Horse shows are a great experience for riders at any level. The prospect of winning a ribbon adds a lot of fun as well. It also provides a great way to set some goals for yourself and your horse, whether it be to keep placing higher than you have previously, or even to win a ribbon of every color.
Download a Free Horse Show Ribbon Coloring Page
Why People Show Horses
Horse shows are exciting events for riders. They provide a chance to test a horse and rider's skills against other horse and rider pairs. Horse shows are not only an opportunity to see how much you can improve over the course of the season, but also from year to year. Small horse shows are a great way to get started in showing, because they have a more laid-back atmosphere (since they are mostly just for fun and practice). As you and your horse get more comfortable with shows, you can move up to larger ones, which are much more competitive.
How to Attach a Show Ribbon to a Shirt or Horse's Bridle
With good award ribbons, it is easy to create a dramatic award presentation ceremony. Handing awards to participants is always fun, but there's something extra special about being able to pin a ribbon on an award winner. Whether it's the Olympics, an ordinary horse show, or just an extra fun beginner riding lesson, great award ceremonies often have a common element: a presenter placing the competitor's award on them. You've seen this when medals are placed over the head of Olympians and when ribbons are affixed to equipment as the sign of an award.
While some imported award ribbons only have a plain cardboard back or perhaps a loop of string for hanging, good award rosettes have a sturdy metal clip affixed to the back of the ribbon. This clip allows the ribbon to attach to clothing, equipment, stall fronts, etc. These clips are usually magnetic and easily hooked onto nearly any string, metal, or cardboard edge.
Our favorite way to present ribbons is by pinning them to participants. Children and adults alike love being pinned and the pride of getting to wear the ribbon.
Using only a safety pin, award ribbons with a metal back can be attached to any piece of clothing. For more drama, plan in advance. If participants already have a safety pin, pinning the award is simply a matter of dropping the metal clip into the center of the safety pin.