[Jump straight to questions, or keep reading]
With so many different approaches to horse training, methods, and even riding disciplines, knowing how to choose the right horse trainer for you and your horse can be difficult. The process can be made a bit easier by considering what your goals are for training, the individual needs of your horse, and your budget. The following list of questions can be a helpful guide to helping your first conversations with prospective horse trainers be productive and informative.
Asking the right questions of horse professionals before we hire them to work with us, our horse, or the young riders in our charge can provide peace of mind as well as helping protect our hard-earned money, our horse's potential, and our own well being.
About Hiring a Horse Trainer
Horse trainer's jobs can vary. The majority of horse trainers do basic horse training: making sure that your untrained horse becomes safe, responsive, and obedient to your cues as a rider/handler. Some trainers provide enhanced services like preparing horses for special uses. Most commonly, this includes training for higher levels of horse show competition, but some trainers may take on horses for advanced training to prepare them to be easy to ride for younger beginner riders, particularly safe and surefooted trail horses, or safe mounts for owner's unique needs (such as police horses, horses used in equine therapy, etc.). Some owners send their already trained horse to a professional horse trainer for "tune ups" or to correct dangerous behaviors that the horse might have developed since its initial training.
Trainers work with horses for a varying amount of time – although most trainers charge per 30 days and require the horse to be kept at their facility during that time. Your own training goals and the type of trainer you hire will determine how long your horse may be in professional training with a horse trainer.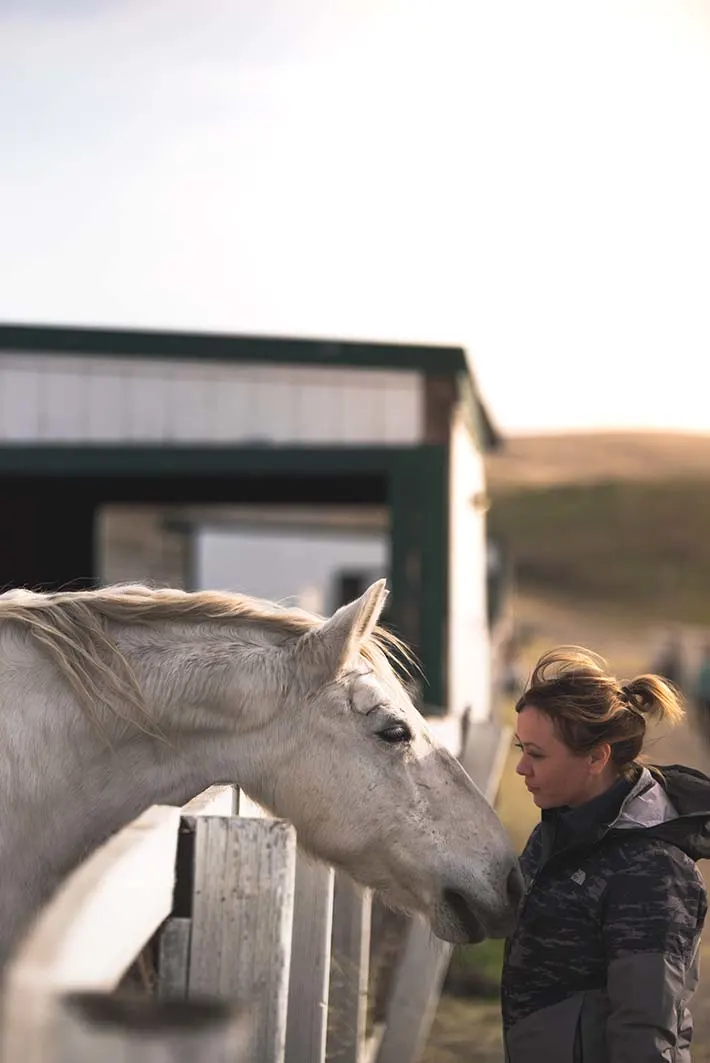 Asking the right questions before hiring a horse trainer.
Before you enter a contract with a horse trainer, you should ask as many questions as you need to in order to feel like you can make an informed decision that you are comfortable with. With the right questions, you can determine if a trainer is a good fit for you and your horse so you can be confident on the day that you drop your horse off for training.
What follows is a list of questions that we've created that should help you determine whether a trainer is right for you. These questions are designed to help you assess the trainer's horse management practices, training methods, and ideal outcomes.
NOTE: every horse is different, and a good trainer won't promise an outcome that they may not be able to deliver. For questions such as, "how long will it take for my horse to _____?" you should understand that, because every horse is different, the trainer may not be able to answer precisely. Instead, it can be more helpful to ask "generally, how long do you work with a horse before the horse is ready for ____?" these general questions may help you get a sense of the trainer's pace without asking them to predict how your horse will progress.
Avoid horse trainers who advertise a one-size-fits-all training program for schedule. Each and every horse is an individual, with its own personality. Because of this, the training time varies from horse to horse. Some horses may need more than 30 days to establish the most basic saddle training, while other horses will thrive in training and progress to advanced work much faster. Spending productive time with your foal and working with yearlings are influential in decreasing how long professional training takes.
Questions:
1. How many training hours do you spend with a horse in training per week?
2. How many times per week will a horse have a training session?
3. Are riding lessons for me (or the horse's rider, if you're a parent of a young rider) included in the price are they billed separately?
4. If riding lessons are included, how many?
5. Am I allowed to watch your training sessions with my horse?
6. Am I allowed to participate in training sessions with my horse?
7. If I have issues with my horse after I take them home, what follow-up support is available?
8. Will you work with my horse directly or do you have assistants or students who will be working with my horse?
9. Can you describe your general approach to horse training? What methods do you use?
10. How much of my horse's training will be under saddle?
11. Will my horse's training include groundwork?
12. What devices or physical training tools do you use when training a horse?
13. How will I be updated on my horse's progress through training? How often?
14. How do you manage nutrition for horses that are in training?
15. Will my horse be regularly turned out in a pasture? How often?
16. Are you insured? How does your insurance cover my horse while it is in your care?
17. Do you have a written training contract? Can I review it?
18. How do you handle hoof management while horses in training? Does my horse need to have horseshoes for training?
19. How much do you charge for training, and how are those fees broken up?
20. How do you accept payment, and what are the payment terms?
21. Can I watch training sessions before agreeing to work with you?
22. Can I show up at any time to watch my horse's training session when they are in training?
23. Do you or anyone who works for you have a criminal record? How do you screen potential employees?
Asking these questions before agreeing to work with a trainer can help you learn a lot about the professional and their training methods, as well as how they handle questions. I recommend watching a trainer work with several different horses, each at a different training level before agreeing to let your horse enter training with that particular trainer.
Never agree to work with a trainer who prohibits surprise visits, and make it a practice – especially when working with a new trainer – to drop in occasionally to check on your horse and how the business is run when they are not expecting visitors.
Although these 23 questions to ask before hiring a horse trainer may seem like a lot of questions, it's important for you to feel comfortable trusting your horse with this individual. A horse trainer – especially a horse's first horse trainer can shape that horse's entire life.
Good horse trainers ensure that a horse becomes valuable through a sound mind and obedience to training- well-trained horses live better lives, as they are sold less often, owned by riders who appreciate them, and given the care for the to valued pleasure and performance horses. On the other hand, bad horse trainers can leave horses with a lifelong trauma that manifests in behavioral issues. These horses, due to their behavior, are sold more often and more likely to be abused or sold at auction.
Trusting your horse to a professional trainer should only be done once you are very comfortable with that trainer, confident in their methods, and believe their approach is the right fit for your horse.