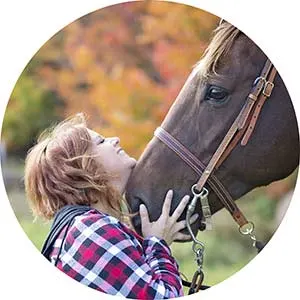 Tatum started riding lessons and entered horse ownership two decades ago in her 20's. Lots of horse professionals boast about having spent their entire life of horses, but when it comes to teaching, training, and coaching new riders and new horse owners, Tatum believes her own experience as someone who adopted the sport as an adult helps her teach and coach riders with a unique ability to teach step by step.
While young riders often learn intuitively- without having to think step by step about the developmental process of learning to ride- and are generally are able to learn the basics without the hesitation of adult risk-awareness, for adult riders the process of learning to ride a horse is more complex. This complexity is something that Tatum understands and addresses with the riders that she consults with.
Drawn to the curly horse breed by her own horse allergy and the allure of this hypoallergenic breed, Tatum loves sharing the exuberant curls and docile personality of her curly horses with the public through university-sponsored breed demonstrations and horse shows.
Tatum jumped headfirst into the horse world after graduating from college with a Master of Arts in writing in 2003. After training intensively for three years with a classical dressage trainer in the midwest, Tatum began a small breeding program of curly horses. As a breeder, Tatum became frustrated with the lack of availability of specialty horse equipment, and in 2006 founded an online tack store that specialized in tack room equipment, grooming supplies, and specialty saddle pads.
During this time, Tatum began coaching adult beginners and discovering her own holistic approach to working with the unique embodied, physical and emotional aspects of becoming a confident equestrian as an adult.
More recently, Tatum sold both the tack store and breeding stock of curly horses to new owners and moved to the Pacific Northwest where she continues to ride, coach riders, and write.
Recent Articles by Tatum: