Horse Boarding Stables are a type of horse business that work kind of like a full-service hotel for horses. Each horse "boarded" at the farm is provided with food, a stall to sleep in, and pasture space to run around.
Many boarding stables also offer riding arenas, jumps courses, and riding lessons. A horse boarding stable is a great option for busy horse owners who don't want to deal with daily horse chores. At most boarding stables, horse owners can select how much service they need, and pay an adjusted rate.
In this article, you'll learn what is typically included in a horse boarding stable, the difference between partial and full boarding, how much it costs, and other frequent questions.
What Is A Horse Boarding Stable?
A horse boarding stable is a farm that cares for horses on behalf of individual owners. Boarding stables range from very basic service to luxury accommodations for horses.
Boarding stables are one of the main ways to own a horse for people who live in apartments, homes without acreage, or who haven't yet acquired the knowledge to care for a horse at home. Riding stables typically have pastures, stalls, a tack room, and at least one riding arena.
The most basic horse boarding stables offer simple stalls and a couple of pastures- and perhaps some nearby trails for weekend rides. Some boarding stables are luxuriously fitted and offer premium accommodations like extra-large stalls, indoor and outdoor arenas, trainers on-site, and heated tack rooms. Most horse boarding stables are somewhere in between: offering clean, well-maintained barns and pastures without many luxuries.
Types of Horse Boarding
When you visit just about any horse boarding stable's website, you'll see that they usually options for boarding your horse. These options generally include partial board and full board.
Partial Boarding
Partial boarding (sometimes called "half board" or "rough board" or "pasture board") is best for horse owners who want to be involved in their horse's daily care.
In this type of horse boarding, your horse will have a stall and access to a pasture, but you'll be responsible for their care.
With this type of low-cost horse boarding, you'll be responsible for feeding your horse, grooming them, mucking out their stall, etc. Partial boarding is a great option for those who have the time to be at the barn every day and live very close to the barn to afford to make multiple trips there every day.
Full Boarding
Full or "Full Service" horse boarding is more common. A full board rate at a horse boarding stable means someone else will take care of all aspects of your horse's care and daily horse chores.
Full boarding typically costs much more than partial boarding (see chart below). This is because the fee must cover the cost of labor for the stable staff who will take care of your horse day in and day out. They'll be the ones feeding your horse, cleaning the stall, bathing and grooming them, and turning them out for the day.
Extra Services: Full service horse boarding stables often offer many more services. Some full board plans also offer exercise riders or professional horse trainer sessions for an additional fee. This option is great for people who travel often, participate in other sports, or horse owners who are also in college. If you need a break from riding, these services can keep your horse in top shape.
Full board is a fantastic option for:
novice horse owners who aren't ready to bring their horse home

busy horse owners who don't have time to be at the stable every day

people who live far away and can't be there to

care for their horse daily

.
Costs of Boarding a Horse
It's almost impossible to estimate how much boarding your horse will cost because everyone's needs vary. In addition, the price will vary greatly depending on where you live and whether or not you decide to pay for full board.
The chart below may be helpful in providing a general estimate. Locate a column based on whether you live in a high, middle, or low cost of living area and then select the options or service level you need:
| | | | |
| --- | --- | --- | --- |
| local cost of living: | L-COL | M-COL | H-COL |
| pasture only | $150 | $300 | $500 |
| self-service | $300 | $400 | $500 |
| full service | $600 | $900 | $1000 |
| | | | |
| add ons: | | | |
| riding arena | +$50 | +$75 | +$100 |
| indoor riding arena | +$75 | +$100 | +$125 |
| lessons on site | +$100 | +$125 | +$150 |
If you're simply paying for a spot in a pasture with a shelter, then you could pay only $150-300 per month. On the other side of things, if you decide to go for full board at a fancier facility, you can easily pay $1,000 per month.
When you're looking at horse boarding stables, make sure that you look at all of the services included in the agreement. Sure, the $200 per month pasture may seem tempting, but it'll be a lot less tempting if you're responsible for cleaning the pasture, filling the waters, maintaining the shelter, etc. In this case, it may be more reasonable to pay slightly more if you know that the owner of the facility will be more involved, and you'll be able to spend more time with your horse and less time cleaning.
It's also worth considering the social climate of a barn- after all, you'll be spending a lot of your free time visiting, riding, and grooming your horse. Ask about how the barn handles conflict when present, and be aware of the signs of barn bullies and mean girls.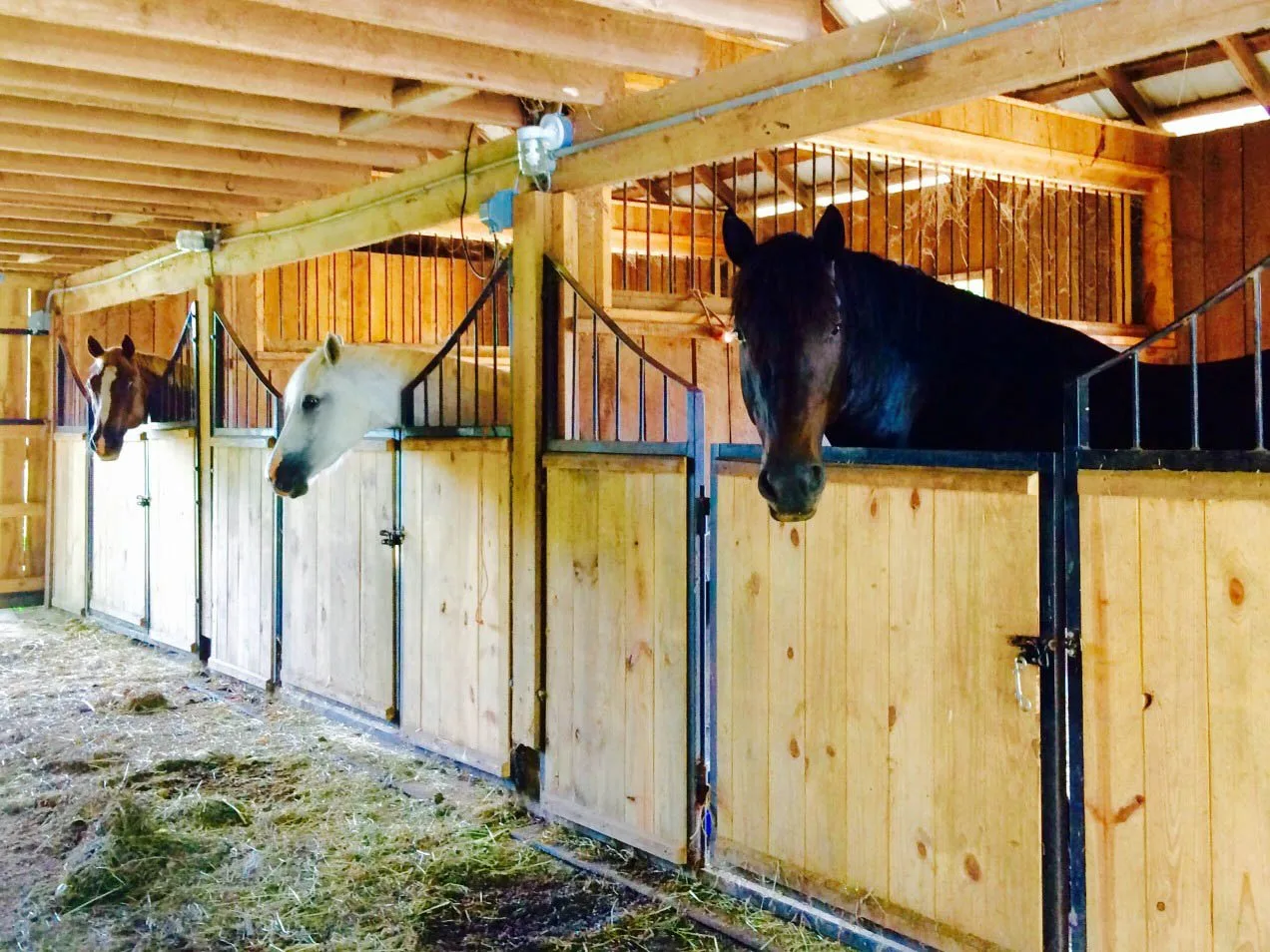 Is a Horse Boarding Stable Full Access 24/7?
It is rare to find a horse boarding stable that is full access 24/7 for multiple reasons. For one, horse boarding stables typically have staff that are on-site during the day. These people have to be paid and have hours off, so naturally, they're not going to be there all day. If people were allowed on-site at all hours, then they would also need to employ people at all hours, which would significantly increase the costs of running a stable.
The second reason most horse boarding stables do not have 24/7 access is that the facility owner typically lives on the property. This is usually either in a house close to the barn or in a loft attached to the barn. If clients were constantly coming in and out at 2 am, it would be disruptive to the owner's personal life. Regardless, someone should be available to handle horse health emergencies 24 hours a day, every day.
Although it's unreasonable to expect that a facility is open to you at all times, you should make sure that you ask about their emergency policy. Your facility should have an emergency number that you can call at any time where someone will come and let you in. If they refuse to let you have emergency access, then you should look elsewhere. You never want to end up in a situation where you are unable to access your horse.
Is Theft Common?
Theft is pretty uncommon in horse boarding stables, but that doesn't mean it can't happen. If you're concerned about theft, then ask the owner when you tour what their theft prevention measures are. For example, many stables have security cameras in tack rooms and around the facility's perimeter. Some also have lockers available for rent, so you can lock all your valuables up before heading out on a ride. Always observe our tips for avoiding trailer and tack theft.
If you're concerned about something happening to your horse, you can find a stable with a night check. This is when a staff member, usually the owner who lives on the property, will go out after hours and do a head count to ensure everyone is where they're supposed to be.