While washing English saddle pads is usually straightforward, cleaning western saddle pads is trickier. These thick, dense pads can be up to 1½ inches thick, often featuring difficult to clean materials like wool, leather, foam layers. In this article, we'll discuss tips, tricks, and best practices for cleaning both English and western saddle pads – helping you to keep your horse's saddle pads looking newer, longer.
Why Clean Saddle Pads Matter
Some styles of horse saddle pads can be really difficult to clean and wash, so it's often easy to justify skipping the cleaning process and re-using dirty pads. After all, you might think, they aren't meant to be clean after every ride. But here's the thing: over time, dirt, sweat, and matted fur build up on the bottom of a saddle pad, creating harbors for bacteria. As the debris deposits build up, they can chafe your horse under the saddle, causing saddle sores that may be worsened by the bacteria on a dirty saddle pad. By regularly cleaning your western and English saddle pads you can prevent saddle sores and avoid being sidelined waiting for them to heal.
How to clean a thick western saddle pad
1. Curry off hair and debris
Use a curry comb – preferably with nubby "fingers" that grip and remove hair to get rid of matted hair and dirt buildup on the underside of your saddle pad. Follow the curry comb with a stiff brush to lift even more dirt off the surface of the Western pad. This alone can be an effective way to clean western saddle pads without washing and extend the time between washes.
2. Use impact to remove dirt and debris from the pad.
Before attempting to wash your western saddle pad, you'll need to remove as much dirt as possible. If you don't spend time removing surface dirt first, your wash water is likely to turn into a muddy sludge that will only embed dirt deeper into the fibers of your western saddle pad. For another cleaning step before washing, smack your saddle pad against a fence or post repeatedly.
On impact, you should see dust rising from the saddle pad (and you may even need to wear a mask to keep from inhaling it!). Once you stop seeing debris shake off the pad with each impact, it's time to wash your saddle pad.
Washing saddle pads: two options
Depending on the type of Western saddle pad you have, you may or may not be able to wash your Western pad in a regular washing machine. Thick wool felt, memory foam, or gel-core western saddle pads cannot be machine washed, but woven Mexican-style blanket Western saddle pads can often be washed in a washing machine.
Washing Mexican-style Western saddle pads in a washing machine
With surface dirt dislodged, it's time to place your blanket style Western pad in a washing machine. If your blanket is made from synthetic fibers, you can wash the pad with warm water. If your pad is made from natural fibers like wool you should only use cold water to wash your pad. If you aren't sure whether your pad is natural or synthetic fiber, use cold water just in case (wool is a more common material, and if you paid more than $40 for your blanket style Western saddle pad, it's probably made from wool)
Washing thick felt, stitched, or layered Western saddle pads
If your saddle pad doesn't bend easily, you shouldn't wash it in a washing machine. But don't worry, you can still get it really clean with one tip: take it to the car wash!
Most self-serve carwashes have clamps on the wall designed to hold floor mats, but these clamps work perfectly for holding large Western saddle pads up on the wall so you can wash the pad using the high-pressure spray of the car wash's wand. When washing Western saddle pads at a car wash, avoid using any of the provided detergents – these are way too harsh for fabrics and may leave a residue that could irritate your horse's skin. Instead, wash with plain water or use an unscented laundry detergent diluted in water and scrubbed in by hand using a stiff-bristled brush.
Be careful not to let a high pressure jet get too close to wool-felt pads. Felt is formed by pressure and agitation- and the pressure and agitation of a high-pressure water jet can deform a pad. If you are washing a wool felt saddle pad, keep a safe distance while spraying and watch for any signs of changes to the felt's surface.
Spray the saddle pad with a strong jet of water working from top to bottom so mud and debris flow down and wash away. With this method, you can remove years of built-up gunk on the bottom of your Western saddle pad. It can be very satisfying to watch the dirt wash away!
PRO TIP: If you don't have a pickup truck with a water-safe bed, be sure to bring a large bucket or thick plastic bag with you to the car wash so you can transfer the wet and heavy saddle pad home to dry.
Dry the Western Saddle Pad
The following section may contain affiliate links. As an Amazon Associate, we earn from qualifying purchases.
Whether you use a washing machine or a high-pressure jet to wash your Western saddle pad, you'll need to let the pad air dry in a sunny, breezy location. Never machine dry wool or synthetic Western blankets, as the heat can damage both types of fibers. You'll need to be sure that the western saddle pad is completely, 100% dry before using it on your horse again. Speed the drying process by aiming a fan at the pad and make sure the pad has ventilation from both the top and the bottom so it dries evenly.
Condition leather guards.
While blanket style Western saddle pads typically don't have leather reinforced pieces, most felt or shaped Western saddle pads will have a patch of leather stitched on at the front center of the pad – where the horses withers are – and the bottom, sides where the girth and stirrup leathers can rub against the pad.
To finish cleaning your Western saddle pad, you'll need to give a little bit of TLC to these portions of the pad. After washing the saddle pad with water, allow the leather patches to dry fully. Once dry you'll need to apply conditioner to restore some of the natural oil to the leather that was lost in the process of washing. A simple leather conditioner like Mink oil makes reconditioning these leather patches easy. If you don't have a specific leather conditioner on hand, olive oil is sufficient for small patches of leather such as those on a western saddle pad.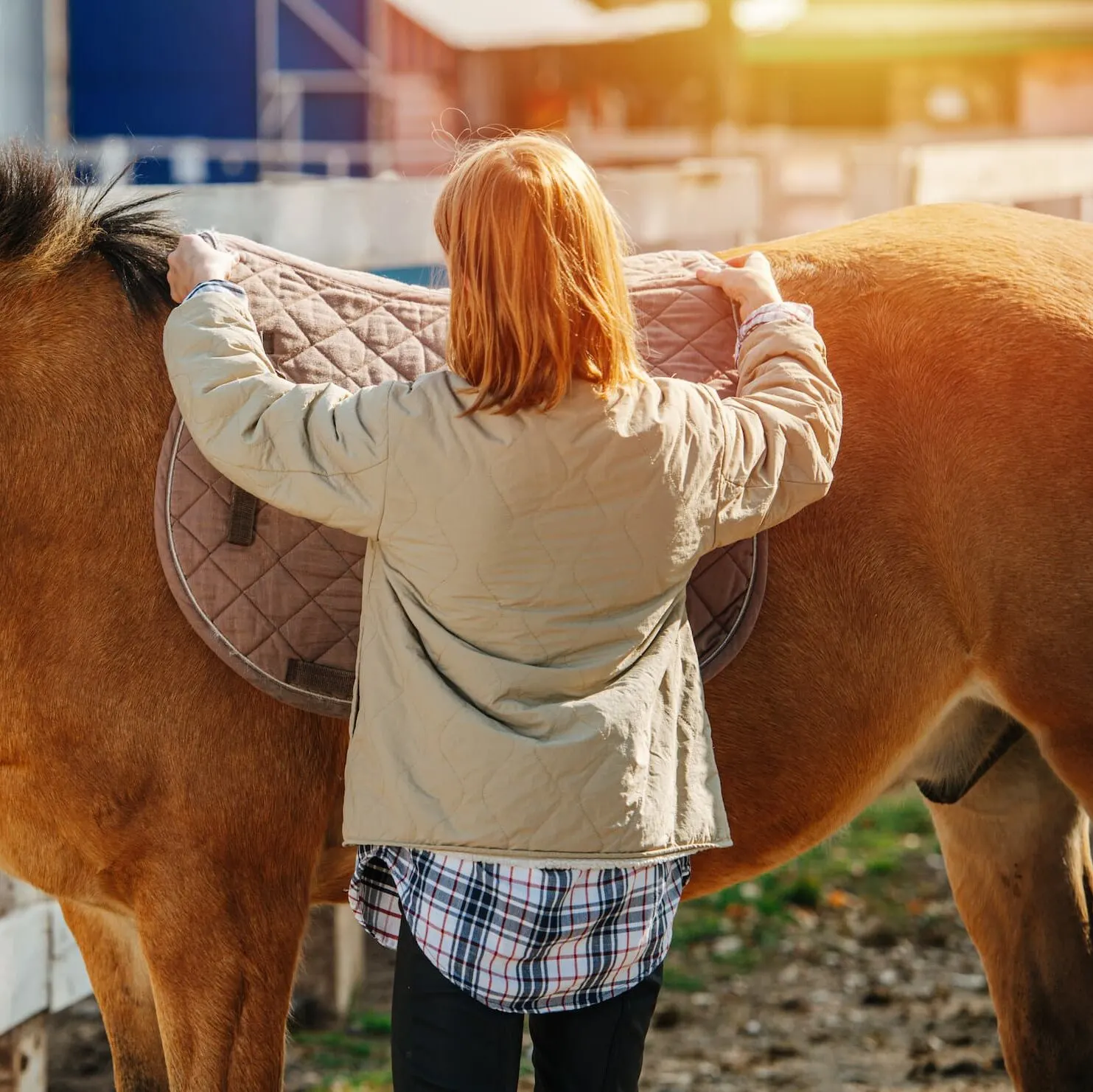 make this section #english