An ewe neck is a conformation flaw that is typically more related to the conditioning and muscle tone of a horse than it is to skeletal structure, breed standard, or genetics. Because it is a condition of poor muscling, a ewe neck can often be corrected with nutrition and conditioning. In this article, I'll show the conformation progression of a horse with a pronounced ewe neck as, through training and through building the correct muscle groups, lost the ewe neck look and developed a conformationally correct neckline.
In the photo below, you can see an example of a ewe neck. Instead of arching evenly in a typical crest, the topline of those horse's neck has a slight "U" shape, dipping significantly at the lower neck just above the withers.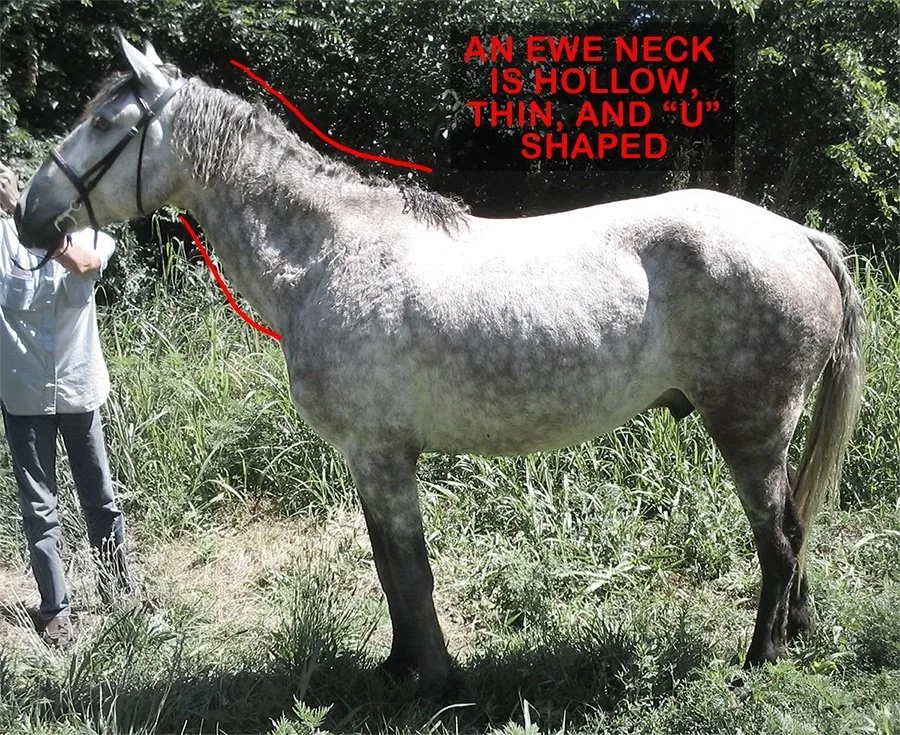 This next photo was taken during the same month. In both photos the "U" of the top of the neck is obvious, as is a bulge on the bottom of the neck. This bulge is a cue to what has caused this horse's neck to develop into an ewe neck- the muscles he uses when he moves. The bulge on the underside is caused by overdeveloped muscles on the underside of the neck.
Horses can move in a way that is "collected" or "strung out". Collected horses move with balanced bodies, hind legs that step up under them as they moved, and with a larger proportion in their hindquarters. Strung Out horses can appear to a trained eye to be a bit "flailing" as they move or transition gaits, they are less balanced and may throw their heads up to compensate for their lack of balance. Strung out movement with head thrown upwards is what typically causes a ewe neck.
Most horses do not move in a collected way naturally- like human athletes for whom running with proper form takes training and, at first, more effort- horses typically move freely in an uncollected way. Unfortunately, often the way we ride or train our horses, if we aren't aware of muscle groups or patient enough to take the time to help a horse learn to move in a collected way, reinforces the development of ewe necks. In the next section, we'll talk about what to do to fix ewe necks.
---
Fixing a Ewe Neck on your Horse
Unlike most conformation flaws, ewe neck can be fixed with conditioning and muscle building. Like a bodybuilder skipping "leg day," horses with ewe neck just need regular opportunities to work out the muscles of the top of the neck. Over time this will allow the muscles on the bottom of the neck to atrophy slightly, turning the U of a ewe neck into the gently curved ∩ of a conformationally correct neck.
Progression of Re-Muscling of an Ewe Neck and Methods of Conditioning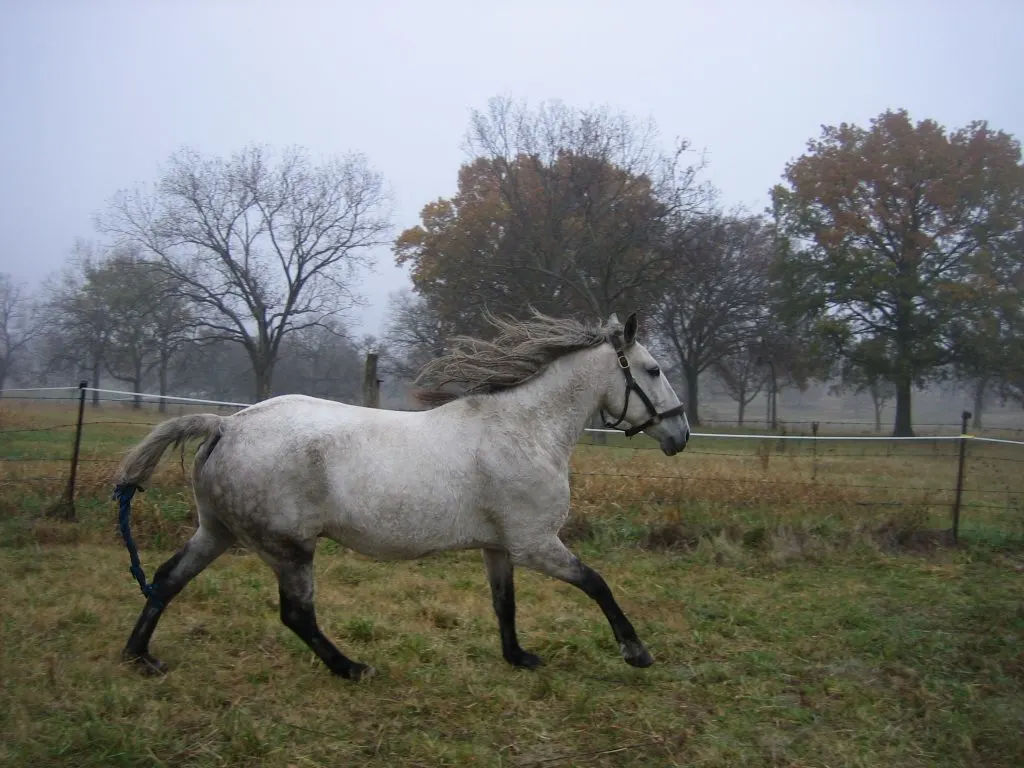 Side Reins
Often, riders and trainers assume the use of side reins (straps which connect bit to saddle d-ring, forcing head placement) create collection and proper muscle development, however just as often (particularly when used by amateurs) horses learn to brace against side reins by using the very muscle that caused the ewe neck appearance in the first place. If you are experienced enough to recognize collection in horses, brief sessions lunging in side reins may be helpful, otherwise, forgo the use of side reins.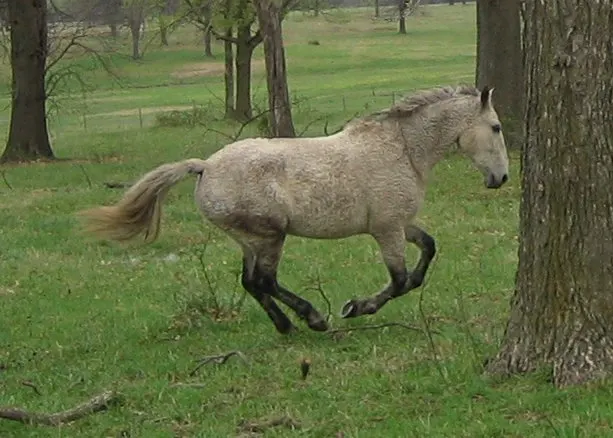 Long Lining
A mashup between ground driving and lunging, long lining is a traditional training tool of classical dressage, but is useful for teaching any horse to collect. A bit complex to learn, it's best to learn from another professional, if you don't have access to a professional, the video below gives a nice primer on the basics.
Expert trainers may use side reins and long lining together. In the photo below the horse shown above with ewe neck is being long line schooled (with a training cart) with the addition of a side rein attached to the outside rein only (the rein a rider uses to collect their horse) and a breakaway overcheck, which provides an automatic correction when this horse would plunge his head to avoid working the muscles of the topline.
Half Halts
According to the USDF: "Half–halts are used when riding a transition from one gait to another. They are used to shorten or adjust the strides within a gait. They are used to alert the horse prior to a new exercise or movement. They are also used to improve or maintain the horse's collection and carriage within a movement." A half halt is different from a halt in that during a halt both your body and reins signal a stop. During a half-halt, your reins softly signal a stop but your seat and legs sit deep and urge the horse forward- this helps the horse to stay collected between the rider's seat and the bit.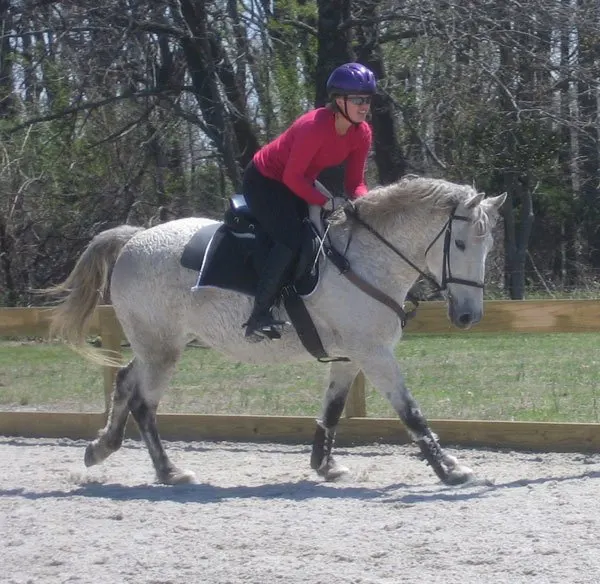 learn how to recognize and correct a ewe neck
Learn to recognize a ewe neck
Compare your horse to these conformation photos to determine if your horse's neck meets the criteria for a ewe neck.
Understand the causes
For many horses, a ewe neck isn't permanent, it's a conformation flaw caused by muscles that have been developed by bracing against a bit during riding. This strengthens the muscles on the underside of the neck causing the crest of the neck to have a slight "U" shape.
Try these conditioning exercises
Our tips for riding or round pen exercising your horses with an emphasis on developing muscles in the upper neck can reverse or fix many horse's ewe necks within a few months.
Supply:
Tools:
What does "u neck" mean in horses?
A horse with a ewe neck (sometimes misheard as "u neck") has a neck with a shallow 'u" shape instead of the typical crest. A horse with a ewe nek/u neck will have a very minor dip when the top of its neck (called the "topline") is viewed from the side.