If you're looking for horseback riding lessons near you, you may have a tougher hunt than expected! In this article, you'll learn how to find nearby horse riding lessons- even if your initial search queries seem to be fruitless.
Part of the challenge is that horseback riding lessons are usually offered through equine small businesses, like horse farms, and boarding stables. Unlike large corporations, which are great at marketing their products and licensing franchise locations, the world of horseback riding lessons requires a little extra effort to find the right instructor for you.
So, how can you find safe and qualified horseback riding lessons near you? Here are a few steps to follow:
🎯 Start with a Google search: Unfortunately, because many agricultural businesses haven't listed themselves on google as local businesses, Google's results are usually incomplete when it comes to horseback riding lessons. Still, it's a good starting point. Try searching for "riding lessons near me" or "horseback riding class" to see what comes up.
🔍👀 Widen your search: If you can't find riding lessons near you through an internet search, broaden your search terms. Look for horse boarding stables or horse trainers outside your city. Call or email to ask if they offer lessons.
🐴🩺 Connect with the local horse industry for referrals: If you're still struggling to find riding lessons in your area, try reaching out to related businesses. For example, equine veterinarians, farriers, and horse breeding farms probably do not offer lessons, but there is a good chance they can offer a word-of-mouth referral to someone offering riding lessons near you.
📢 Put out the word: Try posting on local horseback riding Facebook groups, Reddit subs, or go old school and put up a flyer at a local feed store. This could help you connect with an experienced rider and patient teacher willing to teach you a few lessons. In some locations, riding lessons are really hard to find! Trust me, I know! I grew up three hours from the nearest airport, and riding lessons were non-existent!
🍀 Connect with local riding clubs, including 4-H or Pony Clubs: If you cannot find a business offering riding lessons near you, these clubs may offer club meetings where you can ride and get informal instruction.
👨🏽‍🎓 Teach yourself to ride:

Teaching yourself to ride well without an instructor giving advice is almost impossible.

However, with so many videos and blogs available, it's (maybe) possible. If you exhaust your options trying to find riding lessons near you and can't find them, teaching yourself is one option. In this case, you will need to buy or have access to an extremely well-trained horse and schedule periodic training for the horse so that it does not pick up dangerous bad habits.
Consider: Finding Safe Riding Lessons
Like any profession, there are credentials for riding instructors. Although they are not licensed by any government body (except in some parts of Europe), some riding instructors may become certified, by choice, through a private organization. A Pony Club "A" Level Rating, though not a license to teach, is one trustworthy credential an instructor might offer.
It is best if you can find a certified riding lesson teacher, however, this does not guarantee that they will be an excellent instructor. A good riding lesson coach is equal parts teacher, coach, athletic trainer, and equine behaviorist! That's a hard combination to find!
If you are in a part of the world where there are many businesses offering riding lessons near you, you can be pickier about the credentials, teaching method, or riding style of your riding instructor. In many areas, however, it's hard to find nearby riding lessons.
If lessons are scarce near you, focus on finding a riding lesson instructor who is kind, fully insured, and has a safe area to ride in.
Don't be afraid to ask for references or request to watch a few lessons before you mount up!
Tips for Finding Riding Lessons Near you for Adult Riders:
Most horseback riding instructors have a class roster full of kids, tweens, and teens. However, if you're an adult learner looking for a riding instructor, you'll be in good company! Many adults in their 20's, 30's, 40's, and even 50's and 60's start riding as adultss to fulfill a childhood dream.
As an adult riding lessons student, there are a additional tips for finding horse riding lessons near you that you'll actually enjoy. Here are some things to look for when choosing a riding instructor as an adult:
Experience teaching adult learners: Look for an instructor who has experience working with adult learners. Teaching adults requires a pretty different approach than teaching children, so it's important to find an instructor who understands that adults know their body, have some physical limitations, and may need to understand the "why" behind various riding lesson activities.
Patience: Riding can be a challenging activity, especially for adult learners. Most adults beginners learn a little slower, and ride in lessons a little more cautiously. Look for an instructor willing and able to help you build confidence as you learn.
Clear communication: Riding requires a lot of coordination and balance, so it's important that your instructor can clearly communicate what you need to do. (TIP: I love learning from coaches who learned to ride as adults! Riding lesson teachers who grew up riding learned intuitively, and sometimes struggle to communicate concepts that adult learners learned cognitively).
Safety-conscious: Riding can be a dangerous activity, so it's important to find an instructor who prioritizes safety. If there's no insurance coverage, paperwork to sign, or helmet requirement, look for another place near you to take riding lessons.
Flexibility: As an adult learner, you won't be training for the olympic team. Make sure your riding lesson teacher understands your goals and is comfortable teaching you as often- or as seriously- as you want to train.
Specialization: Consider what type of riding you're interested in and look for an instructor who specializes in that area. For example, if you're interested in western pleasure, look for an instructor with experience teaching western riders. If you're lucky, there will be one near you.
Compatibility: Lastly, as an adult learner it's especially important to find an instructor who you feel comfortable and with who you get along with as a person. Riding lessons should be an enjoyable and positive experience!
Starting riding lessons as an adult has tons of benefits. Even if you find yourself in a group lesson with kids- embrace the chance to feel young again!
Final Thoughts
In conclusion, finding safe and qualified horseback riding lessons near you may require a little extra effort, but it's worth it to ensure a positive and safe learning experience. Start by conducting an internet search and widening your search to include related businesses. Connect with local horse industry professionals for referrals and consider posting on local horseback riding groups or forums. Knowing how much riding lessons usually cost and typical activities in a riding lesson can inform your decision. For a general primer on horseback riding lessons, check out my guide.
If all else fails, consider teaching yourself with the help of online resources, but be sure to invest in a well-trained horse and get feedback regularly from riders with more experience. When choosing an instructor, prioritize safety, teaching style, and (if possible!) experience in your preferred riding discipline.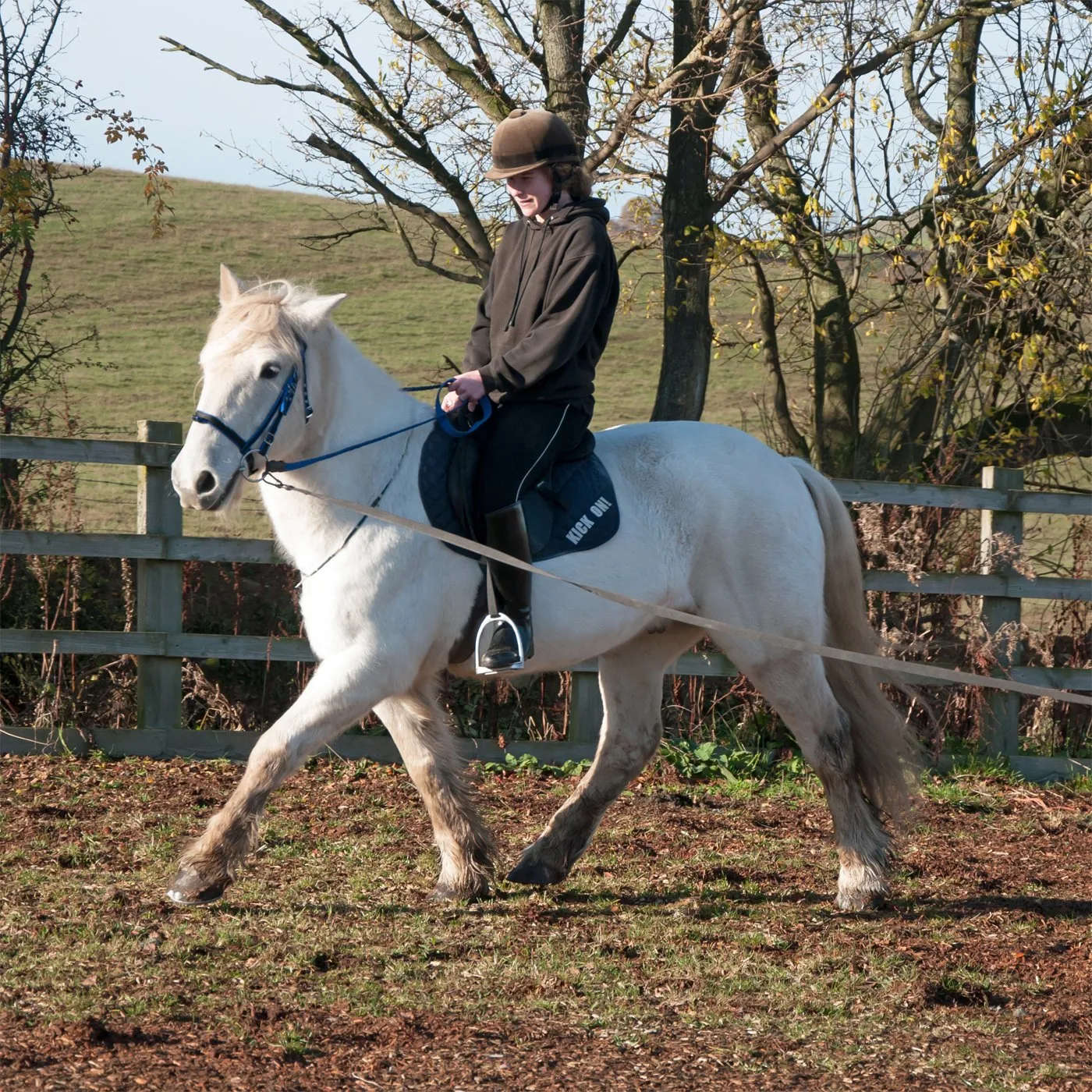 How to Start Horseback Riding Lessons
Time Required 2 hours
Research local riding stables
Begin by researching local riding stables. A web search can turn up options for local riding lessons, but the recommendation of other professionals you trust can be the best way to find good, safe riding lessons.
Call or email and ask to visit
Horseback riding lessons are a big investment and it's important to know in advance how the riding instructor will make lessons fun and keep you or your child safe as you learn to ride. It's okay to ask to visit the stable and watch a lesson. This will allow you to get a feel for the conditions that horses are kept in, the way riders are coached, and what your first riding lesson may be like.
Scheduling this visit before your first lesson can help you make a good choice, plus visiting in advance will give you a chance to get used to the process so you'll have less anxiety at your first horseback riding lesson.
Schedule a Lesson
Once you feel good about the stable you have chosen, schedule a lesson. It's a good idea for your first few lessons to be private lessons where you can have one-on-one attention from a riding instructor.
Plan and outfit
For your first riding lesson, you won't need special clothing, but you will need to put some thought into what you wear. Here's what to pack for a riding lesson.
Choose clothing that is comfortable and provides good coverage (long pants are essential and long sleeves are generally recommended unless it's very hot). Your clothing should be stretchy or loose-fitting enough to allow a full range of movement – like swinging your leg up and over the horse during mounting. Click here for specific ideas for outfits to wear to a horseback riding lesson.
Show up with a learning mindset
No one is born an expert horseback rider. Approaching horseback riding as something that it's okay to be bad at will free you up to learn with a more open mind.
It's okay to not be good at it – no one naturally has a secure seat in the saddle at first! Give yourself permission to be a learner and to have fun in the process of learning!
Evaluate how it went and if you want to continue at that barn.
After your first lesson, ask yourself how it went. Did you have fun? Was your instructor kind? Did they explain things well? were you paired with a horse you felt safe with? These questions can help inform whether you choose to continue riding lessons at the first place you tried or whether you to try a new stable.
Estimated Cost: 75 USD