For a while I've been gravitating to (and filling pinterest boards with) images of barn chandeliers: glitzy lighting hung for decorative effect in stables. At first a seemingly very fanciful but unreasonable idea, it's begun to take root in my brain more and more as equestrian locales are being used for both equestrian/traditional and farm/rustic wedding venues.
Can we agree at the start chandeliers are just impractical in a barn? Totally impractical… Completely impractical… and… delightful. And life, and particularly things in life that we do for pleasure, should make room for impractical things that bring delight and beauty. Thus, maybe chandeliers in a horse barn aren't such a bad idea after all.
---
This article is separated into several parts:
---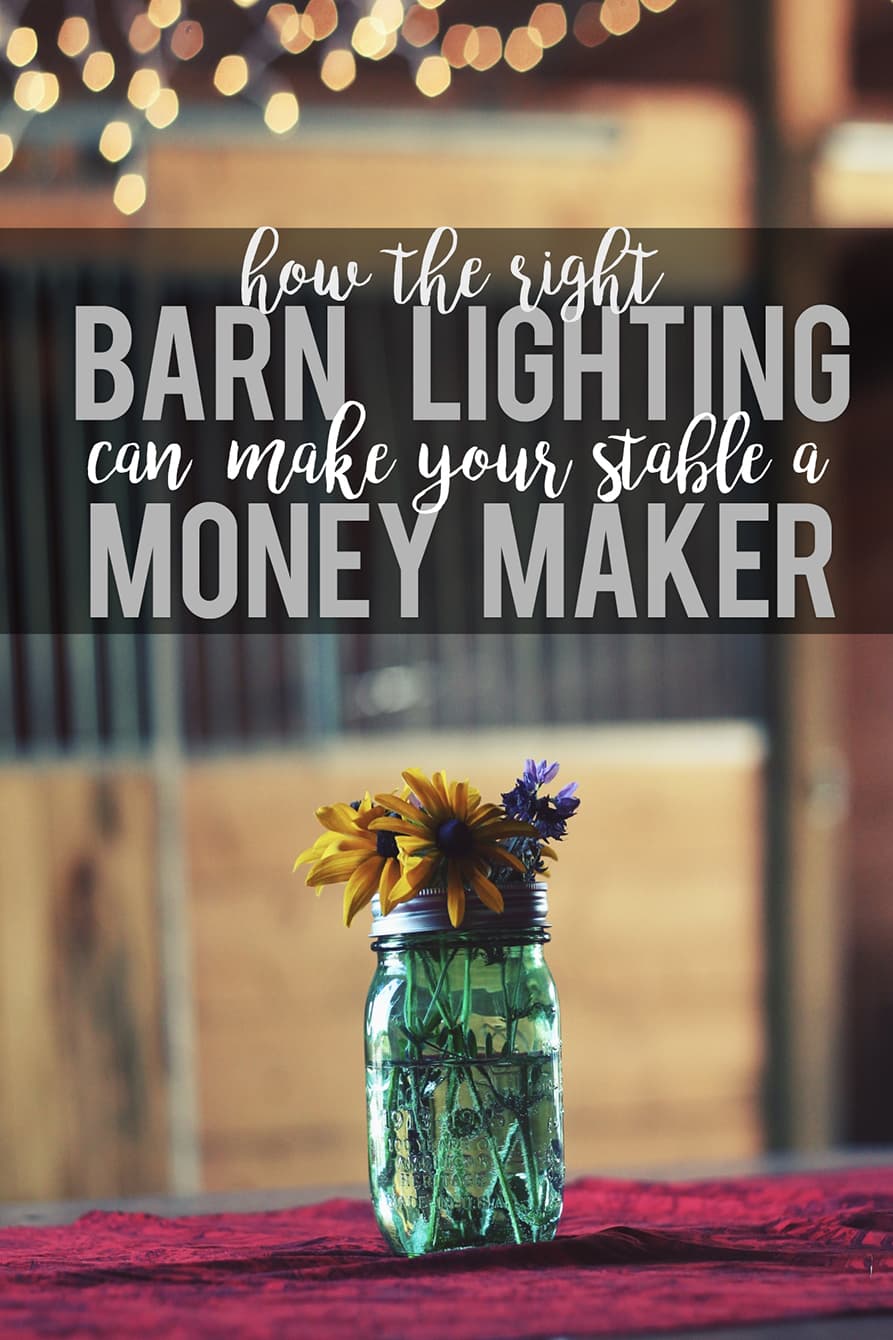 Why Lighting your Barn with Stable Chandeliers isn't (Quite) as Crazy as you Might Think
Chandeliers bring grace and elegance- and in a barn- whimsical charm. More practically, the touch of class chandeliers create is a way to set your barn apart as an event venue.
As rustic weddings continue in popularity, hanging even simple chandeliers in your stable can elevate your barn from personal playground to a sought-after venue. You work hard to maintain your barn and keep things tidy, why not cover some of your farm operating costs by opening your stable a few weekends a year as a wedding venue or even just as backdrop for portrait and engagement photo photographers?
Small details like traditional stall fronts and swapping out harsh fluorescents for classier light fixtures can take your barn from functional for your hobby to being profitable or economically self-supporting as a venue for wedding planners and portrait photographers.
---
Horse Farms that Prove Stable Chandeliers create a Picturesque Pairing
If all else fails and your barn's architecture just doesn't allow for a chandelier, consider the idea that sparked the whole article: a chandelier in your tack room.
---
Some Practical Hints on Installing and Maintaining a Chandelier Installed in Barns and Stables
Important: Because of elevated fire risk in a barn, all electrical work must be done by a licensed electrician.
When it's ok to use a chandelier in a barn:
When the roof is sound and watertight
When the bottom of the chandelier will be at least 12 ft high
When you have an available method to clean (ideas below)
Maintaining a Barn Chandelier
Cleaning a stable chandelier can be a little tricky- but you have the right tools. There are a couple of methods to make cleaning super-high chandeliers a little easier:
For light cleaning and regular maintenance and cobweb hygiene, it's well worth the investment in a specialized tool to help clean the barn chandelier from the ground (or from a stable elevated surface, such as a safe ladder or a pickup truck bed parked in the aisle of the barn)
Cleaning barn chandeliers can be a challenge, but actually not that much of a nuisance once you have the right tool. You just need this special cobweb brush that can clean around poles and bulbs (and can be locked into an angled position for cleaning tops of rafters, etc) paired with a commercial grade extension pole like this one that extends up to 12 feet, making it easy to reach lights high in rafters from a short ladder. (you can even get 24 foot extensions poles!)

For heavier duty cleaning, especially for crystal or light-colored barn chandeliers, consider having the light rewired to wire in with a plug instead of hardwiring. The ability to completely disconnect and remove the stable's chandelier means it's much easier to remove, clean completely with soap and water as needed, and then reinstall once the chandelier is completely dry. Alternately, there are crystal cleaning products that work great, and even pre-treatments that help prevent dust from collecting on the crystal baubles.
Did you know chandeliers were originally designed to raise and lower on a system of pullys? With creativity, the same design can be used today to enable easy cleaning. Here's how.
Reduce Maintenance Time with LED Bulbs
On the high ceilings of barn rafters, you don't want to be changing bulbs every few months, so be sure to use LED bulbs, which now come in chandelier bulb styles (and, lower your lighting bill by like 70% while they're at it!)
Barn chandeliers do take extra time to clean and require thought around placement and fire safety, but can add opulence and charm to your barn that far offsets the initial costs and upkeep.
---
Some Reasonably Priced Chandeliers for Barns and Equestrian Inspired Event Venues:
Stable Chandeliers work especially well in a barn with high ceilings to add style while providing a large amount of light that's hung well above the heads of horses and riders. Avoid hanging too low- your farm's chandelier needs to hang well above the heads of mounted riders or the top bale of a loaded hay trailer.
First, the really elegant, then, some milder chandeliers that are more practical to barns that are stables first, event venues second.