Owning a horse is a significant investment, and horse insurance can be a way to protect that investment. In this post, you'll learn from me (a regular rider, coach, and horse owner, not someone pushing a policy or referral link) the truth about which horses should be insured and how much it actually costs.
Because I think it can be helpful to break information down into bit sized pieces, here's a guide to where this post is going. Feel free to jump around to get the information you need:
3 signs you should get an insurance policy for your horse
Whether you paid $2,500 or $25,000 for them. Horse owners know that the purchase price represents the smallest portion of your investment. Feed, hay, routine vet care, emergency vet care, wormer and supplements, trimming or shoeing, equipment, boarding, and training and lesson fees are all part of a big investment you've made. It's important to consider how to protect it.
3 Signs you should buy an insurance policy for your horse:
You would not be able to pay for an equal replacement if your horse died, or you would have to euthanize your horse if the medical care they needed was beyond your budget.
You are extremely attached to your horse, and want to ensure you'll be able to get them top-notch veterinary care if they're severely injured or ill
None of these things are true, but you have a lot of stress and anxiety about "what if's" when it comes to your horse's health and wellbeing.
You might think "But what about my pet, which I bought for a few hundred bucks and ride for fun, do I need equine insurance?" I don't have the answer, but I know that insurance can be a way to safeguard our hobby from a major financial loss.
Why you should think about equine insurance
Even if you only have a weekend trail horse, the premiums for equine medical or mortality insurance will likely cost you less in the long run than vet bills.
People buy equine insurance when:
They want to safeguard the money they spent on their horse and its training.
They want medical coverage for their horse so they can get top-notch care in the event of an injury or illness.
They are not covered by the insurance policy of a boarding facility.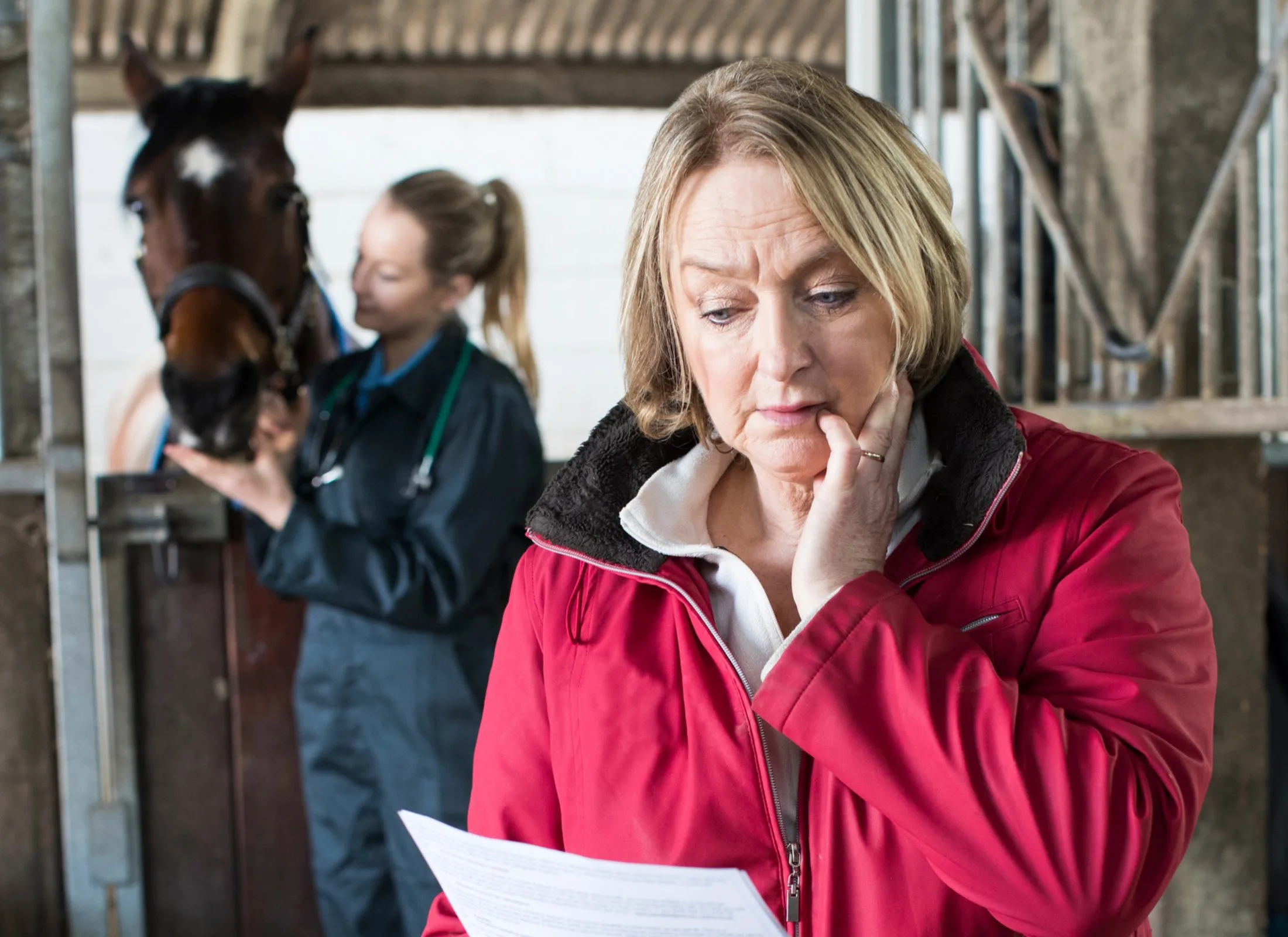 Types of equine insurance available to horse owners
For horse owners, there are two basic types of horse insurance: mortality and medical. They're like life insurance and health insurance for people.
Equine mortality insurance
No matter how much you paid for your horse, it has a dollar value. The value of a horse is calculated bot by what you paid, but what horses with similar age, training, and competition record sell for.) It's not fun to think about, but you should consider how much it would cost to replace your horse if you were to lose him.
Most life insurance policies cover almost any cause of death or loss. Typically, these include:
Illness & colic
theft
freak occurrences
fatal accidents, such as fires and lightning strikes
euthanasia
and "acts of god" (what's that, you ask? Well, it's what insurance blamed when a literal boulder fell on my car in a parking lot in Colorado in 2008)
Although age restrictions vary by provider, mortality coverage is typically available to horses as young as 24 hours old and as old as 20 years. When evaluating a horse insurance mortality policy, read carefully to learn what is not included. These are called "exclusions" in the contract. For example, if you left your farm for a vacation without hiring someone to come water your horse, and the horse passed away due to lack of care, this would be excluded and equine mortality insurance would not pay you, the owner, for the horse.
Horse Medical Insurance
Medical and surgical horse insurance helps ordinary horse owners access the funds to pay for the best veterinary care- so that we never have to make the difficult choice between euthanizing our horses or authorizing vet treatments we can't afford.
This type of horse health insurance covers injuries and illnesses that occur while the policy is in effect.
Generally Covered:
diagnostic tests
medications
surgery
postoperative care
rehabilitation
Generally Not Covered:
routine care
prepurchase exams
spring shots
routine equine dental work
farrier care
Veterinary care is high-tech these days. I'll never forget the experience of having a knee injury the same week my yearling injured her knee. While the local rural hospital required me to come in for a film x-ray and wait a week for results, the local equine vet arrived with a portable x-ray, took digital shots, and provided the results immediately!
Vet care has become more specialized and effective as we have improved our diagnostic and treatment equipment and methods. Unfortunately, many of the advanced options in equine healthcare are way out of reach for the average horse owner- accessible only to the elite of racing and horse competition. There's a reason that Kentucky's most advanced large animal surgical center is literally across the street from the Kentucky Horse Park and the site of the Land Rover Kentucky Three-Day Event.
Common Misconceptions about Horse Insurance for Medical Care
When it comes to equine medical insurance, it's not always easy to understand what is excluded and what is included.
Most providers impose a 12-month exclusion for pre-existing illnesses and injuries.
That means if your horse underwent treatment for a shoulder injury last year, your new horse insurance policy will probably refuse to cover any diagnostics, treatment, or rehabilitation care related to that shoulder. When you renew your policy, the exclusion is likely to be lifted if the horse heals and shows no recurring problems.
Horse insurance for Loss of use
Loss of use insurance pays out if your horse is sick or injured, then survives, but is unable to perform in the way they were able to before the accident or illness.
This coverage pays out, usually 50 to 60% of your horse's insured value, if they becomes permanently unable to perform due to an accident, illness, injury, or disease. Read the fine print! A comprehensive loss-of-use policy will cover any injury that renders your horse immobile. External loss-of-use only applies to accidents like being injured during a trail ride, driven into a fence by another horse, or colliding with a solid jump. You are not covered if your horse stumbles in a canter transition and permanently injures a tendon.
Choosing Coverage: How much to insure your horse for
When choosing a mortality policy for your horse, you must first determine how much coverage you require. Essentially, you want to know "How much would it cost to buy another horse like mine?" Consider the following:
purchase price
training
show record
breeding history (ie. stud fees or embryo transfers)
appraisals
market comparison
What Horse Insurance (Actually) Costs
Ok, so this is where most guides to insurance get a little dodgy- after all, every horse is different and horses can be bought for $2,000 and 2,000,000!
Rates are determined by a variety of factors, including the horse's current market value, age, sex, breed, and discipline. Annual premiums typically range from 2% to 4% of your horse's value. The majority of businesses will charge a minimum of $150 per year.
Costs of medical/surgical insurance
Medical insurance for horses is a little different. After all, colic surgery on a 200,000 horse costs the same as it would for a 3,500 horse.
Because of this, most providers offer a variety of major medical/surgical policies for flat rates. The premium (what you ay for coverage) depends on:
the maximum payout (typically $5,000 to $10,000)
the deductible (typically $150 to $250)
and the coverage details/exclusions (example: an exclusion for colic surgery)
You can save money on medical insurance by choosing a slightly less expensive "surgical-only" policy, which covers only the costs of surgery and postoperative care, not diagnostic tests or hospitalization fees incurred prior to surgery.
2022: US Riders on the Cost of Horse Insurance
Recently, on Reddit's r/equestrian discussion forum, user u/kwolfski asked what other horse owners were paying in 2022 for their horse's insurance policy. Here's the report:
I have mortality and colic surgery coverage, but not medical. My yearly premium is 3.4% of his declared value.
I have $7500 in major medical and mortality insurance too. I believe the premium is about $1200 per year.
I pay $1,450 a year with a $10,000 medical limit. I think the peace of mind is totally worth it.
I paid $450 for a year of coverage, major medical and loss of use.
I have insurance for my mare, major mortality (20k) and injury. I pay $1400 a year for it. It covers up to 15k in vet bills or 20k in colic surgery.
I use Broadstone for death and major surgery. It runs me about $600 a year.
I have a $2500 OTTB 5-6yr old mare. 10k medical and $2500 mortality (extra 5k for colic surgery)
I pay about $550 a year.
I use Great American. I pay a percentage of value per year based on age and discipline for mortality coverage. It costs 2.5% of his value