Horse's teeth can be up to 5 inches long- and never stop growing!
In this article, you'll learn the basics of horse teeth, plus some fun facts to help you understand just how unique horses' teeth are.
While the teeth of a horse have a number of similarities to ours, they also have a number of differences. In this article you will learn facts about horses' teeth. You'll learn why horses have two sets of teeth, that proper care of their teeth is important to their health, and that how to estimate a horse's age based on their teeth!
1. Horses Have Two Sets of Teeth in Their Lifetime
Just like people, horses go through two sets of teeth in their lives. Their "baby" teeth start showing about a week after birth. These teeth are short and wide compared to the adult teeth they will be replaced by. They will lose them over the next few years, and by age five they will have all of their adult teeth. Adult horse teeth are four to five inches in length, although most of that is below the gums and not visible.
2. Horses Have At Least 36 Teeth
An adult horse will have between 36 and 44 teeth in total. They have 12 incisor teeth, which are found at the front of the mouth. There are six upper incisors and six lower incisors. They use these teeth for grazing and picking up food. They use their molars and premolars, which are located further back in their mouth, for chewing. There are 24 total cheek teeth – 12 on the top and 12 on the bottom. There is an empty space between the incisors and the premolars called the "bar," and this is where the bit sits.
Some horses may have other teeth in addition to these standard 36 that are located in the bar. Male horses, and some female horses, have four small canine teeth located behind the incisors. And some horses might develop an additional one to four "wolf" teeth directly in front of the premolars. These teeth are very small, and are similar to wisdom teeth that some humans have. While not typical, if these canines and "wolf" teeth interfere with the bit, it is possible to have them pulled.
3. Their Teeth Keep "Growing" for Most of Their Life
Horses' teeth don't stop growing, at least not until they have reached their late 20s or early 30s. Their teeth will continue to "erupt" out of their gums and jawbone by about an eighth of an inch per year. At the same time, they grind their teeth down at the top with their chewing, which helps to prevent them from growing too long. This offset of growing and grinding helps to keep their teeth right in the sweet spot. Not too long or too short.
When they are young, a horse's gum line is higher. This gives their teeth the appearance of being shorter. Over time, the gum line lowers and their teeth become more angled and have a longer look.
4. They Chew Their Food in a Circular Motion
Horses chew their food by moving their jaw in a circular motion, instead of up and down like humans. This helps to grind down their teeth, but it isn't a perfect method. This way of chewing can often lead to uneven edges on some of the teeth, or parts of their teeth not getting ground down enough. This can cause a lot of pain for the horse, chewing becomes difficult, and the sharp edges of the teeth can start poking into the sides of their mouth.
Horses with tooth problems will often not want to eat, or will be extra sensitive about their mouth. For this reason, it is important that horses receive proper dental care with their routine veterinary visits. 1
5. Horses Need Regular Dental Care
To fix uneven or overgrown teeth, a veterinarian will use a process called "floating" to grind down the rough areas of the teeth and relieve the horse of pain and discomfort.
When floating a horse's teeth, the vet will sedate them and put a special halter on them with a tool to hold their mouth open. They will then use a file to grind down the uneven or sharp areas of the teeth. The file can be manual or electric. Horses do not have nerves in their teeth, so the grinding does not hurt them. The sedation is necessary to keep them calm and hold still throughout the procedure. If the horse were to move their head during the floating process, the file could cause an injury to the inside of their mouth. Teeth floating can sound daunting, but it is a very common procedure that many horses go through yearly to help keep them happy and healthy.
Tip: Horses that are in need of dental care often experience pain when a bit is put in their mouth. That's why a dental check is included on our list of ways to work with a horse that tosses its head, is arena sour, or bolts. 2
Like dog dental cleaning, regular dental care for horses is important. But unlike dogs, skipping dental care for horses can be dangerous for owners, too!
6. You Can Estimate a Horse's Age by Their Teeth
It is possible to estimate a horse's age by examining their incisor teeth. Since these teeth sit right at the front of the mouth, they are much easier to see than the molars.
Adult teeth have an indent on the surface known as the "cup," which is ground down to a flat surface by the time the horse is twelve years old. The shape of the surface of the teeth will also change as they age. They change from being rounded by nine to eleven years old, to triangular by their mid-teens, and finally to rectangular by twenty. There is also a groove that appears on the front of a horse's teeth at ten years of age, and grows in length as they age. In their twenties, these grooves begin disappearing. By thirty, these grooves have disappeared completely.
how to tell a horse's age by looking at their teeth
In 1917, nearly every student in rural high schools received an education that included information like how to gauge a horse's age based on its teeth. At that time, horses were critical to the production of grain, and good horsemanship was an essential part of education for many Americans.
Here's an illustrated pamphlet from a 1917 educational text on estimating the age of a horse: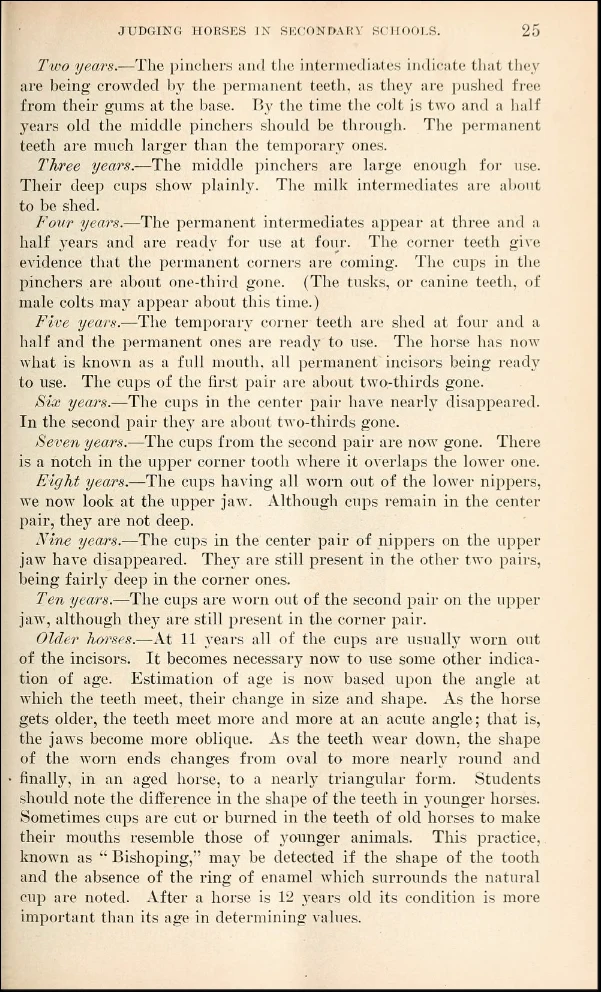 Conclusion
Who knew that horses have so many teeth and that they continue to grow throughout their lives! ✋🏽While the teeth of a horse grind down naturally by chewing, it is still important to get them checked out by a veterinarian at least once a year to make sure all is well. With the facts learned in this article, you too can help keep the mouth of your horse healthy and in tip-top shape.
Research sources used for this article:
Cook, W. R. (1999). Pathophysiology of bit control in the horse. Journal of Equine Veterinary Science, 19(3), 196-204. [↩]
Evans, P. A., & Barnett, D. (2007). Biting the Horse: Snaffles. [↩]