Saddles can be expensive investments, particularly good-quality saddles. However, a brand new saddle is a luxury few riders really need to splurge on. At any given time, there are tons of high-quality used horse saddles for sale in excellent condition.
Used saddles can be purchased for a much lower price than new saddles – plus, they're already broken in!
Finding a good deal on a used horse saddle (without getting ripped off) just takes a little savvy. Trust me, I owned a tack store for a decade and sold countless used saddles.
In this post, you'll learn:
Buying a used horse saddle can be painless, safe, and easy using these tips.
4 🚩red flags 🚩 To Watch for While Shopping for Used Horse Saddles
🚩 A Price that's Too Good to Be True
Just like rental apartments and used cars, if the price is so low you feel like you can't say no, its probably best to walk away. Horse saddles are expensive and highly portable- this makes them a prime target for tack theft. Theives try and get rid of stolen horse saddles through used saddle sales.
Here are a few red flags a used saddle for sale might be stolen property:
The price is too good to be true
The seller doesn't seem to know much about the saddle, or is "selling it for a friend"
It's an expensive saddle being sold at an auction or tack sale with cheaper saddles.
The seller can't tell you the saddle's history (i.e. where a particualty scrap or gouge came from)
Although you are unlikely to face criminal charges if you unknowingly purchase a stolen saddle, you will likely be required to return it to its owner if identified. (The thief will then owe you restitution for the purchase amount, but restitution is rarely recovered).
🚩 A Broken Tree
The most important thing to look out for when shopping for a used saddle is a broken tree. Since the tree provides the stability and the shape of the entire saddle, it is important that it is in one piece, for both the rider's safety and the comfort of the horse. If the saddle tree is not solid, then the saddle is worthless. A few tests can be done to see if the tree is damaged, which you'll find below.
How to Check if a Saddle's Internal Structure is Solid
Hold the front of the seat of the saddle against your stomach with the back of the saddle facing away from you.
With saddle braced against your stomach, pull the back of the seat toward you.
A saddle with a flexing-tree will bend slightly, but a fixed tree should remain still.
If you hear a crunch or feel uneven movement, this indicates that something is very wrong and the saddle is

not safe to use or sell.

A flexing "spring tree" saddle will bend easily and but "spring" back to its original position.
For a western saddle, this may be easier to check by placing the saddle on the ground front-first. Place your hands on the back of the sadle and press down firmly on them. The seat of the saddle should not move. If it wiggles, moves, or buckles, you have a broken tree on your hands.
Saddle tree checking instructions adapted from The Veterinary Care of the Horse 3rd Edition by Sue Devereux (2019)
🚩 Signs of Neglect
Sometimes nice saddles are neglected, and sadly this neglect can ruin a saddle's usefulness. These signs indicate that a saddle is probably not safe for riding:
Powdery Leather – is the saddle's leather flaking or disintegrating? This indicates the presence of a condition known as "dry rot." This leather cannot be repaired since it has lost all of its natural oils. When fully dry, the connective tissues connecting the leather fibers separated. Saddles with dry rot cannot be restored.
Weak Stitching – Tug on a saddle panel where two panels of leather are held together by stitching. Are the western saddle stitches frayed? Are the english saddle's threads pulling loose? If the stitched break or pull when tugged, the saddle has outlived its useful life.
Leather with Deep Cracks – while some light surface cracks are acceptable on older saddles, deep cracks indicate that the saddle was left unoiled for an extended period.


🚩 Asymetrical Appearance
Whether shopping online or in person, western or english, view the used saddle you're considering buying from every angle: from above, from below, front behind, and infront.
Avoid used saddles that are not symetrical on both sides, that have uneven wear or a subtle twist. Make sure angles and edges are even from one side to another.
4 ✨Good Things ✨ to look for when buying a used horse saddle
#1 The Saddle has Supple Leather with No Cracks
If you are shopping for a leather saddle, it is important to make sure the leather is in good condition and well-made. Check over the entire saddle, including additional pieces such as stirrups and billets, and make sure there are no cracks or splits in the leather. Take extra care to check the seams of the seat for cracks and wear as well. This is also a good time to look over all the stitching to make sure there are no tears forming or excessive damage. Repairing the leather can be expensive, and also difficult to find a good quality leather-worker locally, so make sure there is no damage to the leather beyond cosmetic scrapes and scuff marks.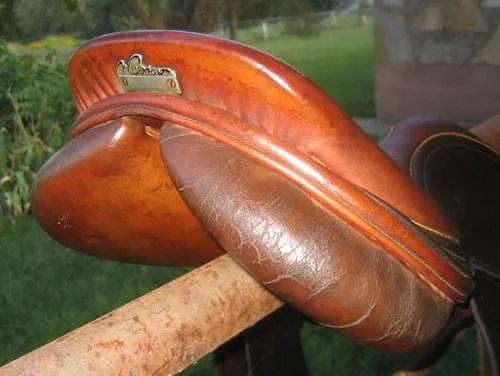 Beware of cracked leather. This leather is less structurally sound. It can never be fully restored, even if conditioned.
#2 The saddle includes all its parts
It is also important to make sure all desired pieces of the saddle are accounted for, such as the stirrups, billets, stirrup hobbles, etc. If you want all these pieces on the saddle to match, then you will need to look for a saddle that has them all intact. Some people may want to use their own stirrups, leathers, and various accessories. If the saddle is sold as saddle-only, the price should be a little lower.
#3 The saddle comes with A Trial Policy
The most important part of saddle shopping is finding a saddle that fits both you and your horse comfortably, and the only way to know for sure how a saddle will fit is to try it out. One benefit of shopping for a used saddle is the possibility of taking the saddle home on a trial basis.
Not every seller will be willing to do this, but it is worth looking into before committing to purchasing. The seller may require a deposit and a brief written contract to be sure the saddle will be brought back or purchased. Then, you will have the opportunity to try the saddle on your own horse and make sure it fits them correctly. An incorrectly fitted saddle can be very uncomfortable for a horse, and may cause back problems. A trial period will also allow you to ride in it instead of just trying it on a saddle stand. This will ensure that you select a comfortable saddle for you as well.
#4 The Saddle's Padding is Even
In my experience as a tack store owner, too many saddle shoppers may too much attention to the external appearance of a saddle. The real measure of a used saddle can be seen by flipping a saddle over and pressing your hand against the panels that rest against the horse's back.
Good used english saddles have panels on the underside that are stuffed with wool (Cheap, low-quality english saddles have been known to be stuffed with newspaper or worse!). Modern saddles may have panels stuffed with foam or even air, though these are less common.
For used western saddles, It's okay if sheepskin lining is matted- some consider even matting a sign of a good, well-built saddle. You can always comb your sheepskin or have it replaced.
Whatever material is used to fill the panels of the used saddle that you are considering buying, check it carefully. Wool can compress or bunch up over time, cheap materials degrade, and foam may deteriorate into powder. The panels are what will translate your seat cues to the horse, so it's important they are in good shape.
Hint: To Get a Deal When Used Saddle Shopping, Embrace Scrapes and Scuffs
The best deals on used saddles are often high quality, slightly used saddles with one or two gouges or scuffs in the leather. This should not convince you to overlook the saddle- scuffed used saddles are the best way to get a good saddle cheaply.
As with anything pre-owned, scrapes and scuff marks on a saddle are normal. They don't necessarily mean the saddle has been mistreated. Scuffs and even deep gouges should not be a dealbreaker, especially if you are shopping with a lower budget. When it comes to cosmetic issues like these, they can be key to a great bargain on a saddle nicer than you'd otherwise be able to afford.
Where to Look for a Used Saddle
A great place to start looking for a used saddle is at a consignment tack shop. This is a particularly good option if you want to be able to look the saddle over in person and ask questions about it. The staff will be able to help you find what you are looking for and help you with any necessary measurements.
For 5 places to buy a saddle, check out our sellers guide for 5 places to sell a used saddle
If you have a specific brand or type of saddle you are on the lookout for, you can ask them to call you if they get one in that fits your needs and wants. If you do not have a consignment tack shop in your area, there are lots of them online, who will also be happy to answer any questions over the phone or through email.
One benefit of a consignment shop is that they will check over the structure and quality of the saddle before they accept it. You should still examine the saddle yourself, but generally they will not have damaged or unsafe saddles available.
Buying directly from the current owner of the saddle is another option. Going this route, you want to be sure you know exactly what you are looking for. If the seller is not in your area, don't hesitate to ask for specific pictures to be sure about measurements and the quality of the saddle.
Final Thoughts
There are plenty of high quality used saddles available on the market. It may take a little searching to find exactly what you are looking for, but you have options. Buying a used saddle will open up a lot of possibilities that may not be affordable when looking at brand new saddles. Buying a used does not mean you have to sacrifice quality- in fact, buying used means you'll be able to buy a better saddle!
STOLEN SADDLE ALERT!
On Thursday, July 17 2008 this saddle was stolen, along with a bumper pull horse trailer, from a parking lot of the Kentucky Horse Park. This saddle had immense sentimental value and we believe it may have been a one a kind western saddle.
If you have seen this saddle, please report to KY Horse Park Police at (859)-509-1450 and/or report sightings via email to report.theft@learninghorses.com