Horse halters are an essential piece of equipment for horse owners. A halter is a piece of equestrian equipment that fits over a horse's head and allows a handler to control their horse when they are not in the saddle, is an essential piece of equipment that every farm must have.
Halters come in many different styles and materials. Although leather halters can be expensive, they are superior to nylon halters and rope halters in many ways. In this article, we'll discuss the pros and cons of leather horse halters and whether a leather halter might be right for you and your horse.
Three Reasons to use Leather Horse Halters:
Leather Halters are Safer
Leather halters are safer than their nylon or rope equivalent. Leather is a natural product that will break under extreme pressure – that's an advantage when it comes to horse keeping, since breaking a halter is far preferable to injury to a horse or human.
Nylon webbing is such a strong product that often the solid metal hardware of a halter will break before the nylon webbing – that's an extreme amount of pressure on a very sensitive part of the horse's body! Leather halters tend to break before that much pressure is exerted on the halter hardware, which leads me to reason number two that leather halters are better than nylon halters…
Leather Halters are Easy to Repair
Because leather halters tend to break in more repairable areas, it's relatively easy to keep a leather halter in good condition through simple repairs. Even severe damage to a halter can be repaired by a novice leathersmith for less than the cost of a new halter.
You know that adage about the man with no money who needed shoes, but whose only option was to purchase shoes that would wear out within a season, requiring him to buy more shoes and to ultimately spend more on poor quality shoes that weren't safe or warm than he would if he had been able to purchase decent quality shoes in the first place? Leather halters are a similar analogy. Buying a good leather halter at the start of your horse ownership experience may end up being much cheaper than nylon halters that fade in the sun or break irreparable ways.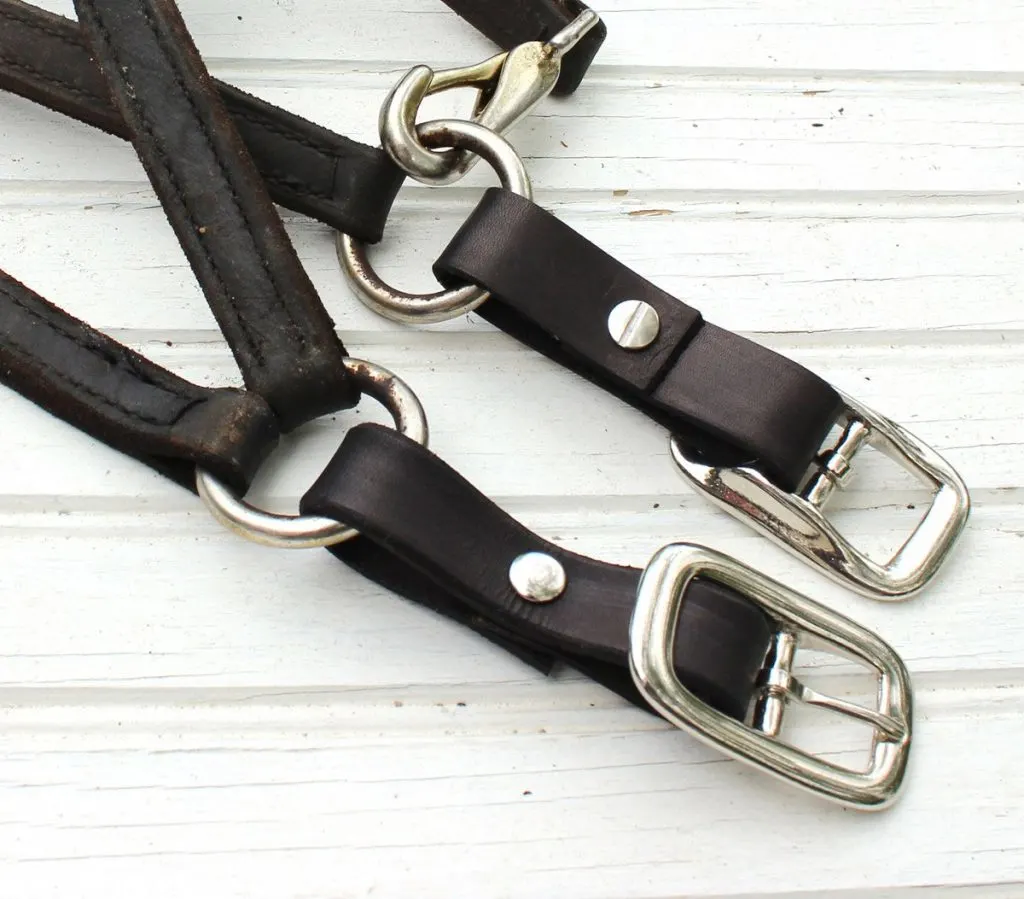 Leather Halters are Environmentally Friendly
Every nylon horse halter that has ever existed still exists somewhere in a landfill. Researchers estimated in the early 2000's that there were around 5 million horses in the USA. If each horse lived an average of 15 years and used a new nylon halter each year, that would be around 75 million halters, or 150,000,000 pounds of trash in halters alone.
Since leather halters are easy to repair and compost when their useful life is over, they are a more environmentally friendly option. Using leather halters is a small way we can care for the environment and use more sustainable housekeeping practices.
TIP: Before throwing away broken, worn, or irreparable horse tack, take a moment to cut the hardware (like, D rings, O rings, buckles, and snaps) from the body of the equipment. These solid metal pieces can be recycled or- even better- kept on hand for repairs. Saving hardware from broken tack can save money and lessen environmental impact of horsekeeping.
Leather Halters Look Classically Stylish
A little bit like clothing, halters make the horse.
When I bred and sold Bashkir Curly Horses, I always shipped or delivered my horses with a high-end engraved personalized leather halter. Why? because the clothes make the man, or in this case, the halter makes the horse.
Just like a bronc halter says something very specific about the horse wearing it, as would an Arabian show halter or a Native American war bridle, people will judge your horse by your equipment. Although spending thousands on the latest saddle just to make your horse look good is not a great strategy, upgrading to a leather halter, which is likely to pay for itself over time, is an easy way to make your horse look more expensive than it is.
With varieties of leather halters to choose from, like rolled-nose leather halters, narrow leather halters, and chunky traditional racehorse style halters, there's a leather horse halter that's perfect for your horse's style, conformation, and even color! (Grey horses, for example, look amazing in black leather halters)
Disadvantages of using leather horse halters
Although, as discussed, there are many benefits to using leather horse halters, there are a few drawbacks to this type of horse halter. Some of these drawbacks of leather horse halters include:
Frequent Damage can be Expensive
If you have a horse that is particularly hard on halters, leather horse halters may not be the right choice for you and your horse. Although leather horse halters are almost infinitely repairable and unless you learn to do those repairs yourself, they can add up. If you think you might have to have your leather halter repaired frequently, it may be best to choose a less expensive type of horse halter.
Leather Horse Halters Require Regular Care.
Unlike nylon and rope halters, leather halters need a little bit of love. Like a good saddle or a good pair of leather boots, leather horse halters need to be cleaned regularly.
Cleaning leather removes dirt that builds up on the surface of the leather and helps the leather horse halter stay functional longer. If you hate cleaning tack and anticipate that you might neglect this important chore, leather halters might not be right for you and your horse.
Leather halters are not as strong as nylon Halters
Choosing a halter always has pros and cons when it comes to safety, while halters should be weak enough to break before the horse's neck or spine is injured, horses that learn halters can be easily broken may be more likely to pull back, break more halters, and escape and potentially unsafe surroundings.
Because leather halters break away easier than nylon or rope halters, and the soft wide straps of leather halters may be more inviting to horses pulling back than the sharp bite of the rope halter, leather halters may not be right for every horse.
Final Thoughts on Deciding which Halter is Right for You
As you can see, there are many pros and cons to using leather horse halters.
Ultimately, choosing the right halter comes down to safety, style, care, and affordability. If you love the look and style of leather halters and are willing to put in a little bit of time maintaining your equipment, leather horse halters are an excellent choice for many horses and horse owners.