This Appaloosa curly horse stallion named "Spot O Rust" was born in 2003, and was owned by our farm from about 2009-2011. This leopard Appaloosa stallion with curly fur, a result of the curly horse gene, was out of a mare named Mead's Pretty Amber, and sired by a stallion named Mead's Bsyo Coyote. His base coat color is bay, which you can see and his dark-colored mane.
As the names in his pedigree imply, this horse was from the Mead line of curly horses. Also in Spot of Rust's lineage age MCH Ernie* ABC 2246, White Dove ABC S-203, and foundation curly horses The Yellow Hornet* ABC 878(f) and "Old Grey Mare" ABC 719(f).
Spot O Rust sired at least two curly horse foals, Owyhee Nevada, a Zebra Dun curly horse with straight fur out of a straight-coated curly horse mare named Apple Tart. A second foal was born in 2011 named Patriot, out of a curly ABCR mare named Noble Debutante. Rusty was sold to Sacred Way Spirit Horses in 2011.
If you think your horse might be curly, check out our guide to how to recognize a curly horse, or read more about curly horses.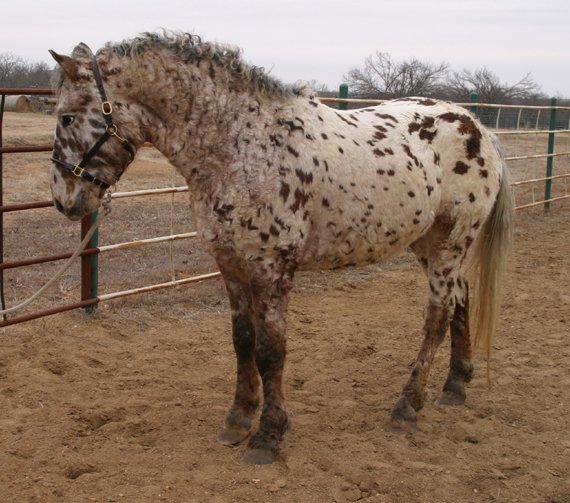 ---