This free printable stall card prints using any printer equipped to print on standard 8.5 x 11 paper. Print in color to ad eye-catching pizzazz to your horse stall info cards, or print in black and white to instantly transform this design from fun and playful to sleek and modern.
With our free PDF printable template for a stall card, rather than having to create a new card each time you need one, you can simply print out a new template.
You can fill them out with any photo editing software or print and fill them out with a sharpie. Using a template for stall cards can save time and streamline the process, especially if you need to create multiple cards. Matching stall info cards can help you create a professional-looking stable appearance. If you are not experienced in design, a template can help you create a card that looks great, over and over again! TIP: Skip expensive metal stall identification card holders and mount this single page 8.5 in x 11 in using a staple gun. For longevity, place filled-out stall cards in a page protector sleeve, seal the sleeve, and hang it on the stall front (the plastic will keep moisture out!). For a higher-end look- or portability for horse shows- place the card in an inexpensive document frame available at any dollar store.
Why Horse Stalls Should Be Labeled with Name Cards
There are many benefits to labeling horse or livestock stalls with information about the animal inside. One benefit of boarding stables and staffed barns is that they can help you make sure your horse is getting the proper care even when you can't be there to supervise feedings. Additionally, printable horse stall card templates can help grooms and barn staff identify ownership and emergency care information quickly- without having to waste time looking up your information in the office or on the barn manager's phone. This can help you get your horse the treatment it needs faster, in the event of a veterinary crisis.
Another benefit of using info-rich horse stall info cards is that they can help save time if you have other people helping with your horse chores. Instead of verballing passing instructions to temporary barn staff, stall cards that include feeding information communicate this information quickly- and without error.
The different types of stall name plates
There are many different types of horse stall cards or nameplates. The most common type is the traditional horse stall nameplate, which is typically engraved brass or stainless steel mounted on a wood mount. While attractive, these stall plates don't carry much useful information (there's usually only enough room for the horse's name!)
Another popular type of horse stall ID card is a simple paper card with the horse's name, vital statistics, care instructions, and owner's information.
Other types of stall cards include those with the horse's photo, show records, and other information- Some stall cards are even made into magnets, which can be placed on the horse's stall door in barns with metal stall fronts.
Download A Printable Horse Stall Card Template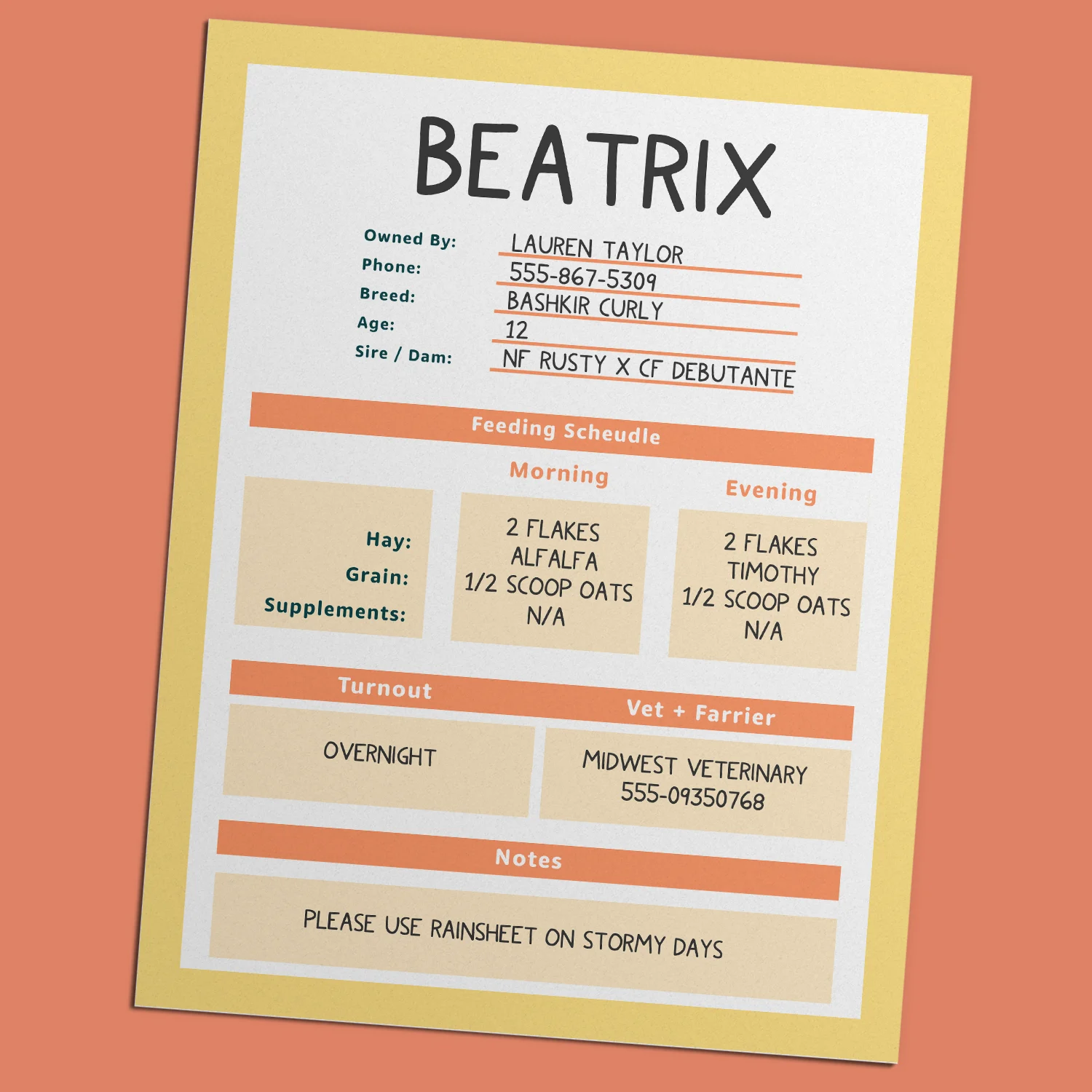 How to use printable horse stall card templates
1. Make sure the paper and print are high quality. This means that the paper should be thick and the printing should be clear. 2. Make sure the name card is easy to read. Use a simple font and avoid using all caps. If you write using a sharpie, use penmanship that anyone can easily read- remember, good stall cards are a form of barn safety and worth doing right. 3. Use a namecard holder. This will help you keep the name card clean and prevent it from getting lost. (Use the DIY plastic sleeve or frame suggested above, or purchase a manufactured version)
Why it's Important to Label Horse Stalls
Horse stalls are an important part of horse care. They provide a safe and comfortable place for horses to rest and sleep (and recuperate, if stall rest ever becomes required). Stalls also protect horses from the elements and from other animals. Labeling horse stalls helps to keep track of which horse is in which stall- and when horses are coming and going constantly in a boarding barn it can help prevent potentially dangerous mixups in which horses that don't get along might be put in adjacent stalls. Legible, readable stall cards help to ensure that each horse gets the proper care, prevents horses from getting lost or mixed up, and help to keep track of which horse is which for staff, other owners, and horse professionals like farriers and vets. Labeling horse stalls is a simple but important task. It helps to keep barns healthy, safe, and organized.
There are many other reasons to use a cohesive printable template to make your own horse stall nameplates and info cards, including:
Effectively advertise a horse is for sale- without even having to create an ad!
Make it easy to identify each horse's stall quickly if there is an emergency.
To help you to create a more professional-looking barn that makes a good impression on visitors.
Tips for Printing our Printable Horse Stall Label
Before you begin printing your horse stall labels, you will need to gather some supplies. You will need a printer, paper, and a way to cut the labels out. You will also need a way to attach the labels to the horse stall. You can use tape, glue, or string to mount stall cards on stall fronts. Download our template for horse stall cards, then once you have your design ready print it out. Make sure that you print the stall labels on a heavy-duty cardstock paper so that they will last a little longer in the challenging environment of a barn.