By your third or fourth time on a horse, you've probably learned a few rules about what to wear. Aside from the basic rules of safety and style, most horseback riders avoid wearing light-colored clothing or anything new when they go to the barn. Frustratingly, this approach to preventing stains on riding clothing is maddeningly impossible to do when it comes to competitive English horseback riding.
Why English riders wear light colored riding pants:
English riding has its origins in military exhibitions of cavalry. The clothing that is worn by English, hunter/jumper, eventing, and dressage riders in competition was fashioned after traditional 19th-century soldiers uniforms. White pants were, unfortunately for those of us showing horses today, standard for military uniforms at that time.
Although if you've read up on what to wear to a horse show you know that it's generally okay to wear dark-colored breeches, riding pants, or even black tights to a casual schooling show, if you begin to show and more competitive shows where dress code matters, you'll find yourself joining other riders in the frustration of preventing stains on light-colored riding clothing and keeping white, tan, or beige riding breeches clean. Nothing ruins the presentation of a horse and rider in the show ring quite like a giant smudge or stain on the rider's otherwise impeccable clothing.
Never fear, you aren't the first rider to struggle with the frustration of keeping white or tan breeches clean and looking great. In this article, we'll talk about popular methods horseback riders use to keep light-colored breeches clean so their horse show turnout looks polished and prize-winning.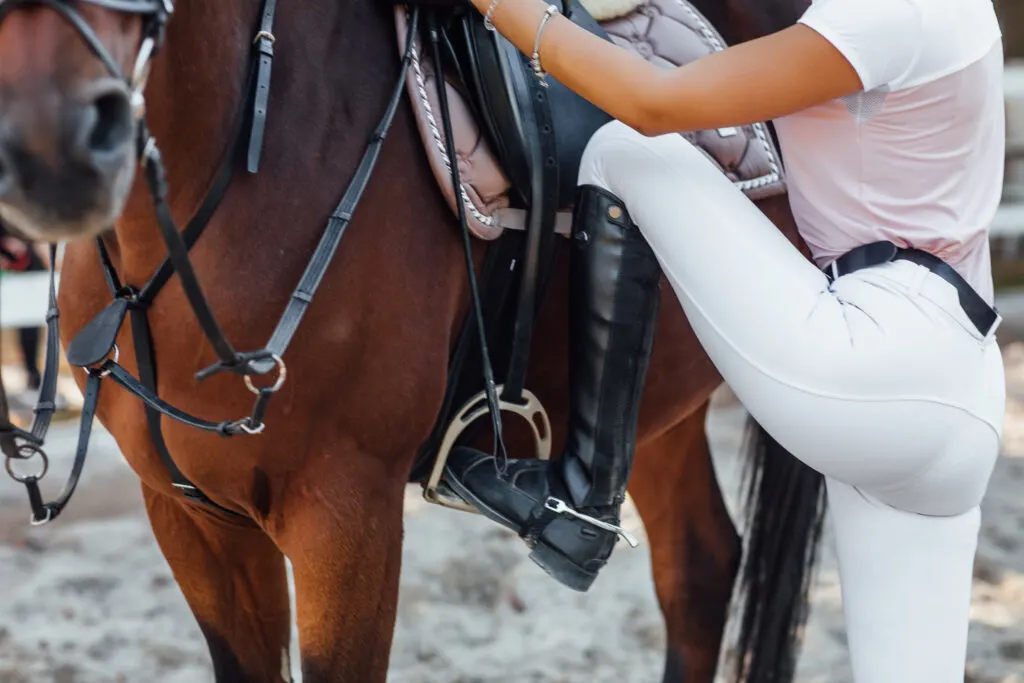 1. Prevent stains by covering up.
Many riders on show morning wear a second pair of pants over their white or light-colored riding pants by wearing a loose-fitting pair of joggers, scrub pants, or pajama bottoms over their clean breeches. By covering your light breeches you won't have to worry about smudges and stains- and need only to step out of the extra layer before mounting up and entering the ring. Other riders insist that a riding skirt such as those made by Arctic Horse skirts is an easier way to change in and out of a pre-show coverup.
Note: if you think you might be around wet spills or splashing water: opt for waterproof pants like those sold for hikers or farmers.
2. Buy white breeches with gray or tan contrast seat
Although white breeches come in both a knee patch and full seat styles, opting for a full seat pair of breeches that have suede in a color that contrasts or complements the white fabric can be a way to proactively deal with stains from sitting someplace dirty or having leather polish transfer to your white breeches.
The following section may contain affiliate links. As an Amazon Associate, we earn from qualifying purchases.
3. Always pack a stain removal pen in your show kit
On the show circuit, everyone from elite competitors to entry-level grooms tends to have a Tide stain removal pen within reach at any horse show. These felt tip pens which contain a concentrated stain removal formula can be a lifesaver. They're great at removing marks, smudges, and small stains from white riding pants and light-colored breeches. They even work as a last-minute way to handle a stain as you're entering the show ring.
4. Never let a wet stain dry
Here's a secret to stain removal for light-colored riding pants and most clothing in general- if your pants, breeches, or top are discolored by a wet stain (such as something splashing) try to avoid letting that stain dry. If you don't have time to treat the stain immediately, keep it wet.
Even acrylic paint (notorious for being permanent and impossible to remove stains from fabrics) easily washes out in a standard wash cycle if the fabric is kept damp consistently between the moment of staining and the start of the wash cycle.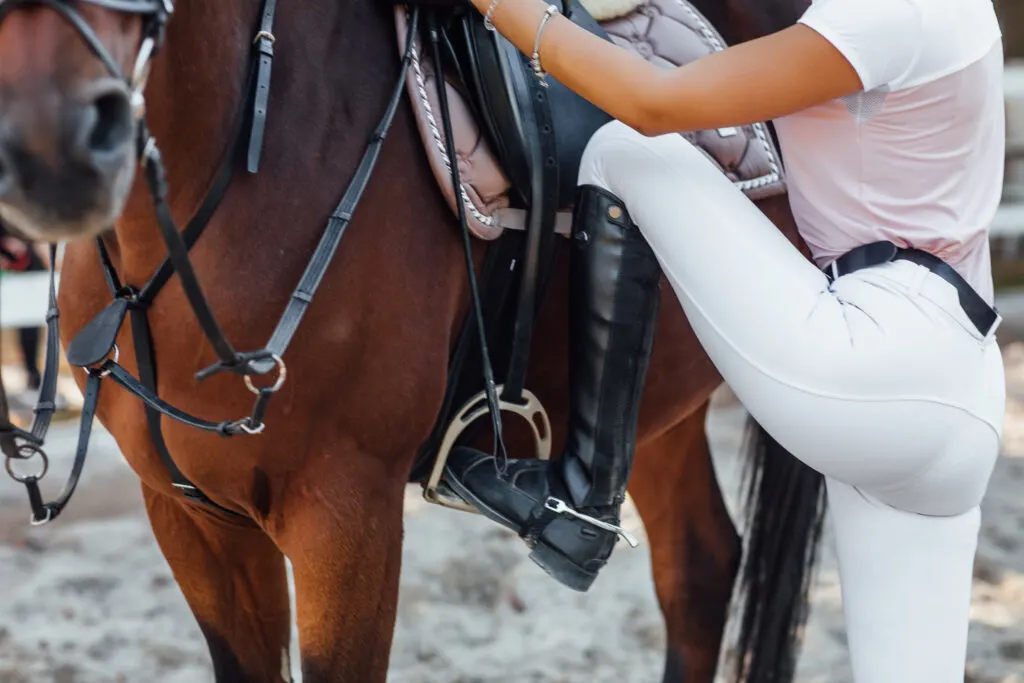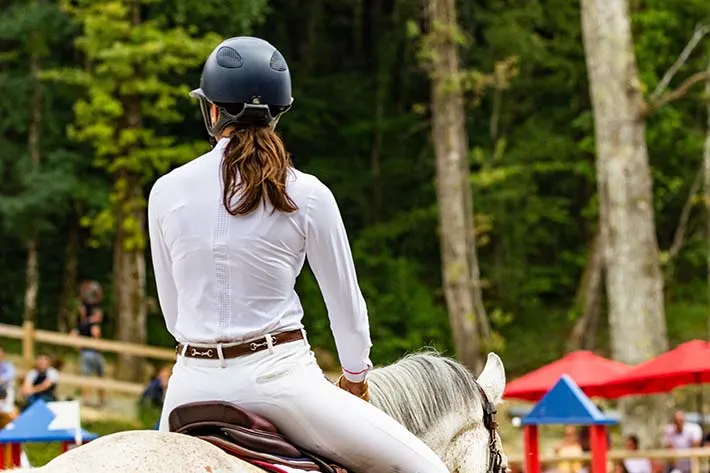 5. Prevent yellowing white breeches
There's nothing like pulling your horse show clothing out of your closet at the beginning of horse show season to discover that the light-colored breeches from last season have yellowed to dingy yellowish-orange hue. White breeches and sometimes other light-colored riding pants discolor if washed improperly. For example, many riders opt to use bleach on their white or light white breeches however bleach (which worked well on the cotton fabric breeches used to be made from) rapidly degrades the fibers of modern materials like lycra, spandex, and polyester.
Instead of using bleach for your white breeches, reach for the same product we swear by for whitening light-colored horse tails– Mrs. Stewart's laundry bluing. This laundry product is actually a blue dye that corrects for yellowing whites and has been a staple of professional cleaners for more than a century. Add a few drops to a wash cycle or let your breeches soak overnight in a very diluted solution.
7. Use Oxyclean for horseback riding clothes
Oxyclean is nearly unbeatable for removing stains from organic matter like mud, grass, and manure. Out a few scoops to your wash or, for extra measure, mix up a solution for pre-soaking.
One rider I know swears by the type of Oxyclean labeled "for babies". This formulation, they insist, works better for horse stains because it's specifically developed to remove poop from fabrics.
6. Wash with cold water
When our grandmothers learned to do laundry, the only acceptable way to really get clothing clean was with very hot water and usually bleach. While this method worked great on the cotton and natural fibers used then, today both fabrics and detergents are made up of very different components. Despite this, a myth persists that hot water and bleach are the only way to get whites really bright- a myth that ruins breeches regularly!
To care for the modern synthetic fabrics that manufacturers use to make riding tights, breeches, and horseback riding leggings, opt for cold water. Detergents have evolved along with tech fabrics, and today's top detergents work equally as well in cold water as they do in hot water. Cold water washes can save energy and prolong the life of your white riding breeches.
7. Try a bar detergent
Like laundry bluing, some of the oldest solutions are the best. The same soaps that were used by the Calvary 100 years ago to remove stains from uniforms work well to remove stains from horseback riding clothing today. A particularly effective horse stain remover is Fels Naptha bar soap. Available as a wrapped bar of laundry detergent available through amazon or some hardware stores and grocery stores, this stain remover works by rubbing the solid bar of soap on a stain, with a bit of water, and letting the detergent sit for a few minutes before washing.
8. Apply a stain repellent
Finally, once your light-colored breeches are restored to the brilliant bright original color, allow them to fully dry and then apply a Scotchgard treatment meant for outdoor fabrics. This simple spray-on treatment really works to prevent future stains or make stains easy to wipe away from the surface of your breeches another horseback riding clothing.
FAQ's
How do I remove MTG stains from Riding Tights and Breeches?
According to the manufacturer, the active ingredients in MTG are sulfur and oil-based substances, so to remove an MTG stain from clothing, you'll need to remove both elements. We remove MTG stains in our barn by using Dawn dish soap and White Vinegar in the ratio below:
Mix 2 tablespoons of Original Dawn Dish Detergent with 3 tablespoons of vinegar in a small dish. Use an old toothbrush or a laundress stain brush to scrub the solution deep into the clothing fibers that the oils in MTG have penetrated. Let sit for 10 minutes, then wash in a normal washing machine cycle.
If any evidence of a stain remains after a wash cycle, mix a paste of 1 tablespoon Dawn Dish Soap with 1 tablespoon baking soda and enough water to form a runny paste. Scrub the paste into the remaining stain, then apply vinegar with a nail brush and gently scrub. The bubbling reaction between the baking soda and vinegar will help lift and break up any remaining oils.