Jobs working with horses have a reputation for not paying well, but that's not the whole truth. The fact is, there are many different types of horse jobs that pay well. Some of these jobs may require special training and certification, while others require only a love of horses and a willingness to continue learning about them.
I've written previously about careers in the equine industry, but today I want to focus specifically on high-paying jobs within the horse world. While high-income horse jobs are the exception rather than the rule, they are attainable. With a career plan that plots your education, training, and skill-building, you can map your way to one of these horse jobs that pay well (or job-craft your perfect career with horses!)
List of High Paying Jobs in the Horse Industry
This list is not exhaustive. Instead, consider it a starting point for thinking about how you can combine your love of horses with other skills, interests, and training to become a niche expert. Often, professional success comes through combining skills, specializing, or niching down to become an expert in a specific subtopic. Thanks to the internet, it's easier than ever to market specialized skills and take on work worldwide.
Corrective Farrier
Every horse owner is familiar with a farrier- but who gets the call when a horse's hoof health extends beyond a general farrier's ability to work with? A specialist. A farrier who is an expert in treating laminitis, issues with gait, or horses that compete barefoot in intense competition can be their own boss and justify charging much more than a standard farrier.
Skills Needed
Farriers must have a good knowledge of horse anatomy and physiology to do their job correctly. They also need to be able to handle horses, which can be difficult and dangerous.
Education & Training Required
In the US, there are multiple paths to becoming a farrier. A farrier may attend a trade school or complete an apprenticeship with a certified farrier. Good farriers often do both as part of their training! The length of the apprenticeship varies but can last two to four years. To become a farrier specialist, you'll need to commit to continuing your own study, attending conferences, and getting additional certification.
Equine Veterinary Specialist
As we discussed in our article on horse jobs, an equine veterinarian is a veterinarian who specializes in the care of horses. While general equine veterinarians make a good salary, equine veterinary specialists are some of the most well-paying jobs in the horse industry. Veterinary specialists usually don't do farm calls, vaccines, or primary care- but instead are experts in a specific field of horse health. A veterinary specialist might be specially trained to treat dermatological issues, gastrointestinal problems, or spinal conditions.
Skills Needed
Good candidates to become an equine veterinary specialist should love learning, have an aptitude for science, and have a passion for being around horses. To prevent burnout in the horse industry, potential workers should set reasonable expectations and a timeline for achieving goals.
Equine veterinarians often work with other expert professionals within a large animal veterinary hospital or as part of a university, where they may also teach courses to veterinary students.
Education/Training Required
Equine veterinarians must have a Doctor of Veterinary Medicine (DVM) degree from an accredited veterinary school. They must also pass a state licensing exam. Equine veterinarian specialists must also complete residencies, fellowships, and further training.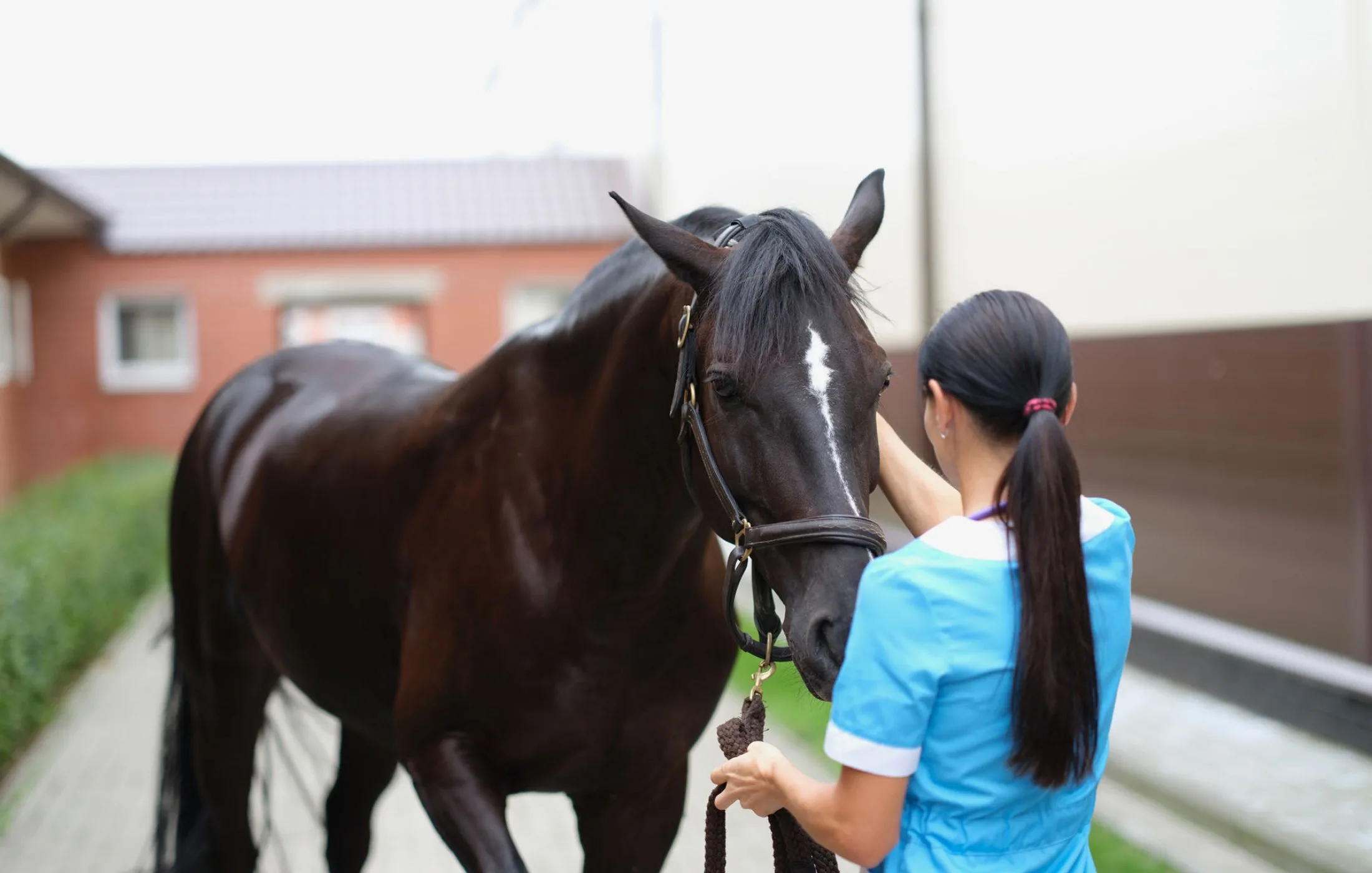 Stable Architect
If you are looking for a horse job that pays well and accommodates a more artistic skill set, consider becoming an architect specializing in equestrian facilities. Every barn, stable, and equestrian facility that is constructed has to have a plan, and typically builders call in architects who are experts in understanding the unique design challenges of equestrian facilities.
Skills Needed
Good candidates to become an equine veterinary specialist should love learning and have an aptitude for science, biology, and a passion for being around horses. To prevent burnout in the horse industry, potential workers should set reasonable expectations and a timeline for achieving goals.
While there are not a wealth of positions available for this specialty, horse lovers who train as architects may begin, through general work, start building a portfolio of horse and farm-related projects. Once a portfolio of similar projects is completed, an equestrian facility architects may begin billing themselves as a specialist in equine facility design.
Education/Training Required
The most common path is to earn a degree from an accredited professional school of architecture. Alternatively, one could also complete a five-year Bachelor of Architecture degree program.
Once you have completed your degree, the next step is to register as an intern architect with the National Council of Architectural Registration Boards (NCARB). This process will allow you to take the Architectural Registration Examination (ARE), which is required in order to earn a state-issued license to practice architecture.
After passing the ARE, you will be a licensed architect and can begin to search for job opportunities.
Nonprofit Horse Organization CEO
There are a lot of non-profit groups in the world of horses. Non-profits run a lot of businesses that deal with horses, from breed registries to therapeutic riding centers, horse rescues to foundations that help people.
Even though people who start out in non-profit work don't make much money, CEOs of non-profit horse-related organizations make some of the best money in the industry, even though they start out at a low salary.
The CEO of a non-profit is in charge of everything that happens at the organization. This includes setting the long-term direction of the organization, making and enforcing policies and procedures, and making sure the organization is financially healthy. You also need to be able to tell the public and potential donors about the organization's goals in a clear way (both horse-people and those who are not in the horse world).
Skills Needed
Successful non-profit CEOs must be good at managing people and resources, which is the most important trait for them. Horse-related non-profit managers need to know both people and horses, be able to delegate tasks and authority to staff members, and be able to hold them accountable for their work. This is different from a simple job like being an exercise rider.
As a non-profit CEO, it's important to be able to raise money. You must be able to come up with a fundraising plan that will help the organization run its programs and operations. It might range from schmoozing high-earning donors or hosting an ordinary trail ride fundraiser. You'll also need to be able to effectively communicate to tell people about the organization's goals.
Education/ Training Needed
However, most people who work for horse organizations will need at least a bachelor's degree in a relevant field, like business administration, nonprofit management, or public policy, to be in charge of the group. Having a master's degree is likely to be needed for jobs at bigger breed registries and big non-profits. Many jobs in the nonprofit sector will also require a lot of work experience, so internships or other professional experience in the field may also be useful for people who want to work there.
Grant Writer
An equine grant writer may use their skills and knowledge of horses to research and write grant proposals for therapeutic riding, agricultural sustainability, or community-based programs that help people with disabilities, as well as grant proposals for other equine programs (like horse camps for kids from low-income families) Grant writers do research on possible funders, write proposals, and sometimes manage the whole process from start to finish.
People who write grant proposals can be very happy and make a lot of money. They can also balance their time in the saddle with time next to the saddle in a fun way. Grant writers often work for equine nonprofit groups, and they help those groups get the money they need to keep going.
Education/Training Needed
If you want to be a grant writer, you usually need a bachelor's degree in English or another related field. Writing and research skills are important for them to have, so they must be able to do both. There are a lot of jobs that grant writers can do from home, so they need to be able to work on their own and be self-motivated.
Tack store owner
Tack stores are all over the place. Owning your own tack store can be a lot of fun. As someone who owns a tack store, I can say that for people who are good at business, it can be a very profitable job. When you own your own tack store, you get to choose what you have, how much it costs, and how it looks.
Having a horse tack store is one of the best things you can do. You get to help people find the right tack for their horse. It's another great thing about this well-paid job as a horse trainer: You get to be your own boss. Set your own hours and prices. You can hire your own staff. As well, you can decide how you want to run your business. For example, you can choose to have a brick-and-mortar shop. You can also choose to have an online shop. You can even set up your shop at horse shows.
Product Designer
Have you ever thought about the person who made the breeches or the shape of a riding helmet? Product designers are a part of the horse industry that most people don't know about. They make a lot of money because they can combine their skills in art and science.
Product designers are in charge of making sure that the products they make are both useful and appealing to people. They work with engineers and manufacturers to make sure that the products they design can be made quickly, look good, and work well for riders (that's where your own riding experience comes in as a big help!).
Training/Education Required
Equestrian product designers usually get a degree in industrial design or another field that deals with making things that work with horses. As a result, there are other ways to become a product designer for horse products without having to go to school. Many companies are now hiring people who have degrees in other fields, such as user experience or interaction design, to work for them now.
Equine Lawyer
An equine lawyer is a lawyer who focuses on the law and horses. This could be about everything from ownership disputes to contracts to liability. To be good at what they do, equine lawyers need to know a lot about both the law and the horse business.
One of the most important things an equine lawyer does is help people resolve ownership disputes and contracts related to the sale, housing, and training of horses. Lawyers in the field of horse law can help write a contract that is easy for everyone to understand and protects their rights. In this case, an equine lawyer can help figure out how much liability there is and how to make sure it doesn't happen.
Training/Education Needed
Before you do anything else, get a law degree from a school that is approved by the law. Then, take and pass the bar exam in the state where you want to work as a lawyer. After that, you should use your contacts in the equine industry to connect with a law firm that already deals with equine law. It's there where you can learn more about equestrian law, too.
Final Thoughts on Horse Jobs that Pay Well
Horse jobs that pay well are not always easy to find, but they can be very rewarding. As long as you love horses, there's a good chance you can get a job that pays well and has to do with them.