Many people go through a "horse crazy" phase as kids or teens, but what about those of us whose affection for horses turns out to be anything but a phase? Not all of us can grow up to be professional riders, there are lots of other jobs working with horses, including working as a veterinarian, a farrier, a trainer, a horse photographer, an equine masseuse, a stable manager, and hundreds of other niche careers in horse-related businesses.
In this article, we'll discuss some of the most common jobs working with horses, what qualifications you'll need to land the job, and some ways to begin preparing now- at any age or phase in career development- to get the job working with horses that you dream of.
Equine Veterinarian
If you love horses and the science of medicine appeals to you, then working as a veterinarian could be a great fit for your desire to work with horses. An equine veterinarian provides medical care to horses, including preventative care for healthy horses, treatment for sick horses, and evaluation of horses for sale. This could include giving vaccines, treating injuries, performing surgeries, or doing prepurchase exams on horses for sale.
How to become a horse veterinarian
To become a horse vet (technically called an equine veterinarian), you'll typically have to study for at least eight years, depending on the country you reside in. You'll need a bachelor's degree in equine science or a different biology-related field and four years of specialty veterinary school. Some universities, including Cornell University's School of Veterinary Medicine, offer accelerated 7-year training and certification for veterinarians.
After finishing veterinary school, you'll also have to work under an experienced veterinarian until you gain enough experience to practice on your own.
Pros: Horse-focused veterinarians get to enjoy hands-on work with horses while helping horse owners keep their equine companions happy.
Cons: Equine Veterinarians pay hundreds of thousands of dollars for their degree and most don't earn wages to pay this cost off quickly. Unless a senior member of a large practice, equine veterinarians can expect to have late-night calls for farm emergencies.
Similar careers working with horses: For those attracted to the sciences and working with horses but not eager to take on an 8-year education, jobs as an equine veterinary technician, veterinary nurse, a radiographer at an equine veterinary hospital, or ultrasound tech at a horse breeding facility may be satisfying similar jobs working with horses.
Farrier
Once referred to as blacksmiths (as they fashioned a number of steel and metal tools) today's equivalent is a Farrier. A farrier is a specialized expert that cares for horse hooves. Becoming a farrier is another option if you'd like a job working with horses.
Farriers trim hooves as they grow out, evaluate gaits and care for hooves to help keep horses healthy, treat (through a partnership with equine veterinarians) hoof health issues, and fit horseshoes to horses. Today, farriers can specialize in hot shoeing or cold shoeing (exactly what they sound like) or specialize in "barefoot" hoof care for owners who prefer not to have their horses wear shoes.
How to become a farrier
Unlike veterinarians, farriers rarely have to go through any formal schooling, so this is an excellent option if you'd prefer not to invest as much time and money in certifications. Instead, to become a farrier, you'll need to map out your own training.
While some farriers learn the trade by working as an apprentice to an experienced farrier for several years, other farriers learn through brief trade-focused certification programs. Additional credentials and training will build your skills and reputation, keeping your schedule full, so expect annual conferences and continuing education to learn throughout your career.
Pros: With work as a farrier, you'll be your own boss and you'll never have to sit at a desk. You'll spend the majority of your work week out, working with horses and interacting with their owners and care teams.
Cons: One downside to working as a farrier is that it's very physically demanding work, with many farriers suffering back injuries from the work.
Similar careers working with horses: Equine masseuses, saddle fitters, horse chiropractors, and even equine dentists. These professionals work with horses' bodies to help horses perform at their best. Because these jobs, for the most part, don't require hours of bending, squatting, and stressing a spine, they may be more appropriate for people who want to work with horses as a second career later in life.
Trainer
If you'd really like to spend your whole day working with horses in a hands-on way, preparing for a career as a horse trainer could be the perfect option for you. Horse trainers work at stables to train the horses to accept a rider, respond to cues, or perform specific behaviors. Some horse trainers have certain specialties, such as jumping, dressage, or training green horses, while others are simply available at large stables for any issues that the riders may run into.
Getting a job as a horse trainer can be a bit more difficult than some of the other careers in this article. To become a trainer: there's no standard education, certification, or vocational training available. However, for success as a horse trainer, consider this job training model:
How to Become a Horse Trainer
Work on you own riding and become a skilled, expereinced horseback rider.
Ride as many horses as you can to learn about different horse personality types. Freelancing as an exercise rider is a great way to make money while gaining this expereince.
Enroll in a community college and get an associates degree focusing in business, equine studies, or both.
Apprentice under a well respected professional trainer in your area.
When you're ready, begin taking on your own clients offering training in areas of training where you are comfortable working with horses.
You'll also need to find a trainer to serve as a mentor. There are certification programs and classes that you can take to give you the credentials of a horse trainer, but without a mentor, it will be difficult to find good clients as they will likely be the ones to send you your first few recommendations.
Pros: Horse trainers set their own hours, set their own price, and get to be their own boss.
Cons: Horse training includes physically demanding work with horses that, by definition, aren't fun to ride. Depending on the type of training you offer, the risk of falling off a horse is high and a bad injury could result in a loss of income.
Similar careers working with horses: Riding instructors have jobs similar to horse trainers, but focus on the training of riders. A good riding instructor needs an understanding of how people learn and good people skills. Riding coaches and the more formal sports psychologists focus on supporting riders emotionally and psychologically through horseback riding-related challenges.
Landing your first job as a horse trainer can be challenging. You'll apply for the job like a typical job, but the rules on what not to wear on an interview may not exactly apply. To get a better idea of how to put your best foot forward, chat with other riders, boarding stable owners, and riding instructors.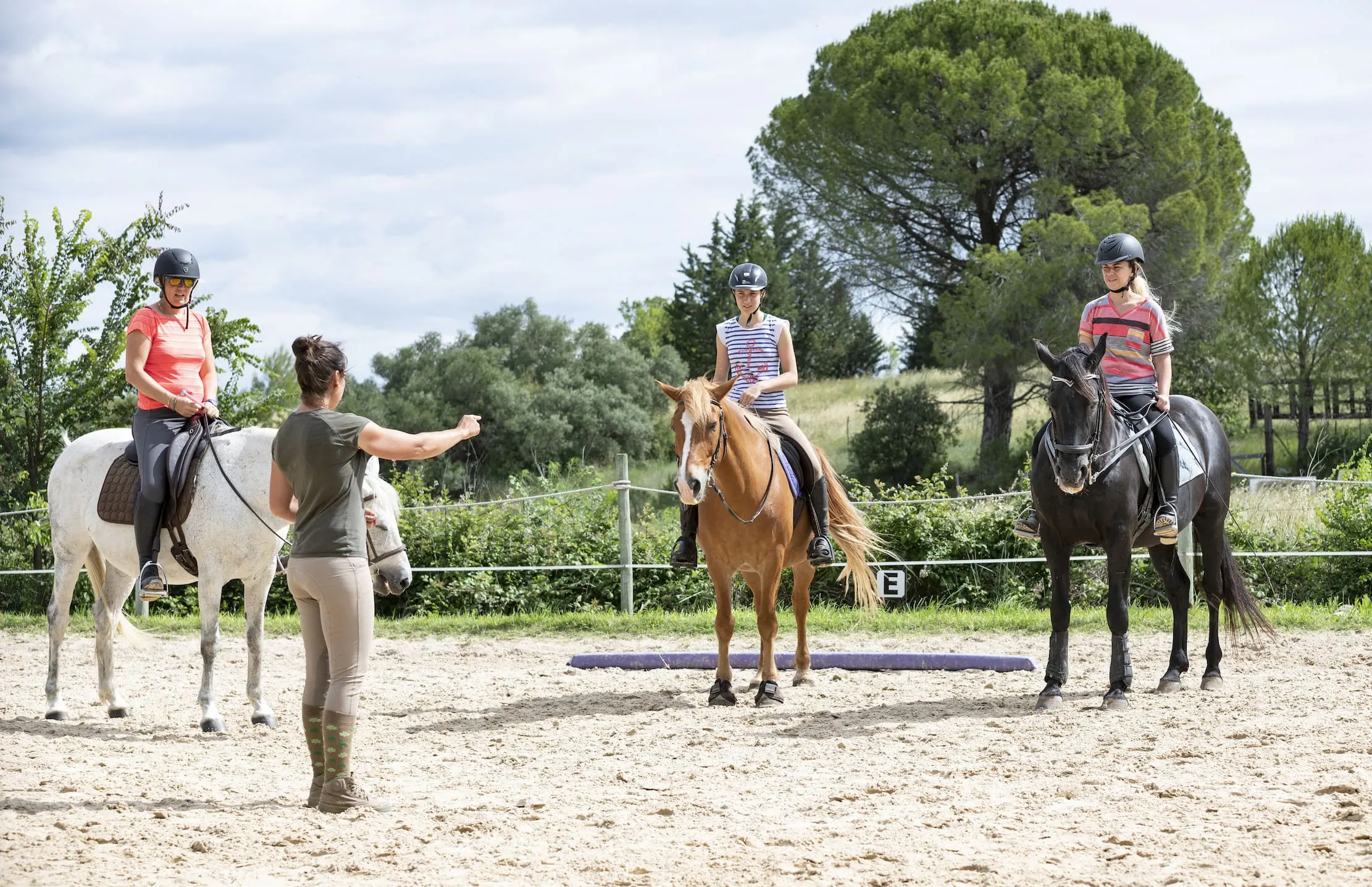 Barn Manager
Becoming a barn manager is a great option if you love being around horses, but you don't necessarily want to work with them all day. A barn manager is a person who runs a horse business and manages the technical side of things around the stable. As the barn manager, you'll be in charge of managing prices, ordering feed, paying bills, updating the website, as well as renting out stalls and pasture space.
How to become a riding stable barn manager
Becoming a barn manager can be tricky. First, you'll need quite a bit of business knowledge. This usually requires going to college and getting a degree in business management. You'll also need to find your "in."
For the most part, riding stables are not a growing industry- and it can be difficult to find a barn that's willing to just hire a new barn manager they've never met before.
If your goal is to work as a barn manager, there are two routes to get there:
Working your way up:
One way to be promoted to barn manager is to start at the bottom, working as a groom: mucking out stalls, trimming the grass, and slowly working your way up and learning the trade as you go.
Being an Expert:
Expertise opens doors. If you want to become a barn manager, you'll need to know the horse business inside and out. If you have years of experience as a rider and a specialized bachelor's degree in equine business management, you can apply to barn management positions.
Pros: Barn managers make a moderate income while having the opportunity to work with horses. Education costs may be low, with no expense for continuing education or certifications. The risk of injury is lower.
Cons: Riding stables are rapidly disappearing due to urbanization and suburban sprawl. Investing your career training in riding stable management may make it challenging to find future jobs.
Similar careers working with horses: Working as a groom, horse show mane braider, or horse organization staff are similar or adjacent careers working with horses.
Volunteer
Last but not least, volunteering is a great way to work with horses. Yes, volunteering isn't technically a job. However, for every single one of the careers listed in this article, volunteering can be a leg up in that field.
Before you even apply to a veterinary school, you're typically required to have hundreds of contact hours. To get these, you'll need to volunteer at a veterinary clinic. The first work you do as a farrier and a trainer likely won't be paid, and before you even start getting paid to muck out stalls at your local barn, you'll probably need to volunteer your time learning how.
Volunteering is also a fantastic way to learn more about what jobs working with horses are available. By spending lots of time in the horse community, even if you're just volunteering, you'll be able to learn what it might be like to work with horses.
When I was young, I dreamed of being an equine veterinarian- but two weeks volunteering at a local clinic and one observed-horse-surgery later, I knew veterinary medicine was not for me! Volunteering can be a huge asset to people navigating potential careers working with horses- if your only investment is a few hours of volunteering, it's easy to acknowledge when to move on to the next option. If you'd already been in school when you figured that out, you would be short thousand dollars!
Pros: Volunteering is a way to try out careers, volunteering to work with horses is also a way to spend time with horses while earning a living outside of the horse industry.
Cons: As a volunteer in the horse industry, you'll need to be extra aware of setting boundaries and realizing when horse professionals might try to take advantage of your free labor.
Final thoughts on Jobs working with horses
While there are many jobs working with horses not mentioned here (like blogging about horses or becoming a horse photographer) these are a few of the most common jobs in the equine industry. In this article, you learned the typical route towards getting hired in these careers, as well as some pros, cons, and similar career options. No matter our age, we all deserve to work jobs that line up with our interests and passions- hopefully, a horse job is right for you!