Renting a horse is an alternative to horse ownership that works well for many casual riders, growing kids, and people who are interested in an ultra short-term alternative to horse ownership.
Horse rentals are available in nearly every area, and in this article, you'll learn: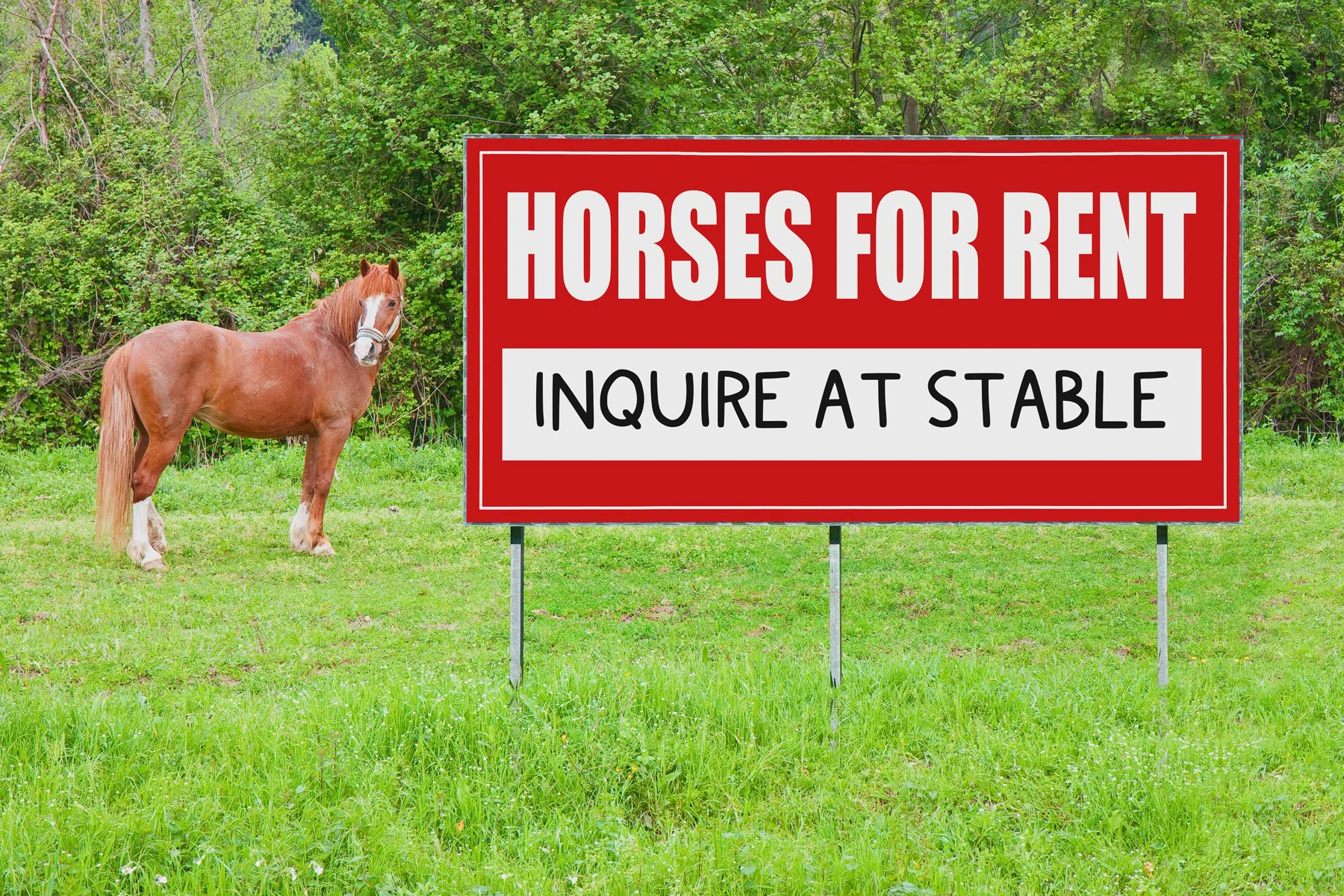 Getting started: understanding what it means to rent a horse
Before we jump into the 411 on horse rentals, let's define a few terms. The difference between horse rental, horse ownership, and leasing a horse are important. Leasing vs renting a horse, you might be surprised to learn, are not interchangeable terms in the horse world.
Owning a horse means that you have complete control, sole ownership, and total responsibility for a horse's care and well-being.
Leasing a horse is the term typically used in the horse world to describe a long-term rental, such as one that lasts for months or even years. Lessees generally share responsibility with the owner for the horse's care, feeding, and health while enjoying most of the benefits of horse ownership. (Read more about this here!)
Renting a horse is a phrase usually reserved for short-term agreements for custody of a horse. Horse rentals may be available by the hour, by the day, or sometimes for longer periods.
Renting a horse can be a way to enjoy horses without a long-term commitment.
Horse rentals are a great way to experience having a horse for the short-term. As a horse renter, you won't be responsible for housing the horse, taking care of its veterinary needs, etc. If your rental is only a few hours, you probably won't even need to feed the horse!
Keep in mind that even short-term horse renters are responsible for a horse's health and well-being. Horses still need to be handled safely and respectfully even if you are only their caretaker for an hour or two.
How to Rent a Horse
Finding a horse to rent may be easy or take some work, depending on your needs and whether there is an established horse rental company near you. If a search for "horse rentals in (your town)" turns up no results, try reaching out to horse boarding stables, or riding instructors nearby.
If these horse professionals don't include horse rental in their services (and some do but simply don't publish it online), then they may have referrals to another business that does.
Be Specific about your Needs!
You might be surprised to learn that people who operate businesses in one area of horse rentals – such as renting a horse and carriage – often exclude other types of rentals from their company. You probably won't find a pony party operator and an outfitter renting horses to hunters sharing the same phone number!
If you seek to rent a horse-drawn carriage, a pony for a birthday party, or other specific purposes, be sure to mention this in your inquiry.
When Renting a Horse Makes Sense
Not everyone is ready to jump into the commitment of horse ownership. As I described in my article on knowing whether you are prepared for your first horse owning a horse is a lot of responsibility! Even a horse lease agreement generally transfers a lot of responsibility for horses' health and well-being to the lessee. Renting a horse, however, keeps things much easier for new riders and folks who want to experience casual trail rides without the watchful gaze of a riding instructor.
Some situations in which people rent a horse:
Renting a horse for vacation horseback riding
You can find horse rental farms on the borders of many national parks, wildlife reserves, and beaches. Various factors, including liability issues, make horse rentals less common in the United States. However, international travelers may find that horse rentals are more widely available in developing nations.
For hunting and fishing in the (far) backcountry
Horse rentals are an option for outdoorsmen and women who want to take their adventure beyond the point that ATVs or their own two feet can reach.
It's not uncommon for serious hunters to fly into an airport, pick up riding horses and a few pack horses from a horse rental company, and set out for the most remote parts of North American wild country. In fact, this is one of the most popular reasons for renting a horse.
Renting a horse for a wedding
Horses make elegant additions to formal events like weddings. Their regal appearance lends an old-world elegance to modern weddings. Whether you imagine renting a horse and carriage to carry you away after the ceremony or even renting a horse for a bride or groom to ride into an outdoor wedding, local wedding planners can likely connect you with local horse businesses that offer horse rentals for weddings.
Renting a horse for a photo shoot or video short
For a dramatic and eye-catching photo or video shoot, a horse in the shot is sure to catch a viewer's attention. Many amateur photographers and videographers rent horses by the day or by the hour to be a part of photo backdrops. (If this is you, be sure and check out our senior portrait with horses ideas).
💡 HINT: The cost of renting a horse per hour is much higher for on-location shoots. To keep your costs low, consider looking for a farm that you can use for an on-location shoot rather than transporting a horse to another location.
Renting a horse for birthday parties
Pony parties are a popular theme for kids' birthday parties. In any large city in the United States, you can probably find a farm with standard rates for delivering horses to your birthday party location, helping young riders enjoy their first time on a horse, and cleaning up afterward.
While renting a horse for parties can be an extravagant expense, it also makes for an epic and memorable birthday party for any young person.
Red flags and green flags for horse rental
These days, many horse farms have shifted away from an hourly rental business model because so much can go wrong!
For a horse to be safe to be rented out, it must be well-trained, have a friendly personality, and not be reactive to the antics of inexperienced horseback riders. The problem is that over time, inexperienced horseback riders can shift a horse's temperament!
Because many people interested in making money in horse jobs are more interested in earning income than in making sure the horses are well-trained, friendly, and do not spook easily.
In order to have a great horse rental experience, then, you need to know a few red flags of sketchy, shady, or outright dangerous horse rental businesses:
🚩 Not Meeting the horse before you rent it
Renting a horse is not like renting a car. A car can be trusted to predictably respond when buttons are pushed. Instead, horses have individual personalities – and some of them may not be very nice at all!
Meeting a horse before you agree to be its caretaker for the short term is important. This is especially true if you plan to use the horse you rent for a wedding or a photo shoot. Because you have a specific aesthetic in mind, you'll want to make sure that the horse you rent is well-groomed, healthy looking, and generally agreeable.
🚩 horses that look uncomfortable or crowded
Horse rental businesses at popular trailheads in some locations, are barely businesses at all. Rather than horse farms with appropriate space for the animals, these trail riding rental companies may simply have a row of horses tied to a fence or hitching post, waiting for a renter to arrive.
Tying a horse up all day, every day, all summer long, in hopes of a potential ride borders on inhumane. Horses kept in these conditions may be a sign that the operator does not keep horse welfare (or rider safety for that matter) a priority.
🟩 a handler wants to accompany you
Your vision of renting a horse may mean galloping off into the sunset solo with your new (temporary) horse. In reality, it's probably not going to work out like this. If you are allowed to ride solo, it will be because you are mounted on an exceedingly slow, plodding older horse that won't let you do too much damage even if you tried.
More likely, your horse rental will be accompanied by a guide on another horse. This is offered for safety and liability because riding alone can be unsafe.
🟩 the company wants you to sign a waiver
Whatever route you use to rent, buy, or lease a horse, paperwork will be involved. In the case of a horse rental, the owner will want you to read and review a contract, often restricting their liability if you are injured while riding your rental horse.
🟩 you are asked to take a riding lesson or even a test before rental.
A horse rental company that asks you to complete some simple tasks (either demonstrating competency around horses or learning them via a short riding class) is a company that cares about your safety and the well-being of their horses. Although it might be frustrating or even feel demeaning to have to demonstrate that you know how to handle horses safely, it's a great sign that you are working with a company that cares for its horses.
The Cost of Renting a Horse
The cost to rent a horse for a day varies dramatically based on where you are in the world, what you plan to do with the horse, and if the horse will have to be transported to another location (such as for a horse-themed birthday party, a wedding, or a romantic honeymoon ride).
California: Griffith Park horse rentals in California, for example, charges $30 per hour to rent a horse to ride in the park.
Colorado: While Sombrero Ranch in Colorado charges $750 per horse per 10-day rental.
Illinois: In the Chicago suburbs, Forest View Farms offers pony rentals for $160 per hour (FYI there's an upcharge if you want a unicorn! 🦄)
As you can see, there's quite a large variation in the cost to rent a horse. The best way to set a budget is to contact horse rental companies near you. If you're renting for a longer period, the rate may be negotiable.

Final thoughts on renting a horse.
Rental companies that offer horses can be hard to find. However, there are many reasons that a rental might be the best way for you to create the horse experience you are dreaming of. If, after learning about the difference between leasing a horse and renting a horse, you still want to find a horse to rent, diligence will pay off.
If, while you are looking for a horse to rent, you want to gain horse knowledge and develop horseback riding skills, consider reading more about horse keeping and consider taking your first riding lesson.