Long luxurious horse tails are a thing of envy! When I first started showing horses I was smitten by the luxurious and bright white tails I saw in the show ring. I was quickly informed that many of these tails are actually made by attaching false hair, manufactured from the tails of horses slaughtered overseas.
Because I show horses within a breed association that does not permit false horse tails (thank goodness! False horse tails start at around $150!), I began to ask old show-circuit veterans about the secrets for growing and maintaining a long, luxurious, and healthy tail. It turns out, the folks who were around long before the rise in popularity and accessibility of false horse tails knew volumes about how to grow out luxurious tails and were happy to pass on their secrets, which I've written about below.
The following section may contain affiliate links. As an Amazon Associate, we earn from qualifying purchases.
Part 1: Caring For the Hair Already Growing
Because my show horse was gray I had a particular challenge in front of me: How to keep his tail white when he spent so much time in mud and muck. Check out this separate article about keeping gray and white tails looking bright white. This article is about a unique type of horse tail conditioning that I learned from a saddlebred trainer who had worked on the show circuit for many years.
His secret: human hair care hot oil. Specifically, Vo5 Hot Oil treatments. Applied via the instructions below on a regular basis, this method is the best I've ever found for creating and maintaining soft, moisturized horse tail.
Using hot oil to grow a longer horse tail
Hot oil is one of the best-kept secrets in the Arabian horse world for those long luxurious horse tails! Hot oil treatments help your horse's tail grow longer by conditioning and softening the existing tail hair. To help your horse's tail grow longer using this method, pick up a box of inexpensive Suave hot oil treatment, in a human hair care section.
First, Place one tube of the hot oil treatment in a container of HOT water. This treatment does require having very hot water on hand. If you don't have hot water in your barn for this treatment to make horsetails grow longer, you can take a thermos of hot water from home to the barn or fill a bucket with cool water and use a bucket heater (of the type that heats water to high temperatures) to heat the water.
Next. After the hot oil has had about 10 minutes to warm in the tube, remove the tube from the water, open it, and massage into your horse's tail, root to tip.
Then wait. Once the oil is applied to the tail, allow several minutes for it to soak in. This oil is a good treatment to soften tail hairs and prevent breakage. Preventing breakage is one of the best-kept secrets to actually helping tail grow longer.
Wash and Rinse. Oil left in the hair can crease itchy residue, so after the oil has soaked in, shampoo and rinse the tail carefully, being sure to thoroughly rinse out any oil that hasn't been absorbed into the hair or tailbone.
Post-Oil care: You can allow the horse's tail to stay loose after this treatment or it can be braided into a tailbag, which will help protect the growing tail.
This treatment can also be applied to manes but is only suitable for warmer weather or heated stables, since tails can be easily washed without soaking the horse's body.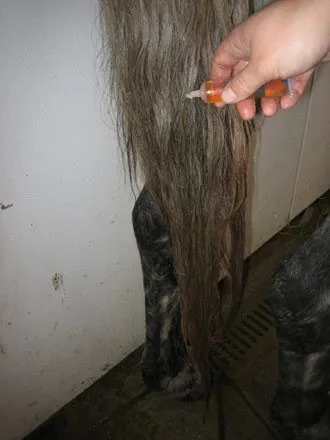 This treatment, along with other horse grooming practices, helps create those luxurious, flowing tails, but it can be difficult to do- to find the oil, find a way to heat it, etc. A few years ago, browsing a beauty aisle at the store, I decided to try an alternative and was delighted to find it worked just as well with a fraction of the hassle this type of tail conditioning usually takes: hot oil capsules! Vo5 makes a hot oil hair capsule as does suave, both are very affordable and work equally well. Each treatment comes in a small tube or vials. You just soak the tube in hot or warm water for 5-10 minutes (If you don't have hot water in your barn, try bringing a thermos or insulated mug of microwaved water), wet the tail, break the tube of oil and massage it in. Allow to sit on the tail for a few minutes, then shampoo with regular soap and rinse. Repeat this treatment every 4-6 weeks for best results. Not only does this conditioning treatment leave tails soft and silky, but it is an excellent pre-treatment for detangling a tangled, knotted, or matted tail. This same treatment can be used on trouble manes, as well.